This post may contain affiliate links. Read my disclosure policy here.
Aladdin PMI and Momtrends invited me to this luncheon while I was in Atlanta. I have been compensated for this post, but as always, my opinions are my own.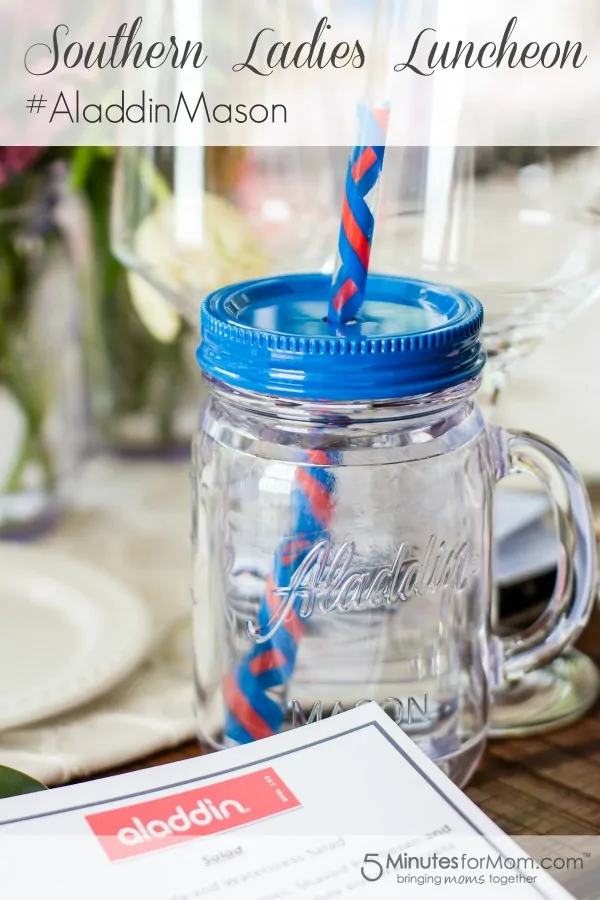 Most work days for professional mom bloggers are spent locked in our houses, alone at our computers, and thanking the Lord that someone invented yoga pants.
But some days, our work allows us to ditch the exercise lounge wear and escape our lonely work stations, and we find ourselves sipping spiked lemonade and socializing with our fellow creatives at a charming, beautifully orchestrated party.
A couple weeks ago, while I was in Atlanta, I attended a Southern Ladies Luncheon hosted by Aladdin PMI and MomTrends at the Piedmont Estate. This gorgeous event featured the Aladdin Mason Entertaining Collection and party planning by Party Bluprints.
The tablescape was a perfect mix of southern elegance and country charm with magnolia leaf place settings, colorful Aladdin mason tumblers and straws, and fresh cut flowers arranged in Aladdin mugs.
For dessert, Party Bluprints came up with a delicious and unique family style trifle. Each guest had an Aladdin cup with cubed pound cake and created their own trifle with lemon curd, fresh berries, whipped cream, raspberry coulis, and shaved chocolate.
Pictured is the Aladdin 16oz Classic Mason To-Go Cups. I love these dishwasher safe, BPA Free cups. I never want to hand over glass to my kids when we are outdoors. But they are so beautiful, they are perfect for indoor entertaining too. And if you have a pool or entertain poolside, the Aladdin Mason Entertaining Collection couldn't be more perfect! They are made with durable Eastman® Tritan™ – which means it won't crack, break or stain and are available online and at Walmart stores nationwide.
It was a lovely afternoon visiting with friends, new and old, and I am so grateful to Nicole Feliciano of MomTrends and Aladdin PMI for inviting me. Networking and connecting with blogging professionals is so important and refreshing! Susan and I would not be able to make 5 Minutes for Mom the success that it is if it weren't for our incredible friends in the blogging community. This Southern Ladies Luncheon was a wonderful event and I enjoyed meeting many bloggers I previously had only known online.
Thank you Aladdin PMI, MomTrends, and Party Bluprints!
Written by Janice Croze, co-founder of 5 Minutes for Mom. Thank you to Mom Trends, Party Bluprints and Aladdin PMI for sponsoring the Atlanta luncheon and providing guests with products and promotional items.