This post may contain affiliate links. Read my disclosure policy here.
Disney sent 5 Minutes for Mom contributing blogger Dawn Cullo to the set of General Hospital for a tour. Dawn's expenses were paid for the trip but no other compensation was paid and all opinions are Dawn's.
When I was younger I watched General Hospital with my grandmother after school. I remember sitting on her living room floor watching Luke and Laura get married and I've seen countless other story lines as well. When I heard that I would be visiting the set of the longest running soap opera as part of my trip to Los Angeles I couldn't believe it. My grandmother would have tried to jump in my suitcase just to come along!!
Props
We arrived on the studio lot and were brought to a room full of General Hospital props. I was amazed at how many props they were letting us see.
Once we looked at all the props we were told that the actors were filming a scene and would be taking a 15 minute break and that we would get to go upstairs for a quick tour.
Set Visit
As we made our way upstairs a few of the actors were coming down the stairs so I stopped and held the door open for them. One of the actors stopped and looked right at me and said "Dawn, how are you doing?" I am sure I looked like a deer in headlights but I said "it's going great, happy to see you". The actor was William deVry and he obviously saw my name tag but STILL – he said my name and look right into my eyes…swoon.
Once on the set I was amazed at how each area of Port Charles is so close to one another. Each set is small and sit next to one another, they were a lot smaller than I had thought they would be. We walked around and took pictures and there were actors just hanging out and chatting with us.
Once we walked through the smaller sets we headed towards the back of the studio and there it was….the hospital. This is where a lot of action has taken place over the years and it is the largest area on the set. They let us walk around the entire set and it was pretty amazing.


Nurses Ball
Port Charles will once again hold the iconic Nurses Ball gala, a fundraiser for HIV and AIDS awareness and research. As the Nurses Ball 2014 begins, several popular Port Charles residents will be noticeably absent from the Red Carpet and stuck at home watching the festivities on TV.
Old and new loves will percolate while others find themselves in awkward situations. Amidst all the romantic drama, the never-dull Nurses Ball audience will be entertained with fun performances and sexy surprises.
The Nurses Ball episodes air May 8 through May 13. "General Hospital" airs MONDAY – FRIDAY (2:00- 3:00 p.m., ET) on The ABC Television Network.
Here are some beautiful gowns from past Nurses Balls.
General Hospital 50th Anniversary
We were given special hats that were only made for the cast and crew to celebrate the 50th Anniversary of General Hospital. As we posed for our group picture in slides William DeVry to help make our picture complete.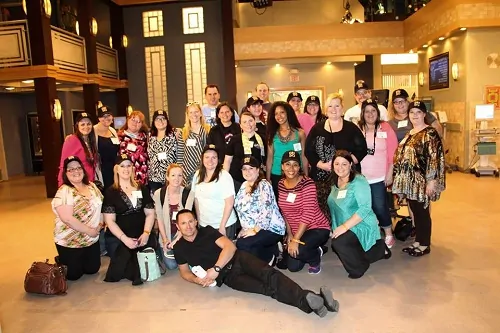 I liked my hat very much but I knew someone else that would love it even more. My friend Cindy works at my daughter's school and is a die hard General Hospital fan and watches it everyday. When I returned from my LA Trip I knew that she would appreciate the hat even more than I would.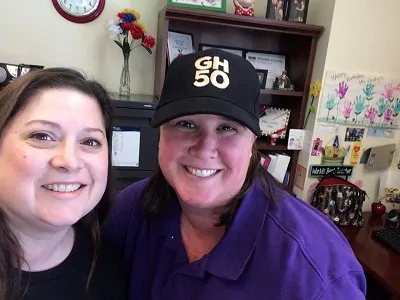 I hope you have enjoyed the post from my LA Blogging trip!