This post may contain affiliate links. Read my disclosure policy here.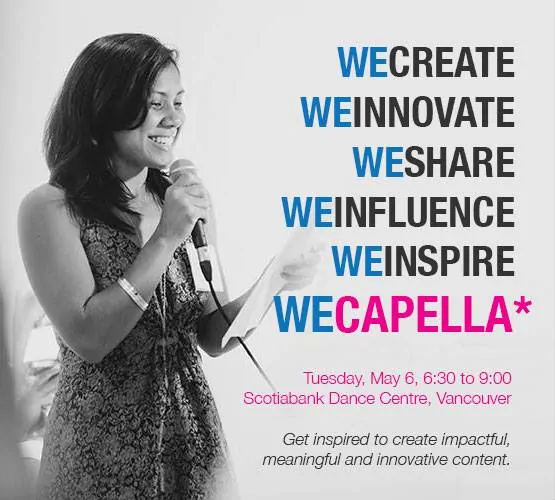 If you're in the Greater Vancouver area and you're a blogger, social media influencer or you want to promote your business online, you'll want to be at WeCapella on Tuesday, May 6 at 6:30 pm.
In this forum style event you'll learn from leading local content creators and be inspired to create impactful, meaningful and innovative content for your audience.
Meet Me There
I'm excited to attend this event to connect, network and learn from the fabulous line-up of speakers and other attendees. I regularly invest time and money to travel to blogging and social media conferences across the US and on the East Coast of Canada, so when there's an opportunity like this close to home, I jump on it!
(In fact, I'm actually in Atlanta right now at the Mom 2.0 Summit, but I'll be home in time for WeCapella. And you may have noticed that the #KodakBOGO Mother's Day Twitter Party is also on May 6, but the joy of having an identical twin means we can be in two places at once. Susan will be joining the Twitter Party while I'm at #WeCapella.)
Who Should Attend
Online publishers, bloggers, digital content producers, PR representatives, digital documentarians, social media consultants, marketers and digital influencers.
Event Details
When: Tuesday, May 6, 6:30 to 9:00
Where: Scotiabank Dance Centre,
677 Davie St, Vancouver (at Seymour)
Agenda
6:30 – Doors Open
7:00 – Part 1: Digital Video
7:45 – Intermission
8:00 – Part 2: Online Content
Speakers
Manda Aufochs Gillespie
Manda Aufochs Gillespie is The Green Mama. In her 20 years in the field she has "greened" one of North America's only urban ecovillages, one of Chicago's largest daycares, a multi-million dollar residential project, a Guatemalan orphanage, and has been dubbed the "green guru" by the media, appearing on HBO, ABC, and CBC. She engages directly with hundreds of parents through classes, consulting, and through writing. She is the author of the first green parenting book for Canadians, Green Mama: Giving your child a healthy start and a greener future, and publishes the popular www.thegreenmama.com.
Jaeny Baik
Jaeny transforms women entrepreneurs from "zero to hero" on video. For a decade she dug up stories for the CBC as a reporter and TV host. Her first show won a Gracie Allen Award from New York, and after hosting "Living Vancouver" viewership shot up by almost 50%. Now Jaeny coaches on-camera performance, directs YouTube videos, and crafts stories with authentic *'PUNCH!* She's trained clients around the world, including Doha, Qatar via Video Skype.
Prem Gill
Prem Gill is Director of Original Programming & Production at TELUS, where she drives the development for Telus Optik Local community programming. She has worked in media and entertainment for almost 20 years and is a passionate ambassador for local content creation. She also loves to community garden.
Heather Hawthorn Doyle
Heather Hawthorn Doyle is a multiple award-winning television producer and director (Gemini, NHK Japan Prize, $50,000 Shaw Rocket Prize, Leo Award, Silver Chris) who, in the past eight years, has developed and successfully showrun six new series and four specials for North American broadcasters, including HGTV, Animal Planet, OWN, W Network, OLN, BIO channel, Comedy, CITY, and CBC. Now with business partner Brian Adler, and their newly formed television and digital media production company Mom and Dad Productions, HHD is committed to bringing her passionate and highly visual storytelling to businesses and the digital space.
Marc Smith
Marc Smith blogs at 30 Day Adventures, which takes him to new locales and activities every day for 30 days, including working with the Marine Mammal team at the Vancouver Aquarium, to sipping wine and learning the history behind several of Langley's vineyards – and most recently Hawaii. Marc's desire to connect with people and his community is evident. To get involved in an adventure or series, visit www.30dayadventures.ca or follow on Twitter at @TheMarcSmith.
Linda Solomon Wood
Linda Solomon Wood is founder, publisher, and editor-in-chief of The Vancouver Observer. Winner of the 2012 Canadian Journalism Foundation Excellence in Journalism Award, and the 2010 Canadian Online Publishing Award for "Best Online-Only Articles," The Vancouver Observer's West Coast-centric reporting has global reach and impact, person by person, reflective of the brave new landscape of inter-connectedness.
Sponsors
JellyBeen – http://www.jellybeen.co/
Chatters – http://chatters.ca/
CanAccord – http://www.wnwealth.ca/
Hiyu – http://www.gethiyu.com/
Images by Bethany – http://www.imagesbybethany.com/
VancouverMom.ca – http://www.vancouvermom.ca/
Use promotional code VMwecapella10 and receive $10 off the General Admission Price.
Purchase Tickets at Eventbrite Here
Connect with WeCapella on Facebook.
[Tweet "Vancouver bloggers and social influencers, get inspired at #WeCapella on May 6"]


Disclosure: As a blog ambassador I've received free admission to the WeCapella event.
Written by Janice Croze, co-founder of 5 Minutes for Mom
Talk with me: @5minutesformom and Facebook.com/5minutesformom
Pin with me at http://pinterest.com/5minutesformom/