This post may contain affiliate links. Read my disclosure policy here.
Jennifer D. here with my thoughts about the fortune cookies I received from KC Fortune Cookie Company. I was provided with a sample and they are hosting the giveaway in this sponsored post, however all opinions are my own.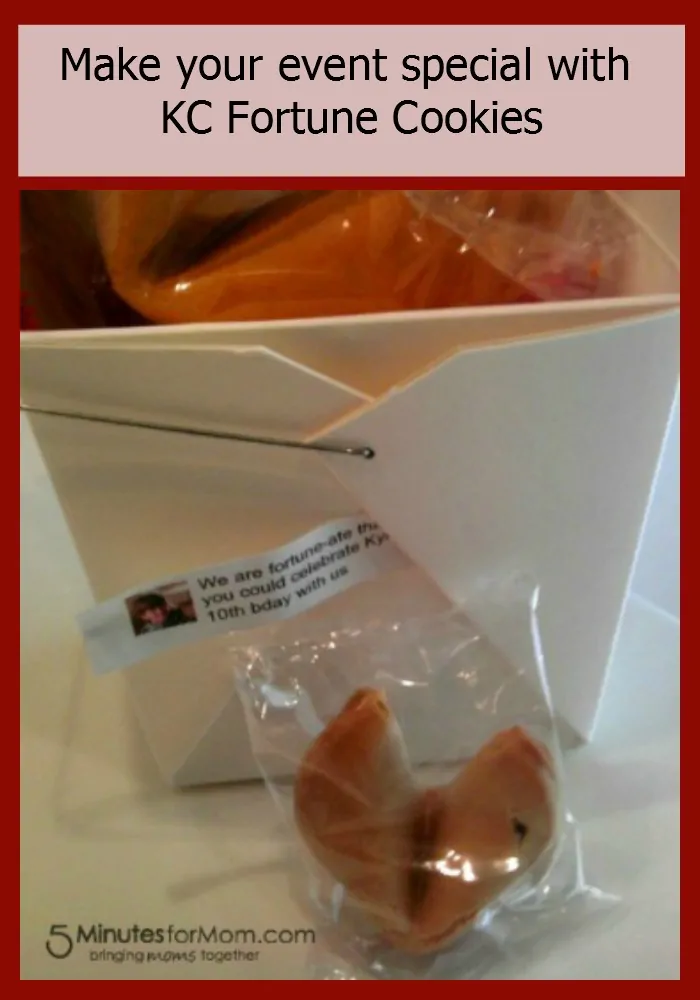 My son's 10th birthday is coming up. When I was given the opportunity to order a product sample of customized fortune cookies from KC Fortune Cookies, I knew that I wanted to create a special favor for him. He loves puns, so I came up with this message:
We are fortune-ate that you could celebrate Kyle's 10th bday with us.
The company representative reminded me that I could add a photo, and I could also use both sides. I wasn't sure how a photo would look, but I cropped his head out of a snapshot and sent that in, and I'm glad I did. He suggested that I put his birthdate on the back, which is what I was thinking about doing.
I can think of so many uses for these customized fortune cookies:
Children's Birthdays (especially milestones like 1, 10, sweet 16)
Graduation
Mother's Day or Father's Day
Anniversary parties
Over the Hill parties
New Babies
In addition to the set of fortune cookies, my sample also included a giant fortune cookie (as does the giveaway, below). It is just the right size to fit into a typical Chinese takeout container, and that's what it came in. How fun is that? I plan to give it to my son at his party, before we give out the goodie bags which will include a fortune cookie.
Connect with KC Fortune Cookie Company