This post may contain affiliate links. Read my disclosure policy here.
Disney sent 5 Minutes for Mom contributing blogger Dawn Cullo to the Mom's of ABC TV Mixer to interview some of the moms at ABC TV. Dawn's expenses were paid for the trip but no other compensation was paid and all opinions are Dawn's.
When I read through the itinerary of the Los Angeles trip for the Muppets Most Wanted and Captain America event I was so excited to read that we would also be doing a cocktail hour with the Moms of ABC.  I watch many of the shows of the actresses that we were going to be talking to and I prepared a bunch of questions ahead of time.  However,  when the interviews started it was like chatting with old friends and I totally forgot all of my questions!!
The following actresses were at the cocktail party:
We arrived at the Walt Disney Animation Studios building and headed for the terrace where the event was to take place.  This means we were allowed to walk through the building and see all of the awesome Frozen items on display.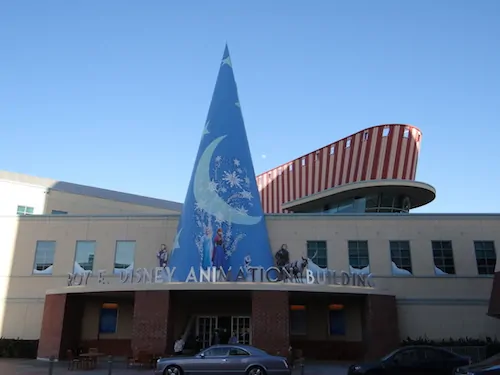 We were seated at beautiful patio furniture on a terrace and there were about six bloggers to a lounge area.  Each actress rotated around each section and sat for about 10-15 minutes to chat with us.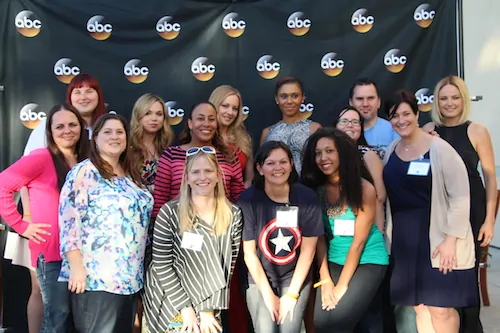 The first actress I spoke with was Malin Akerman from Trophy Wife.  I have been watching the show since the pilot episode.  I kept watching the show for several reasons: 1) Bradley Whitford doing comedy – love him 2) Marsha Gay Harden doing comedy – yes please and 3) Watching Malin Akerman on screen just drew me in each week.
We chatted about her young son and how she is able to bring him to work with her each day and the cast and crew help her out. She says that it does take a village to help raise a family. She also loves working on set with the children in the show and mentioned how professional they are. Working with child actor Albert Tsai (Bert Harrison) has her in stitches all the time and he is very smart. She recalled that once when they were working on a scene and  they were reading a bed time story about dragons. In between takes he asked if they could read something like Ronald Regan's Biography instead.

Next I spoke with Toks Olagundoye from The Neighbors and her accent is fantastic.  During our chat I found out that she is from Nigeria and lived in New York before moving to Hollywood. She had the most beautiful electric purple eye shadow color on her lids and she confessed that it was very old and from New York but she just couldn't part with it. I know how she feels because I have a tube of lipstick that I just can't part with and I know it is older than my kids.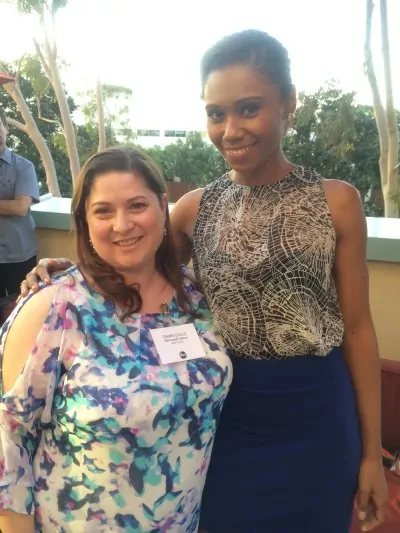 Then one of my bucket list items was checked off because I got to chat with Patrica Heaton.  I have been a long time fan of hers.  My husband and I saw a taping of "Everybody Loves Raymond" during the 90's.  Currently Patricia stars in the ABC TV show The Middle. She also is staring in the upcoming movie Moms' Night Out which opens on May 9th.  I have screened the movie and I really enjoyed it; I told her how I thought it was a great movie for moms and dads to see together.
Patrica talked to us about her times on "Everybody Loves Raymond" and how her boys were very young at the time.  She was even pregnant during the filming of the show. She recalls how tired she was during those early days of being a new mom; I am sure we can all relate.  She recalled a time when she was on an airplane recently and she was watching "Everybody Loves Raymond" and cracking up.  The flight attendant thought it was cute how she was laughing at the old episodes but she explained that she didn't even remember the story lines because during filming she was so tried from being a new mom and felt like she was watching them for the first time.
She went on to talk about her boys and the issues they face today such as picking colleges, balancing homework and after school activities – just like all of us.  She even pulled out her phone and showed us a cute picture of one of her sons that is thinking about going into acting.
When we got up from the couch to take a picture I got shuffled to the back of the line of bloggers and when it came to be my turn it looked as though Patrica was walking away to visit with the next group.  But then there was a savior and her name is Ming-Na Wen!  She came over to talk to Patricia and said "Let's take a picture togehter" and my friend Stefani grabbed my phone and snapped this awesome picture. Day made.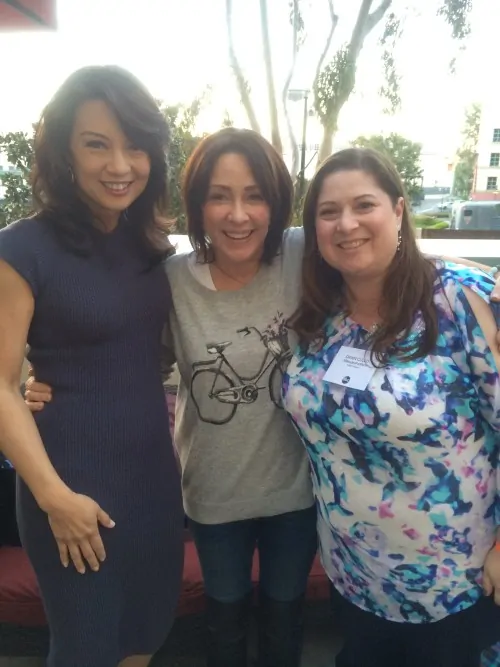 Amanda Fuller was the next actress that we spoke with.  In doing research for this trip I found out that Amanda is from my hometown of Sacramento, CA as well as another blogger from my group Stefani.  Amanda has been fortunate enough to have numerous acting roles in her young life and has appeared on "Grey's Anatomy," "Scandal," "Buffy the Vampire Slayer," "Bones," "The Practice," and many others.  She started her career as Lexy in "Armistead Maupin's Tales of the City".  I can say that I have seen her in all of those roles as well as her current role on Last Man Standing.
We talked about the various roles she has had and her favorite by far was "Grey's Anatomy." She said that she kept reading for roles over and over again yet they weren't casting her.  Then finally she was cast as Dr. Morgan Peterson in 2012 for five episodes.  I am sure that we can all relate to trying something over and over again and not getting it right; but then there is a break through and things fall into place.  She was so much fun to talk to and I LOVED her outfit.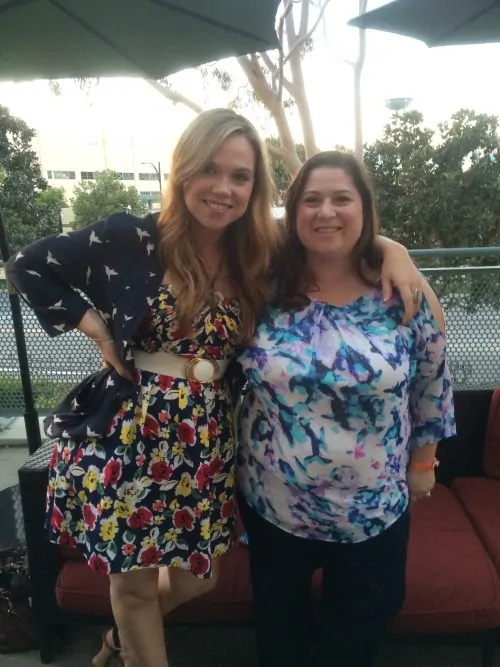 The evening started to wind down and there were a few actresses that didn't make it to our area yet for a chat.  I did have a quick chat with Wendi McLendon-Covey before the evening started and was bummed I didn't get to talk to her more about her current role as Beverly Goldberg in The Goldbergs.  I am a child of the 80's and I have been watching the show since it started this season. When I see her on screen all I can think about is how much my mom is just like Beverly Goldberg.  The other actress I didn't get to sit and chat with was Ming-Na as she had to duck out early for another engagement.  I did hear from another blogger in the group that Ming-Na does her own stunts on MARVEL'S AGENT OF S.H.I.E.L.D.  She is one tough lady.
There was also Jami Gertz, I really wanted to talk to her so I got up and walked over to where she was standing and introduced my self.  I told her how much I loved her show Square Pegs when I was 9 years old; it was the first show besides cartoons that I made a point to watch ever week.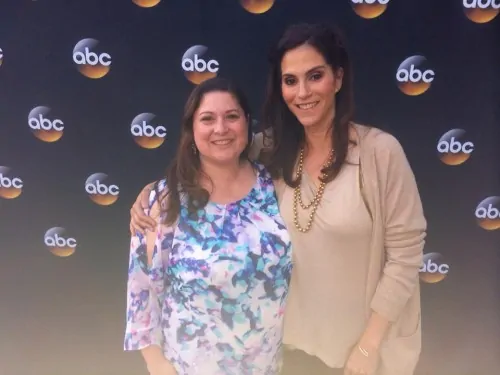 I could have sat and chatted with these ladies for hours. It was fantastic to get a glimpse into their world and find out that once you strip away their Hollywood job they are just like us and trying to juggle it all and be super mom.
Written by 5 Minutes for Mom Contributor, Dawn Cullo.