This post may contain affiliate links. Read my disclosure policy here.
5 Minutes for Mom contributor Stacey here to share with you an exciting new "sweet-stakes" with Mrs. Butterworth's and Busch Gardens! While we were compensated for this post, all thoughts and opinions are mine as always. 
It's about this time of year when everything just feels like it has been taken over by the Winter-blahs! Including our breakfasts! We're just ready for something new and exciting.
I think Mrs. Butterworth's knows just how we feel! Everyone's favorite talking bottle is brushing away the Winter-blahs with her new adventurous jungle-themed bottle design!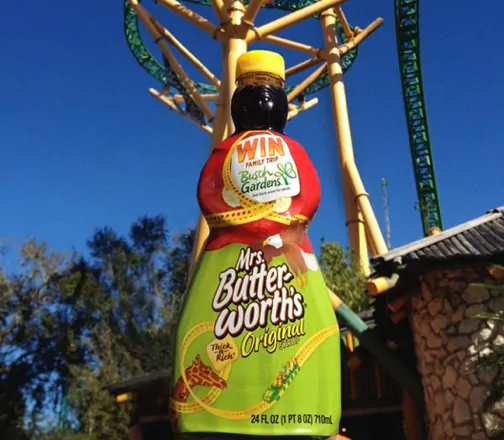 For even more excitement, Mrs. Butterworth's has teamed up with one of our favorite adventure-loving theme parks, Busch Gardens, to bring even more excitement to the breakfast table! From now through April 30, 2014, families can enter to win a trip to one of the amazing Busch Gardens parks in the Family Fun Sweet-stakes! "Hurry up with those pancakes, kids! We're heading to Busch Gardens!" Wouldn't that be an awesome surprise this Spring! I'd just recommend letting those pancakes settle a little bit before hitting those roller coasters!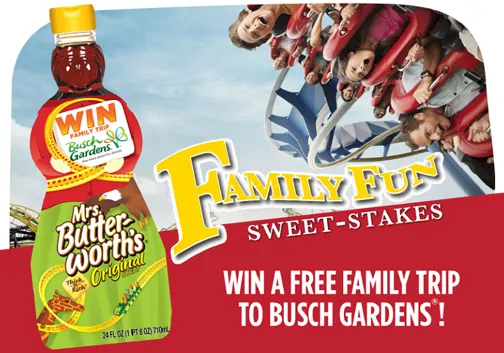 During the Family Fun Sweet-stakes you can also enter to win a Family Fun Breakfast kit featuring goodies from Mrs. Butterworth's and Busch Gardens, as well as a jungle animal-themed pancake pan! Can you imagine the excitement in the morning when your kids see the king of beasts staring back at them from their pancakes?!? Family Fun Breakfast kits are given away every two weeks, so be sure to visit the Mrs. Butterworth's Facebook page to enter!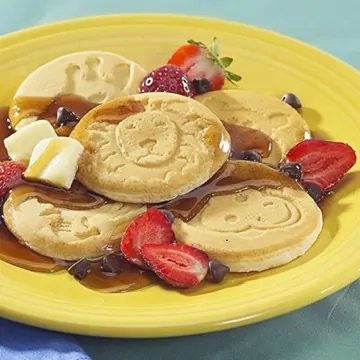 But, wait! Don't leave yet…we have a Family Fun Breakfast kit courtesy of Mrs. Butterworth's to give away here for our readers! That's even more chances to win some breakfast table fun! More on that below.
So, those are some fun ways that Mrs. Butterworth's is trying to perk up your breakfast routine. Now we'd love to hear from you! How do you switch up your breakfasts to help beat those Winter-blahs? Add a cup of colorful fruit with your waffles? Make some new shapes out of your pancake batter? Maybe palm trees and sunshine shapes…We'd love to hear your ideas!
Connect with Mrs. Butterworth's:
Enter To Win:
One winner will win a Mrs. Butterworth's Family Fun Breakfast kit filled with goodies from Mrs. Butterworth's and Busch Gardens.
Blogging at StaceySays.com about life as a mother to 3 young kids, Stacey dreams big through her life list and is currently shopping two of her children's books to publishers.