This post may contain affiliate links. Read my disclosure policy here.
Teresa, 5 Minutes for Mom contributor, shares her thoughts about the customized necklace she received from Jenny Present. We were provided a sample item and one to giveaway in this sponsored post, however all opinions remain our own.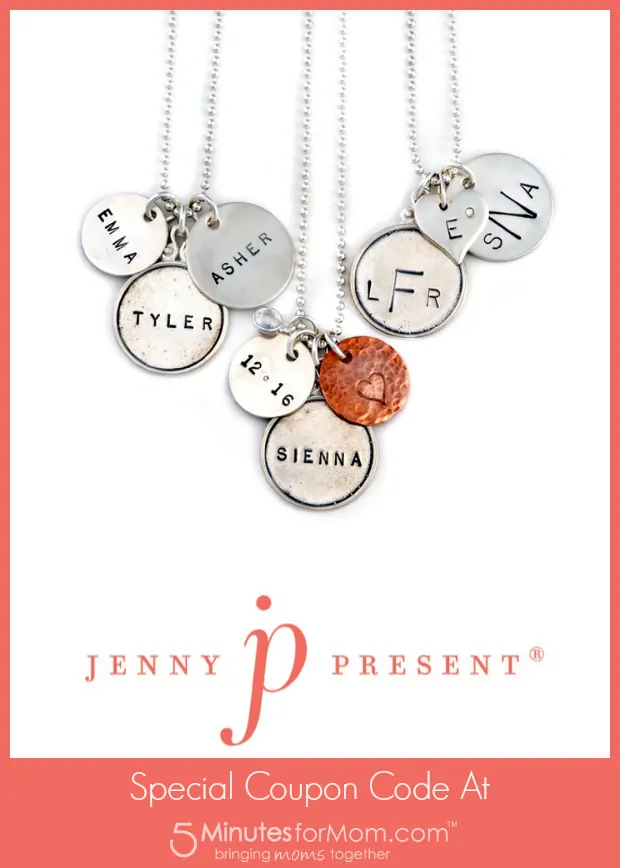 The snow is melting, spring is fast approaching and it is almost time to shed a few layers of clothing. This is the time of year I inspect my necklaces to see what I may need for the coming months ahead as I will not be bundled up in sweaters and hoodies.
I quickly realized my personalized necklace was broken and I was in need of a new one. My girls were asking me where the initials were as I could be found wearing a personalized necklace most days.
So I was thrilled to receive a personalized necklace from jenny present®'s custom jewelry online store.
Meet Jenny Present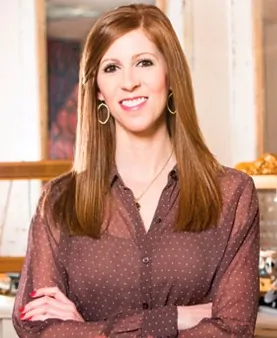 Jewelry designer Jenny Present formed her company in 2008 to create elegant, uniquely styled jewelry with the inspiration of empowering women.
The business is based in St. Louis, Missouri and the jewelry is carefully crafted with quality materials.
You'll find a range of designs from simple to sophisticated, with a distinctive vintage-meets-modern look. jenny present® is known for signature pendants that are hand stamped with a copper hammer and a steel stamp for a one-of-a-kind look.
What to Look For in Statement Jewelry
I look for good quality jewelry at an affordable price. Like most moms I would say. Price is a huge factor for me as I do not have loads of disposable income with a family of five. I don't want to purchase necklaces for every outfit that I own so I need pieces of jewelry that will go with most of my everyday clothing.
I need a necklace that will hold up well for an active mom with three young children who are climbing about her all the time (that would be me). I don't want jewelry that tarnishes and I like something that looks pretty around my neck. I also like a necklace that is comfortable to wear every day.
I adore the New Mom Necklace – Original Proud Mama® Jewelry Collection. I received a sample New Mom Necklace – Original Proud Mama® Jewelry Collection from Jenny Present. The necklace is an 18" chain made of sterling silver. The necklace came with Hand Stamped Sterling Silver Pendant – Round With Rim, a Small Hand Stamped Sterling Silver Disc, a Hand Stamped Copper Disc and a Swarovski crystal.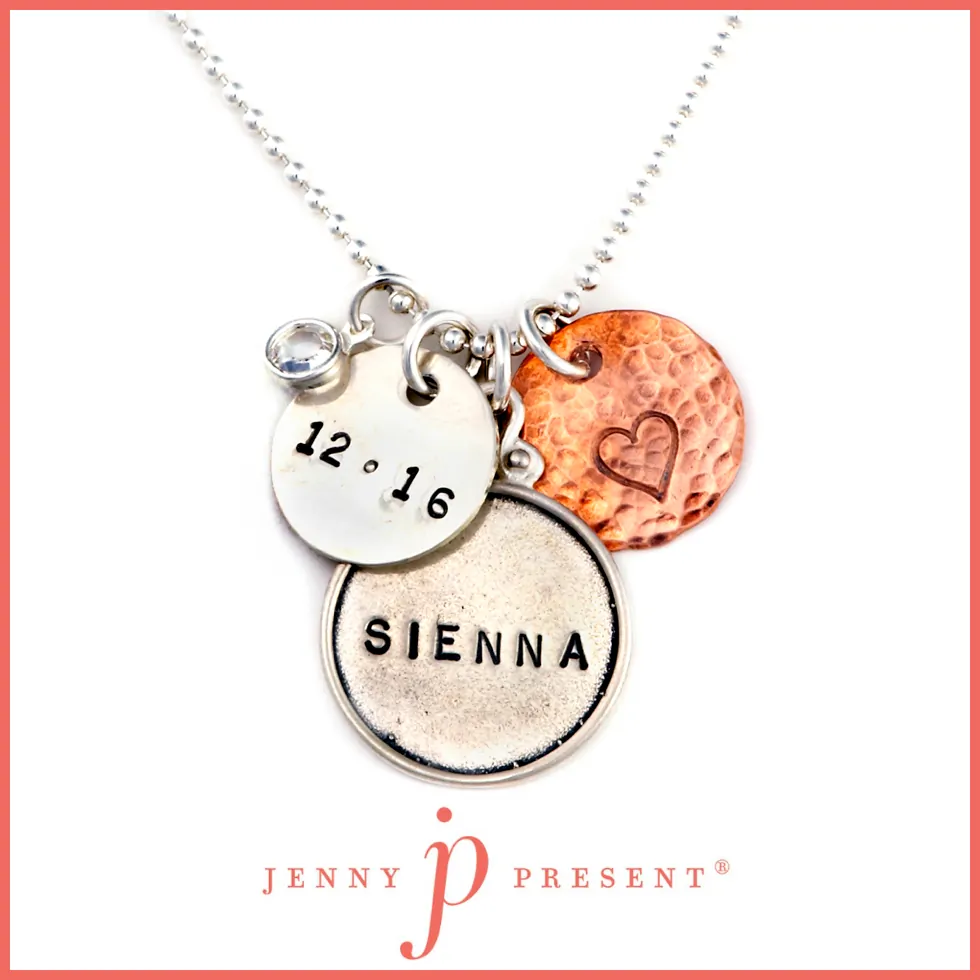 The Silver Ball Chain necklace itself is very sturdy, yet delicate looking. The chain and clasp are sterling silver and 1.5mm thickness. I am very happy with the clasp. I have long hair and it tends to get caught in some clasps and the Jenny Present clasp is snarl free. The hand stamped discs are all oxidized (blackened) and hand polished. The main pendant measures about 17mm (slightly over 5/8 inch) in diameter and the smaller silver pendant and copper pendant each measure 12mm (about 1/2 inch) in diameter. The silver chain also has a signature jp tag at the clasp. The Original Proud Mama new Mom Necklace discs can be customized with any combination of names, special words, monograms or significant dates.
In addition to great personalized necklaces jenny present also carries some wonderful earrings and bracelets.
I am very pleased with the Jenny Present New Mom Necklace – Original Proud Mama necklace. I would purchase this for myself, a friend, a co-worker, a boss, a graduate, or a family member. Just think of the possibilities for gifting a fabulous Proud Mama® necklace; a wedding, a birth, birthday, special occasions, graduations, or anniversaries. If you want a piece of personalized jewelry that holds a deeper meaning for you, jenny present is the place to search for custom hand stamped necklaces.
I can't wait to wear my new sample New Mom necklace this spring and summer with a gorgeous summer frock. I know I am going to look completely elegant and sophisticated.
Special Coupon Code
Exclusive for you, our 5 Minutes for Mom reader, is a 20% discount with coupon code 5MFM2014 (cannot be combined with any other offer).
Enter to Win
One reader is going to get a chance to win a New Mom Necklace – Original Proud Mama® necklace.
Please tell us your favorite item at Jenny Present. Leave a comment here with a valid email address (will not be published). One winner will be chosen at random at the end of the contest.
Teresa is a family lifestyle photographer who is happy homeschooling her three children in the Christian classical education theory in the suburbs of Chicago. You can find her on her blog Tiaras & Tantrums or on Twitter as @tiarastantrums.