This post may contain affiliate links. Read my disclosure policy here.
When it comes to their food, kids like to feel in control. Giving children, especially picky eaters, choices about their meals allows them to feel good about what they are eating and have fun and get creative.

With these simple "build your own recipes" for kids, you can make meal time fun and help your kids make healthy food choices. And since we know cooking with kids can get extra messy, we have some quick clean up tips for you too.
The Kids are in Charge with these "Build Your Own Recipes"
The goal of these recipe ideas is to let your kids choose the ingredients to design their own meal. There are a myriad of variations for you to offer up for your children and you certainly don't have to (or want to) offer them all the first time. Choose ingredients that would work well together and offer enough options to let your kids have some choices, but not so many that they are overwhelmed.
[tweet "Giving children choices about their meals lets them feel good, have fun and be creative."]
Build Your Own Wrap
From peanut butter and jam to cream cheese and avocados, wraps regularly replace sandwiches in our home. Wraps are versatile, fast, and easy to make — and whether you are creating a full meal salad wrap for yourself, or a quick apple and cheese wrap for your kids, wraps can save the day!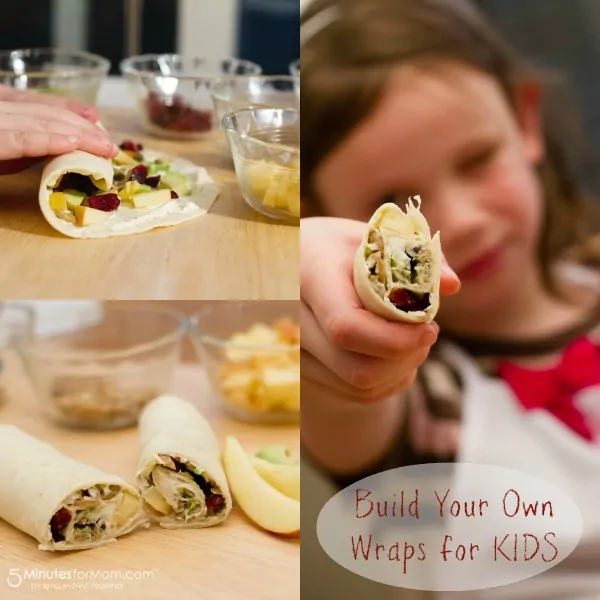 The variations are endless, but here are a few of our favorite starter wrap ideas…
BASE IDEAS:
Cream cheese (Plain, Herb and Garlic, Strawberry, etc.)
Peanut butter (or other nut butters)
Salad Dressing or Dip
Butter or Margarine
TOPPING IDEAS:

Seeds, Nuts, or Dried Fruits
Sunflower seeds
Pumpkin seeds
Crushed walnuts
Dried cranberries
Raisins
Fresh Fruit or Vegetables
Cucumbers
Avocados
Tomatoes
Apples
Bananas
Pears
Cheese, Meat, or Eggs
Grated cheddar or mozzarella
Crumbled feta
Chicken
Ham
Hard boiled eggs
For More Ideas, including…
Build Your Own Smoothie
Build Your Own Fruit Crisp
Quick Clean Up Tips
Click Here to Continue Reading at Bissell Celebrating Messes…

Disclosure: This post is part of a content campaign with BISSELL.
Written by Susan and Janice of 5 Minutes for Mom
Join us at: @5minutesformom and Facebook.com/5minutesformom
Pin with us at http://pinterest.com/5minutesformom/