This post may contain affiliate links. Read my disclosure policy here.
The untold true story of Saving Mr. Banks arrives on Blu-ray™ + Digital Copy, DVD, Digital HD, and On-Demand March 18th! I am so excited for the release of Saving Mr. Banks because I really enjoyed the movie. I saw it twice in the theater and I can't wait to watch it again at home.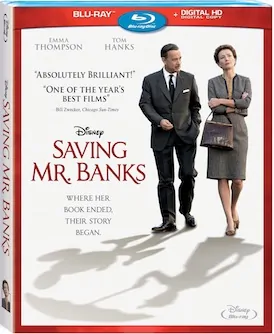 The release will include deleted scenes, and director John Lee Hancock's tour of the Disney Studios lot as he reflects on studio life during the creation of Mary Poppins, and more. I am a Disney nerd and can't wait to see this behind the scenes bonus feature and take a tour of the Disney Studios.
Saving Mr. Banks is one of my favorite Disney movies because I am a really big Mary Poppins fan and this movie takes the viewer behind the scenes to a very important week in the history of Walt Disney. Also, we get to go to Disneyland with Walt, that part of the movie was quick but still amazing.
If you didn't get a chance to see the movie in the theater, here are two of my favorite clips.
Call Me Walt – I love this scene because the though of being able to just walk right into Walt's office is an amazing feeling.
Responstible – This is actually one of my daughter's favorite scenes and I like it as well because it happens early on in the film and we get an idea of the difficult time the Sherman Brothers had with P.L. Travers.
About Saving Mr. Banks
Tom Hanks and Emma Thompson bring to life the untold true story about the origins of one of the most treasured Disney classics of all time. Determined to fulfill a promise to his daughters, Walt Disney (Hanks) tries for twenty years to obtain the rights to author P.L. Travers' (Thompson) beloved book. Armed with his iconic creative vision, Walt pulls out all the stops, but the uncompromising Travers won't budge. Only when he reaches into his own complicated childhood does Walt discover the truth about the ghosts that haunt Travers, and together, the set Mary Poppins free.
"Like" Saving Mr. Banks on Facebook: www.facebook.com/SavingMrBanks
Follow Saving Mr. Banks on Twitter: www.twitter.com/DisneyPictures
Saving Mr. Banks Website: http://movies.disney.com/saving-mr-banks/