This post may contain affiliate links. Read my disclosure policy here.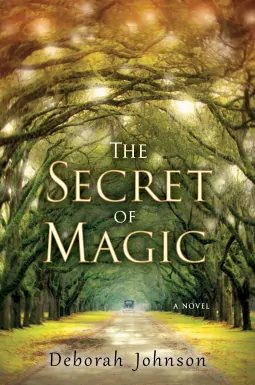 The Help (linked to Jennifer's review on 5 Minutes for Books) brought to light issues of class and race in Mississippi during the time of Jim Crow.  Segregation was a very real part of recent history in the South, and as someone born and raised in the North, it still shocks me how black Americans were treated not so long ago.  The Secret of Magic brings together the idealism of blacks in the North with Southern traditions and segregation.
Joe Howard Wilson has just returned from fighting in Italy, a decorated soldier who lost his best friend in World War II. The bus he is riding to his home in Revere, Mississippi is boarded by a man who demands that the blacks give up their seats for German POWs.  Furious at this treatment at the behest of the enemy, Joe Howard refuses to leave the bus, and ends up dead for his troubles.
Regina Robichard is a young black lawyer working her dream job for Thurgood Marshall at the Negro Defense Fund in New York City. She intercepts a letter meant for Marshall, written by one M.P. Calhoun, requesting an investigation into Joe Howard's death on behalf of Joe Howard's father, Willie Willie. Ms. Calhoun is the famous reclusive author of a children's book, also called The Secret of Magic, a book that Regina loved as a child, so Regina convinces Marshall to let her spend two weeks in Revere to see if she can bring justice to Joe Howard's family.
Regina is not surprised that she has to move to the rear of the train or use separate restrooms, but she does not expect the separation between whites and blacks to be as large as it is.  She's also surprised that most of the residents of Revere not only know what happened to Joe Howard, they accept it as part of the way of life.  Regina's attempts to obtain information are blocked from many directions but she doesn't give up.  The racism she encounters also dredge up issues from her own past, but the strong values instilled by her mother enable her to work through her own personal issues while continuing to seek justice for Joe Howard.
The Secret of Magic novel is a stark reminder of how far we've come, yet we still have a lot of ground to cover before race relations are no longer an issue.  
This novel is a good tie-in to Black History Month and an important read for everyone.
Win it!
Enter to win the giveaway below by following the instructions in the widget below, starting off by leaving a comment telling me your most memorable book or movie experience in regards to Black History.