This post may contain affiliate links. Read my disclosure policy here.
5 Minutes for Mom "Disney Expert" contributor Dawn Cullo has some movie news for you…
I am a NASCAR fan and like to watch racing on TV and I attend a race at Sonoma in California once a year. When I found out that DreamWorks Pictures is releasing a new movie called "Need for Speed" I was pretty excited. If you are a NASCAR fan like me you like to watch the cars go fast, the smell of the tires burning and cute guys driving cars.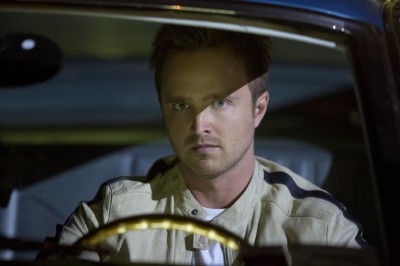 About the film
The film centers around Tobey Marshall (Aaron Paul), a blue-collar mechanic who races muscle cars on the side in an unsanctioned street-racing circuit. Struggling to keep his family-owned garage afloat, he reluctantly partners with the wealthy and arrogant ex-NASCAR driver Dino Brewster (Dominic Cooper). But just as a major sale to car broker Julia Maddon (Imogen Poots) looks like it will save Tobey's shop, a disastrous race allows Dino to frame Tobey for a crime he didn't commit, and sending Tobey to prison while Dino expands his business out West.
Two years later, Tobey is released and set on revenge — but he knows his only chance to take down his rival Dino is to defeat him in the high-stakes race known as De Leon — the Super Bowl of underground racing. However to get there in time, Tobey will have to run a high-octane, action-packed gauntlet that includes dodging pursuing cops coast-to-coast as well as contending with a dangerous bounty Dino has put out on his car. With the help of his loyal crew and the surprisingly resourceful Julia, Tobey defies odds at every turn and proves that even in the flashy world of exotic supercars, the underdog can still finish first.
"Need for Speed" is presented by DreamWorks Pictures and will be in theaters on March 14, 2014.
In preparation for his role in "Need for Speed" Aaron Paul went to a driving clinic held by Rick Seaman Stunt Driving School where he learned how to drift, do 180's, and some backwards driving (just like Mater, sort of). You can enjoy the first in a series of Behind-The-Scenes Featurettes, "Driving School," from "Need for Speed"
Want to know more?
Like Need for Speed on Facebook:
Facebook.com/NeedForSpeed
Follow Need for Speed on Twitter:
@NeedforSpeed
Tweet the Hashtag: #NFSMovie
Follow Need for Speed on Tumblr: Needforspeedmovie.tumblr.com
Follow Need for Speed on Instagram:
@NeedForSpeed
Visit the website:
TheNeedForSpeedMovie.com
Also check out 5 Minutes for Mom's other Disney related posts.