This post may contain affiliate links. Read my disclosure policy here.
Written by Michelle of Honest & Truly! who is sharing her thoughts about the "Of Pirates and Pigs" Blu-Ray combo pack of Muppets movies in this review. Our writers are compensated, but all opinions remain our own.
Growing up, I have wonderful memories of watching The Muppets with my dad. It was a great kid-friendly show with jokes that my dad appreciated, too. When they started making movies, I was thrilled. The Muppet Movie is – to this day – one of my favorite movies ever. And now there is a combo pack with two of the great ones – Muppet Treasure Island and The Great Muppet Caper available on a Blu-Ray combo pack.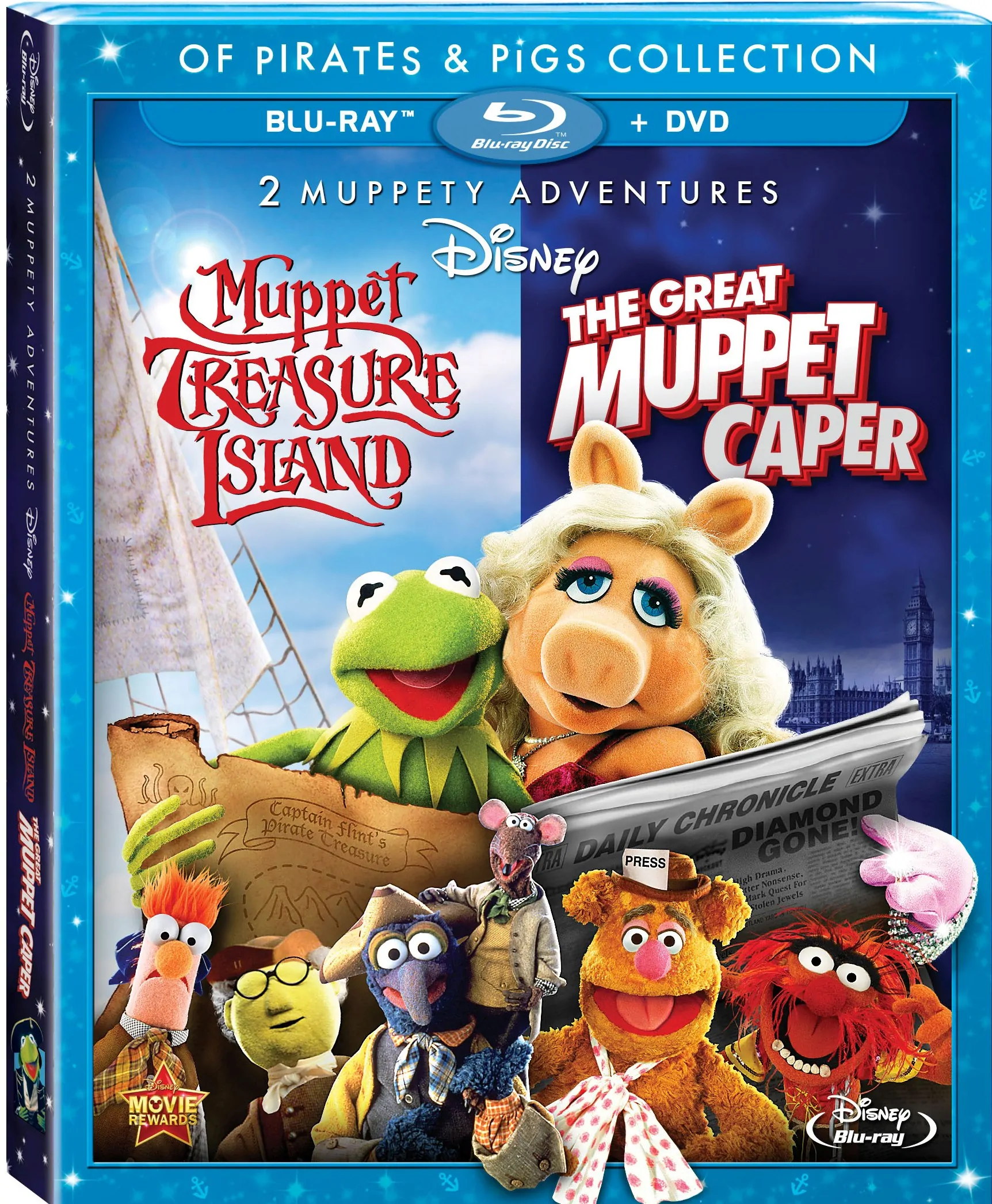 The wee ones amazed me by quickly figuring out that Muppets Treasure Island is a parody of the classic book Treasure Island. I suppose I ought to have known that, but they loved seeing this classic come to life in a silly movie that followed the storyline of a book they had read and enjoyed. There was plenty of action to keep them entertained, and it was so silly that they giggled all the way through. I had never seen this movie before, but it's definitely one we'll watch again.
The Great Muppet Caper, on the other hand, is another of my all-time favorites. When ace reporters head over the pond for an interview, Miss Piggy accidentally impersonates their interviewee, Lady Diana, when she spots Kermit and falls instantly in love. As Kermit, Fozzie, and Gonzo try to get their story about the baseball diamond (an actual diamond in this movie), the farce continues with Miss Piggy being discovered as a fraud, the diamonds being stolen by Lady Diana's no good brother and three models who work for her, and Miss Piggy being accused of the crime. With Kermit and gang to the rescue – including all sorts of other classic characters who happen to be staying at the Happiness Hotel with Kermit – hilarity ensues before, not surprisingly, all works out again in the end.
The wee ones loved Muppet Treasure Island best because there was more action to it while I prefer The Great Muppet Caper, which I find to be more clever and funny. Either way, you're sure to find movies that the whole family can enjoy in this double movie Blu-Ray combo pack ($29.99). It also includes plenty of extras like Frog-e-oke, where you can sing along to songs from both movies. It is apparent that this was created long after The Great Muppet Caper was created, as scenes in karaoke were obviously doctored to make it work, but it doesn't matter as it's tons of fun anyway. There are also features of The Tale of the Story Behind the Tail, audio commentary on Muppet Treasure Island, and a music video for "Let the Good Shine On" which is adorable.
This double feature comes out just before the next Muppet movie is released in theaters, giving me plenty of time to get them excited about going to watch it with me. There is a preview of Muppets Most Wanted (coming to theaters March 14, 2014) on the DVD as a bonus feature, as well, and we can't wait to see Ricky Gervais, Ty Burrell, and Tina Fey in this new movie. But first we have the Of Pirates and Pigs collection to watch on Blu-Ray whenever we need a movie night!
Michelle may never stop running around Chicagoland, but she always makes time for the important things in her life – her wee ones, cooking, reading, and spending time with friends – and of course, writing. You can see what she's up to on her blog Honest & Truly! or on Twitter where she tweets as @HonestAndTruly.