This post may contain affiliate links. Read my disclosure policy here.
Disclosure: I was invited to an early screening of Saving Mr. Banks, but my opinions are my own.
The theater was quiet as the movie began. The cinematography was beautiful, introducing the quality of this film, then the acting bolstered it up, with two-time OSCAR winners Emma Thompson (linked to my 2010 interview with the actress) and Tom Hanks taking my breath away, not to mention excellent supporting work from one of my very favorite actors Bradley Whitford (The West Wing), along with Paul Giamatti, Jason Schwartzman and B.J. Novak (The Office).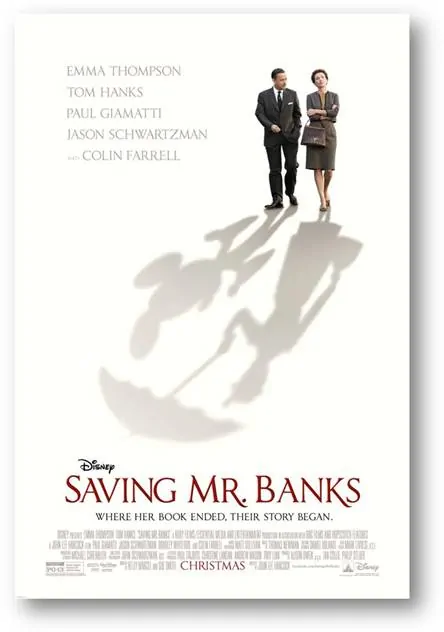 The movie goes back and forth between Travers' early life in Australia — giving us the background of the fictional Banks family, inspired in part from events of her own past– to the modern day battle with Walt Disney over buying the rights to the book. It's taken many years, but Walt (as he insists everyone calls him) won't give up. His daughters loved the book when they were children, and he promised them that he'd make it come alive on screen, so he's not giving up.
Financial struggles have caused P.L. Travers to reconsider selling the rights, against her better judgment. Disney flies her to California, where she demands veto rights over anything in the movie. Movie-lovers get a wonderful inside look at the creation of the film, the incorporation of sets, costumes, and music — everything that makes a movie memorable.
I don't always think this is true, but in this case the trailer represents the film quite well, so I'll stop explaining and let you watch:
When the movie ended, the same quiet fell over the theater. I think that most of us were speechless. In my opinion, this movie has it all. It's beautiful to watch, the story comes together perfectly, the acting is amazing, there's laugh-out-loud humor (even though it's not a comedy). I highly recommend seeing this movie. Even though I've already seen it, I plan to take my teen daughter, who loved the book and the musical on Broadway when she was younger, and who is very interested in movies now.
Content: The movie has some intense thematic moments, due to Travers' father's alcoholism, and there is a mild swear word or two, but in general, it's pretty family friendly. I appreciated that, because many quality movies that receive award recognition are full of harsh language and sexual content. Though I can't see a young child enjoying it, if they are fans of Mary Poppins or of movie-making, an older tween might like it (I was surprised to see it tagged with a PG-13. It must be the thematic elements I mentioned. It's a very very mild PG-13).
I hope that this movie will get attention from the Academy. Emma Thompson has already received best actress nominations from SAG and the Golden Globes, but I thought this movie deserved more nods in the technical aspects as well. Hopefully OSCAR will agree with me.

If you want to find out more about the novel that started it all (that is SO different from the movie that was eventually made), check out my Books on Screen tie-in post about Mary Poppins and P.L. Travers over at 5 Minutes for Books.
About the Movie
Saving Mr. Banks opens in limited release December 13 and wide December 20.
Two-time Academy Award®–winner Emma Thompson and fellow double Oscar®-winner Tom Hanks topline Disney's "Saving Mr. Banks," inspired by the extraordinary, untold backstory of how Disney's classic "Mary Poppins" made it to the screen.
When Walt Disney's daughters begged him to make a movie of their favorite book, P.L. Travers' "Mary Poppins," he made them a promise—one that he didn't realize would take 20 years to keep. In his quest to obtain the rights, Walt comes up against a curmudgeonly, uncompromising writer who has absolutely no intention of letting her beloved magical nanny get mauled by the Hollywood machine. But, as the books stop selling and money grows short, Travers reluctantly agrees to go to Los Angeles to hear Disney's plans for the adaptation.
For those two short weeks in 1961, Walt Disney pulls out all the stops. Armed with imaginative storyboards and chirpy songs from the talented Sherman brothers, Walt launches an all-out onslaught on P.L. Travers, but the prickly author doesn't budge. He soon begins to watch helplessly as Travers becomes increasingly immovable and the rights begin to move further away from his grasp.
It is only when he reaches into his own childhood that Walt discovers the truth about the ghosts that haunt her, and together they set Mary Poppins free to ultimately make one of the most endearing films in cinematic history.
Inspired by true events, "Saving Mr. Banks" is the extraordinary, untold story of how Disney's classic "Mary Poppins" made it to the screen—and the testy relationship that the legendary Walt Disney had with author P.L. Travers that almost derailed it.
Like SAVING MR. BANKS on Facebook: https://www.facebook.com/SavingMrBanks. Follow us on Twitter: @disneypictures