This post may contain affiliate links. Read my disclosure policy here.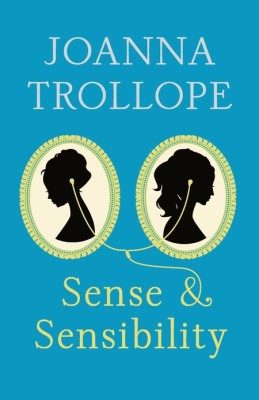 I love Joanna Trollope's books. She's insightful and accurate in her views of modern family life, and writes enjoyable stories filled with realistic characters. So I was intrigued when I saw she'd written a new version of Jane Austen's classic Sense and Sensibility. Apparently this is part of something called the Austen Project, in which 6 modern authors each retell one of Austen's novels.
Sense & Sensibility
retains Austen's basic plot but sets it in modern times, with a few tweaks for clarity. For example, it's not that the estate is entailed to John Dashwood as the only male heir, but rather that Henry and Belle never formally married, making their 3 daughters illegitimate. That works! And it's rather wonderful to see Belle as a sort of aging hippy, irresponsible but good-hearted, flaky about money but wanting only the best for her beloved girls. True to the original, Elinor and Marianne are beautiful but somewhat clueless in affairs of the heart. Cast out by their sister-in-law Fanny, who is doing up Norland in all the latest environmentally-friendly and expensive ways possible, the 3 sisters end up cast onto the kindness of other relatives.
These characters have nicknames–M, and Wills, Ed and Bill and "Mags." They listen to iPods and scandals are spread via You Tube and social media. Of course everyone's on Facebook. Horses have been replaced by Range Rovers and cars in general. Some things don't work in the modern age. Even thought there's a tremendous scene where Elinor bangs downs her knife and fork says, angrily, "Ma! This isn't 1810! Money doesn't dictate relationships" (p 137), the girls nonetheless do act sometimes rather more helpless than modern women would. Marianne suffers from debilitating asthma attacks (which is what killed her father in this rendition) in this age where a cold and broken heart aren't enough to hospitalize someone, but she is often infuriating, sitting around moping instead of just going out and getting a job. The main weakness in the adaptation lies in how many options are available to women nowadays that simply weren't there for women in Austen's era. However, Marianne's character grates on me in Austen's version too.
Sense & Sensibility
is getting mixed reviews but I have to admit I enjoyed it. While I like Jane Austen, I found this new version accessible and enjoyable. Trollope writes with her characteristic wit and wry humour, and brings fresh eyes to the trials, woes, and eventual marital triumphs of the Dashwood sisters.
Enter to Win