This post may contain affiliate links. Read my disclosure policy here.
I was compensated for this post and also received one set of Spuni's for the purpose of this review. All opinions are my own.
Anyone who has children knows it' might take more than one try before finding a bottle, sippy cup or eating utensil that your little one likes.
I never thought I'd turn into a Goldilocks, but I have and here we are.
I've been fortunate to have found brands and products that work for my children, so when I can, I like to pass on my experience and tips to help other moms and dads make decisions.
Let's face it, feeding time is messy. Especially when your little one wants to feed themselves and you're in the throws of transitioning to solid food.
Well, a great product called Spuni is aiming to change the eating game. Read on to find out how cool this baby spoon is and how you can win some for yourself!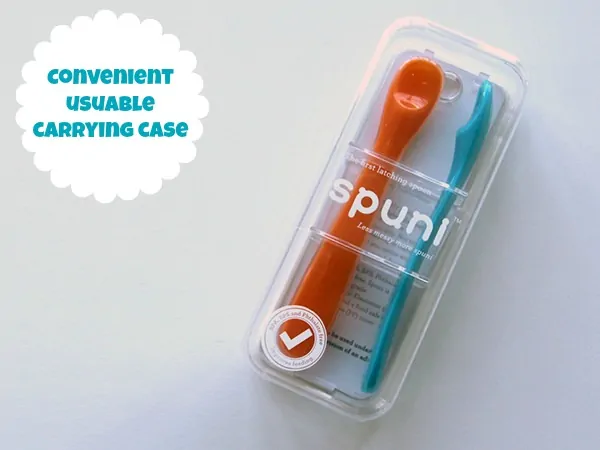 The first thing you'll notice about the Spuni is the size of spoon. The base of the spoon, where the food goes, is probably the smallest bowl I've seen on a utensil, but it makes sense! Babies mouths are teeny. So, why we've using spoons that are smaller versions of adult spoons is beyond me. But, I digress. This ergonomic spoon is comfortable for both baby's hands and the adult who is feeding them.
Spuni's patented tulip design naturally encourages babies to latch onto, and suck and swallow food from the spoon. The idea is to offer babies a more manageable portion with each spoonful. 
It's so cute to see my little guy slurp and suck food off the bowl of the spoon. He instantly had the reflex to do it. It was so cool to see! He also couldn't help himself and grabbed the spoon right from my hand!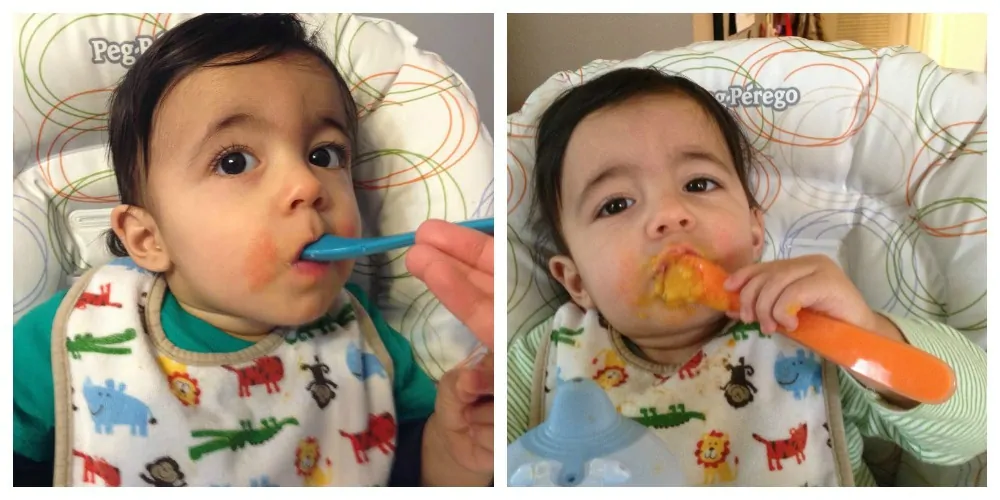 According to the folks who developed Spuni, they specifically chose not to use any silicone or latex to reduce the risk of any infant material allergies. The outer layer is actually the same material that's used on baby bottle nipples and pacifiers.

And for parents on the go, who wouldn't love utensils that come in a reusable carrying case? This was a big sell for me, as I'm used to toting around things in plastic bags when we're out.
Beginning December 9, Spuni's new reusable carrying case is available for purchase! If you're ever in a pinch and not sure what to give as a baby shower gift or a new mom, this will definitely get them excited.
All of Spuni products are BPA, BPS, Phthalates and PVC free. They're also non-toxic, hypoallergenic, and dishwasher safe.
To learn more, connect with Spuni online:
Facebook: facebook.com/getspuni 
Twitter: twitter.com/getspuni 
Pinterest: pinterest.com/getspuni   
Enter to win
1 winner isgoing to get to win a set of 4 Spuni baby spoons. Use the Giveaway Tools form below to enter.
Courtney is a super charged mom who loves taking care of her toddler daughter, infant son and Lhasa Poo.
Courtney is a life-long Rhode Island resident. When she's not blogging about parenting, food and pets on her website www.ModMommy.com, she's writing local news at a Providence TV station. Follow Courtney on Twitter: www.twitter.com/CourtneyCal