This post may contain affiliate links. Read my disclosure policy here.
Are you like me? Do you tend to take care of everyone else in your family first? Do you put yourself last? Do you hardly ever make time for yourself? Maybe it's a mom thing. Maybe it's a female thing. But ladies, we need to take some time for ourselves. We need to pause, relax and pamper ourselves.
With beginning by Maclaren, we can do just that!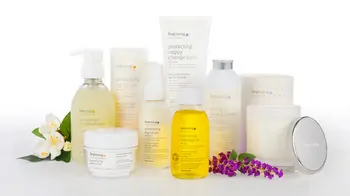 MACLAREN created their beginning line on the belief that taking care of yourself during and after your pregnancy is of paramount importance. All of the beginning products for mother contain Orange oil, which is known to be uplifting.
Each beginning product also uses natural and organic ingredients, as well as 100% pure essential oils, in proportions that are safe for use during pregnancy.
It's nurturing at its finest.
Again moms, I can not stress enough the importance of pausing throughout the busy days and nights to soothe your tired body.
The beginning products are perfect, no matter where you are on the journey of motherhood.
We have an exciting gift pack filled with beginning by Maclaren products to give away to one lucky reader. It includes full size Connecting Massage Oil, Purifying Bath and Shower Elixir, Supporting Belly Balm, Balancing Facial Mist and Alleviating Leg Lotion. The retail value of this giveaway is $132.00.
A second winner will receive not only the beginning Travel Kit for Mother, which includes sample sizes of the Connecting Massage Oil, Purifying Bath and Shower Elixir, Supporting Belly Balm, Balancing Facial Mist, Nurturing Bath Milk and Alleviating Leg Lotion, but also an Organic Elephant Toy for the child in your life. Retail value of this prize is $49.00.
To enter, please leave a comment below.
As always, don't forget to earn more entries: subscribe to our Feed, sign up for our 5M4M Newsletter, add our 5 Minutes for Mom button in your sidebar, write a post and link back to this contest on your blog, and spread the word via Facebook, Twitter, or email! Please see our site's Terms and Conditions of Use for a complete list of our contest and giveaway rules.
This giveaway is open until Friday, October 23rd. We will announce our winner on Saturday, October 24th.
This giveaway is part of a paid campaign with Maclaren.