This post may contain affiliate links. Read my disclosure policy here.
This post was written by 5m4m contributor Julia. All opinions listed are her own.
One of the many challenges of being a mom is healthy eating. (For you and your child!)
Fast food and junk food are convenient and easy choices, but they are not the best choice for your waistline or your little one's developing mind and body.
Unfortunately, childhood obesity has become a prevalent problem in America. The Centers for Disease Control says childhood obesity has more than doubled in children and tripled in adolescents in the past 30 years. The percentage of children ages 6-11 years in the U.S. who were obese increased from 7% in 1980 to nearly 18% in 2010. And a 2013 study by PEDIATRICS, the official journal of the American Academy of Pediatrics, finds that children served themselves more calories when using adult-size dishes compared with child-size dishware.Thankfully, there is something you can do about it.
Mom of 3 Sheila Kemper Dietrich has invented a new tool for parents and children to teach and learn about healthy eating habits for life. It's called Kidliga.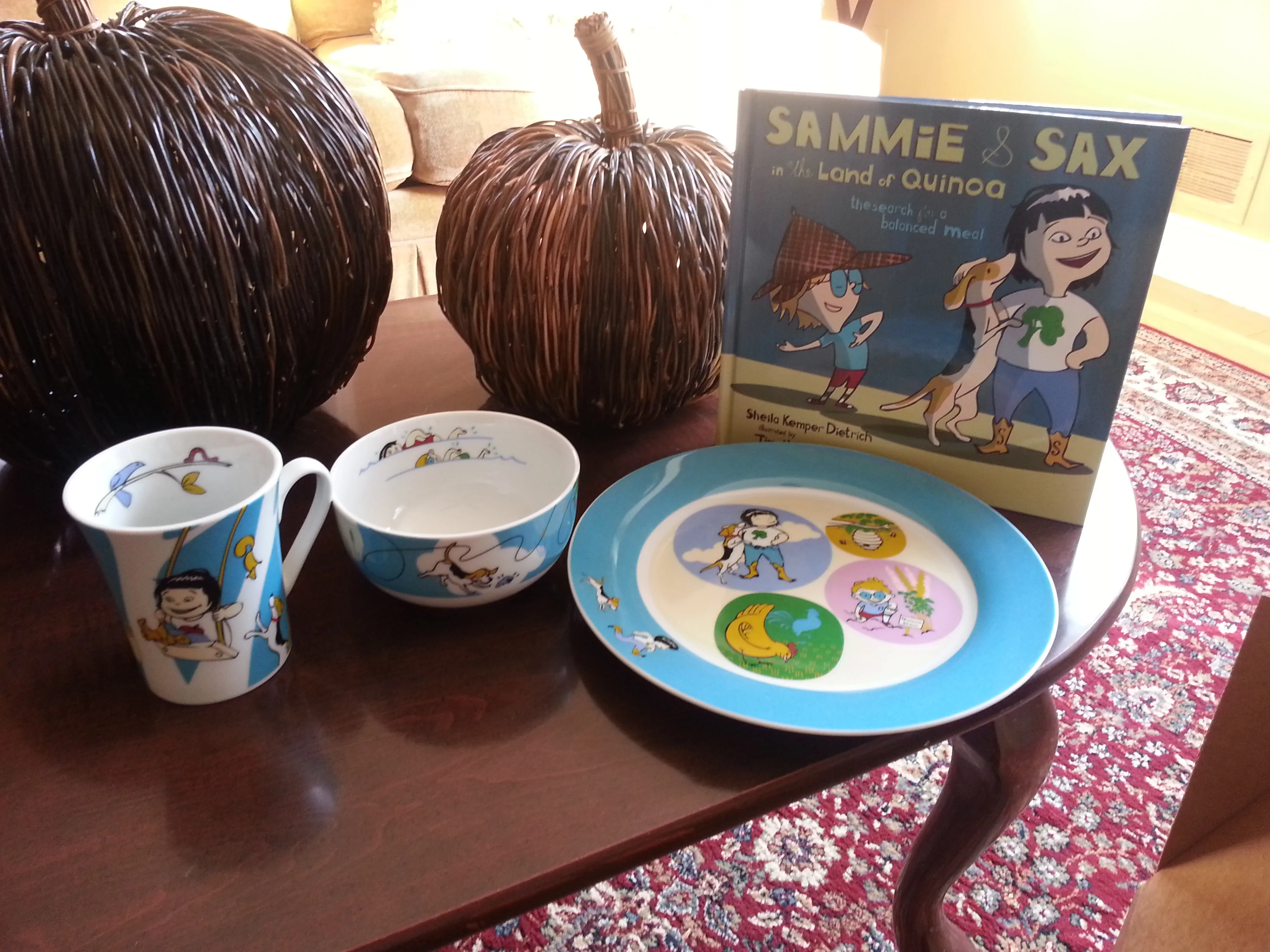 This adorable dishware come with a Moonbeam award winning storybook that will help you open up the discussion with your child about healthy eating. The lovable characters are Sammie and Sax, and they go on a great adventure to learn about what it takes to make a balanced meal. The book even includes healthy recipes you can recreate with your child to enjoy the exact same balanced meal Sammie and Sax do!
Kidliga stems from the original invention of Livliga plates, which are very pretty portion control dishes for adults. Sheila Kemper Dietrich then developed Kidliga to assist families with children.
Kidliga dishware is the only one to approach healthy eating via the psychology of eating. The rim sizes, color palette, and designs all combine to encourage slower eating, make portion sizes look larger, as well as make food more visually appealing.
I was thrilled when the box arrived at my house and I was able to try out this product with my son. He was thrilled to open the box and find a set of dishware made specifically for him! Even better, he loved that the ceramic dishware is like "grown-up dishes" and is so "cool looking." I love how beautiful it is and am thrilled with the beautifully illustrated storybook that helped us have a conversation about healthy eating. 
We read the book right away, and even though he is only four years old he was able to follow along and understand the difference between the healthy food and unhealthy food Sammie and Sax encountered during their quest. He was also able to take away that you have to put healthy foods together to make a balanced meal. 
I think this book is perfect for children aged 5-10, though the basic concepts could be used for children as young as three. 
It's never too early (or too late) to introduce the concept of healthy eating and balanced diets into you and your child's lifestyle. 
And with this adorable dishware and story from Kidliga, you will be off to a great start! My son and I are in love with this book and will be eating our first meal with it for dinner tonight. 
Enter to win
One lucky winner (it could be you!) will receive one set of Kidliga dishes and the storybook. Let Kidliga help make healthy eating a priority in at your home. 
Use the Giveaway Tools form below to enter.

Julia is a full time mommy and part time writer who thrives on Starbucks, chocolate, and toddler kisses. When she is not chasing a toddler around, you can find her at her personal blog, http://www.elatedexhaustion.com, or playing on Twitter @juliahembree.