This post may contain affiliate links. Read my disclosure policy here.
We eat a lot of chicken. No, really, a LOT of chicken. It's such a versatile and tasty protein source, that it graces our table 4-5 nights per week.
In an effort to keep our menu ever-changing, I came up with a new recipe the other night. It was so well received by my family that I thought I'd share it!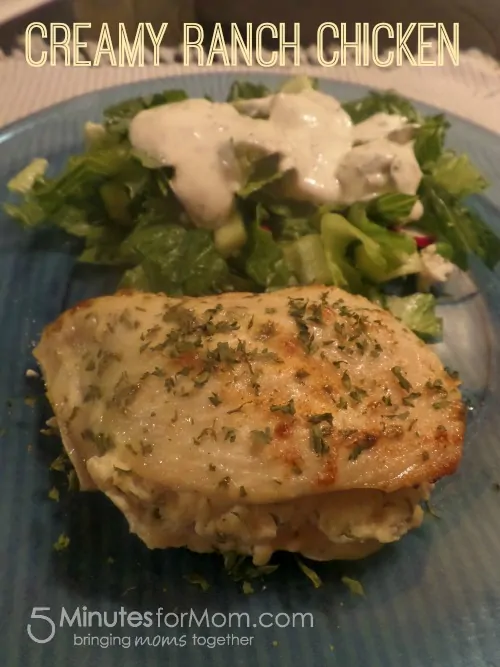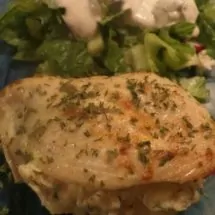 Ingredients
4 boneless skinless chicken breasts
4 oz cream cheese softened
1 recipe Ranch dressing mix recipe follows
1/4 cup mayonnaise
Salt and Pepper
Parsley
Ranch Dressing Mix
1 teaspoon onion powder
1/2 teaspoon garlic powder
1 Tablespoon parsley
1 teaspoon dill weed
1/2 teaspoon seasoning salt
1/2 teaspoon black pepper
1/2 teaspoon lemon juice crystals
Mix all ingredients thoroughly.
Instructions
Pre-heat oven to 350*

Combine half of the Ranch dressing mix with the cream cheese.

Combine the second half of the Ranch dressing mix with the mayonnaise

Spray baking sheet with non-stick spray

Butterfly the chicken breasts, leaving breast intact on one side.

Fill the split breast with 1/4 of cream cheese mixture

Spread the outside of the breast with 1/4 of mayonnaise mixture

Bake on baking sheet for 35 minutes, or until done.

Serve with a side salad.