This post may contain affiliate links. Read my disclosure policy here.
Geri, 5 Minutes for Mom contributor, shares her insights into this review for Valor Chocolates. We were compensated to write this post and all opinions listed are those of the writer.
Okay, I will admit it…I am addicted to chocolate. Like I need to have a taste of it almost every day to feel normal.  I don't necessarily have a preference regarding milk vs. dark chocolate, but I am starting to have a preference for different brands. Lately I have been looking at sugar free versions because I am trying to eliminate more sugar from my diet.  I have heard good things about Valor No Sugar Added Chocolate from Spain, but hadn't found any locally, so I was excited when Valor asked us to review and compare their products to some of the other sugar free options out on the market.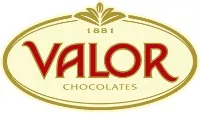 Valor Chocolates was founded in 1881 by Valeriano Lopez, whose family started making chocolate in their home.  130 years later, the Spain-based company has since evolved to become one of the leading chocolate producers in the world. The chocolate gets exported to countries all over the globe.  This time it was exported to my house!
I was glad when I received the package that there were both milk chocolate and dark chocolate products included.  There were also chocolate with nuts included as well, so we had a wide variety of taste choices!  I say we because my boys decided that they would be helping me on this particular review and taste test.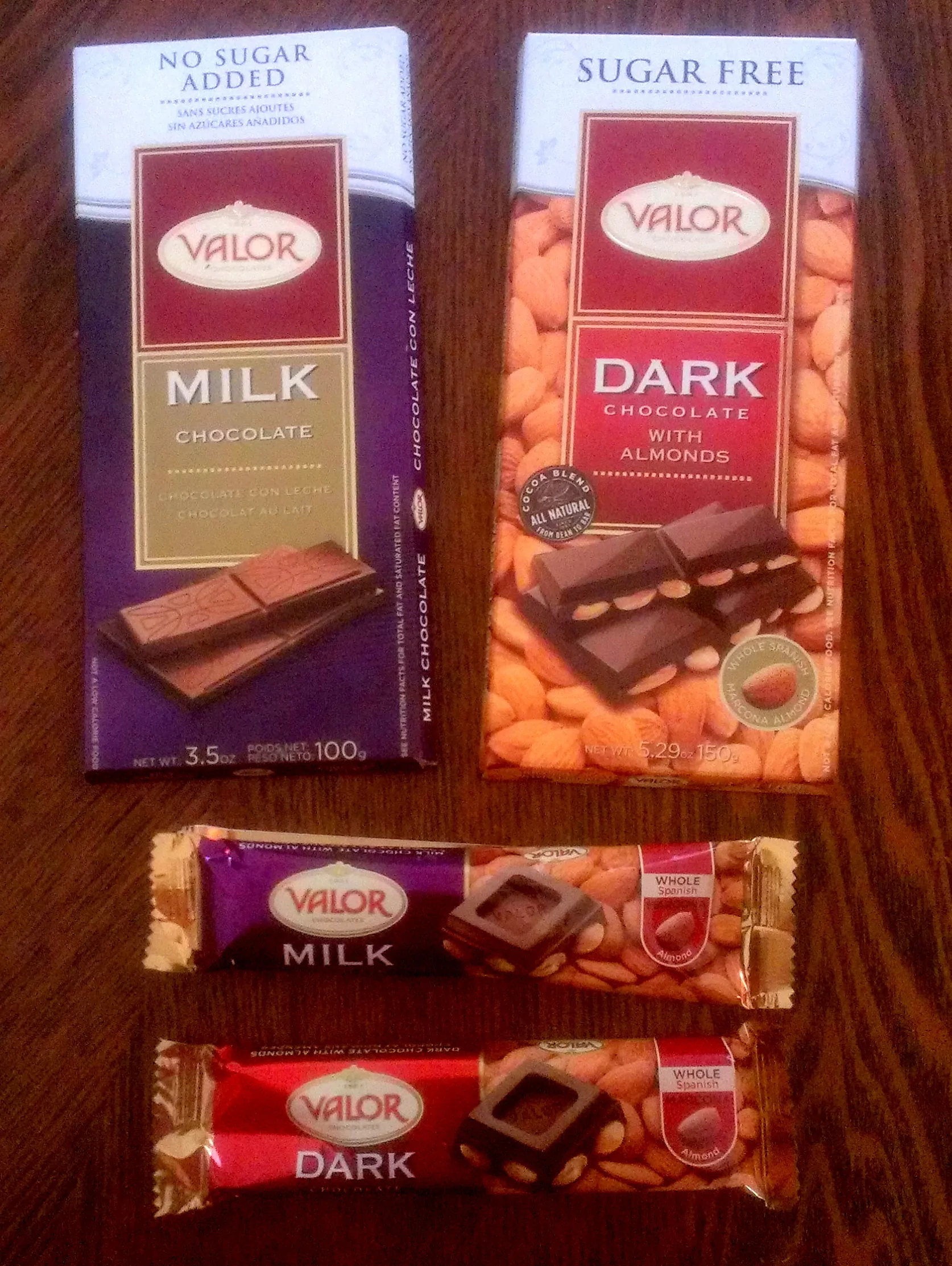 We devised a plan to taste the milk chocolate one day, then the dark chocolate the next, then both of them on the third day so that our taste buds would not get so overwhelmed by all of the different tastes that we couldn't distinguish one product from another. Turns out there were such huge differences that we probably could have done them all in one day.
Here are the products we tried, along with the results: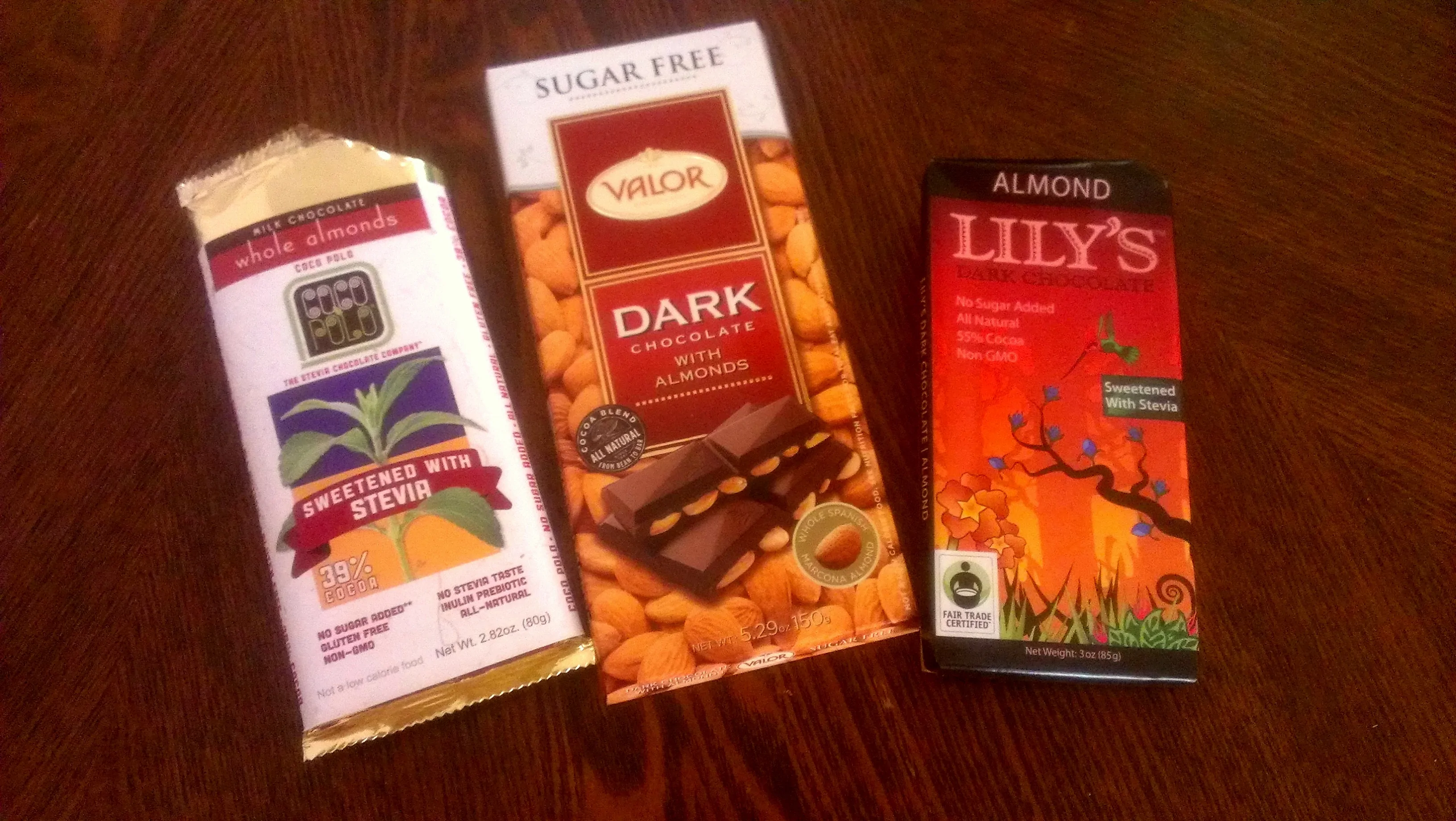 Dark Chocolate Contenders
Coco Polo Dark Chocolate with Almonds (no sugar added, non-GMO, sweetened with Stevia)
Valor Dark Chocolate with Almonds – (sugar free, sweetened Stevia and Maltitol)
Lily's Dark Chocolate with Almonds (no sugar added, non-GMO, sweetened with Stevia)
Both Lily's and Valor had cocoa content in the 50% range, whereas Coco Polo's cocoa content was much lower at 39%. Lily's coloring was very dark compared to the others and I found Lily's chocolate to be extremely bitter and not very flavorful – kind of like eating cocoa baking powder. It had a very hard texture compared to the other two.
Coco Polo had kind of a weird, fruity taste and was much sweeter than Lily's. The weird taste came through much stronger than the chocolate taste.
Valor Dark Chocolate was noticeably less sweet than non-sugar free dark chocolate, but the flavor was pleasant and not bitter at all.  There was no overpowering notes of anything that wasn't chocolate or cocoa. And there was a good chocolate to almond ratio.  Valor ended up being the winner in the dark chocolate category.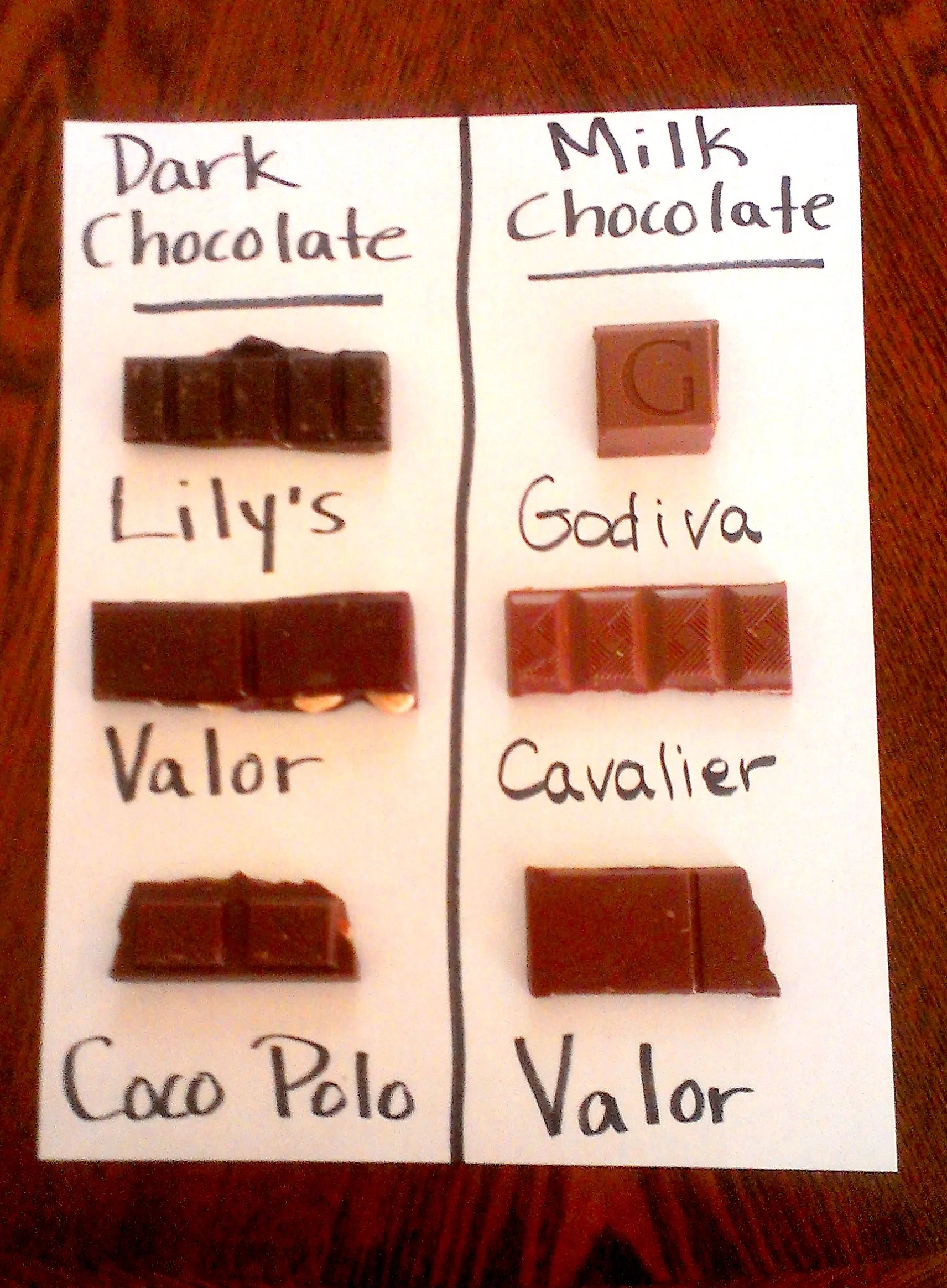 Milk Chocolate Contenders
Valor Milk Chocolate (no sugar added)
Cavalier Milk Chocolate (no sugar added)
Godiva Sugar Free Milk Chocolate (sugar free)
So…first we had a question about the difference between "sugar free" and "no sugar added".  The difference is this: the milk that is used to produce the chocolate does have its own sugar compounds, but no sugar is used in producing the bars.  But obviously those sweetened with Maltitol or Stevia have added sweeteners, just not sugar.
After we understood the difference, we tasted the milk chocolate.
The Godiva Milk Chocolate immediately revealed a cinnamon-like undertone.  It was also extremely sweet compared to the other two milk chocolate brands.  Sadly, the chocolate flavor took a backseat to the cinnamon and the sweetness.  But it melted nicely on my tongue and I did like that. It had a pleasant, creamy texture.
The Cavalier Milk Chocolate was our least favorite of the bunch because it seriously tasted like perfume! After you had it in your mouth for a few seconds, the chocolate taste started to come forth, but by then my taste buds had been assaulted and the perfume taste lingered.  Not good.  I didn't even pay attention the the texture of the bar because I just wanted it out of my mouth.
Again, Valor prevailed with the best chocolate taste of the three. I found the sweetness just right and thought it tasted the closest to traditional chocolate of any of the milk chocolates.  It had a nice melt and texture and my boys like it the best out of all the " no sugar added/sugar free" chocolates we tasted.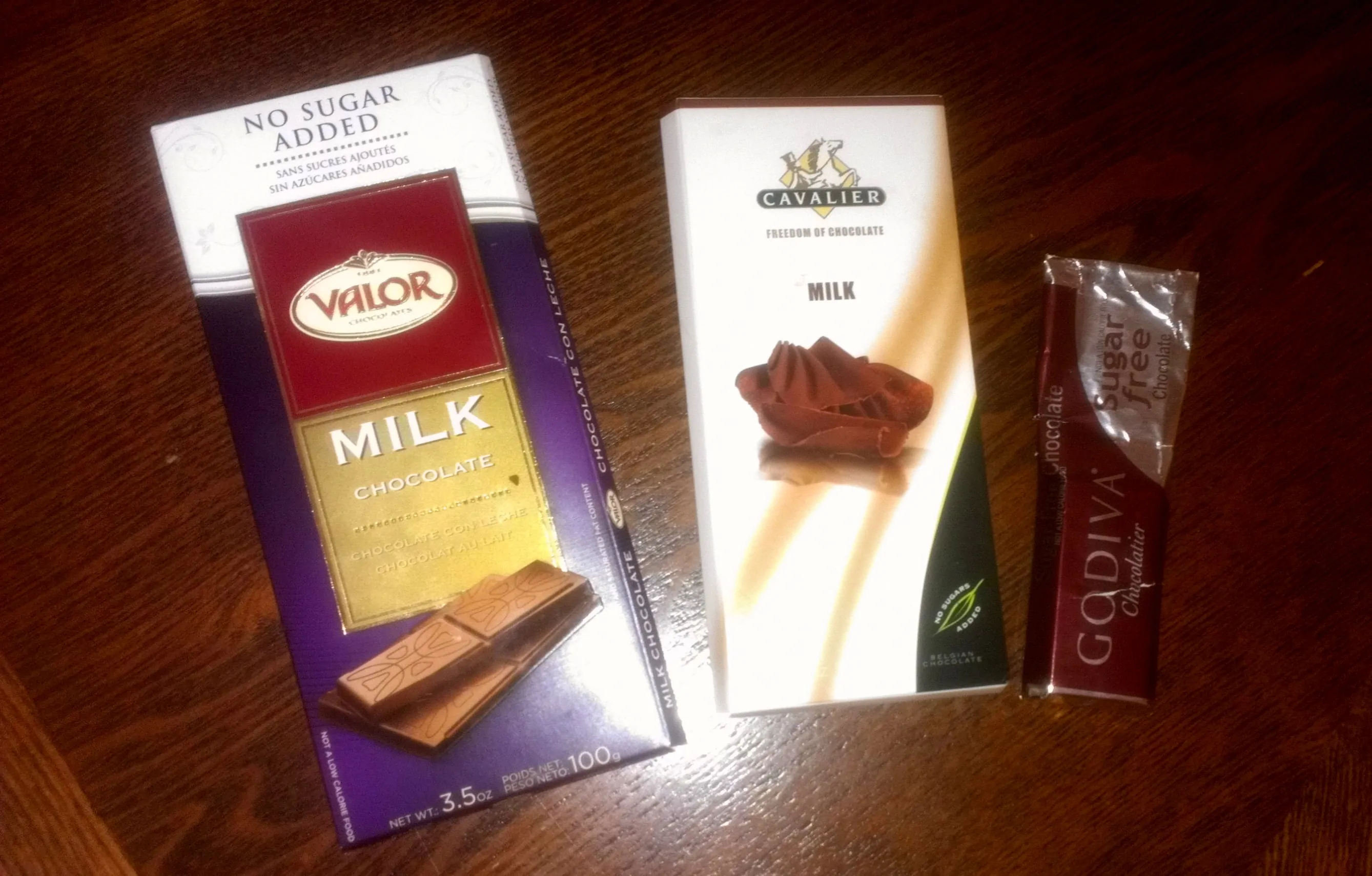 After we tasted and compared the sugar free and no sugar versions, we compared the traditional Valor chocolate bars to the sugar free Valor.  The kids preferred the traditional Valor Chocolate, which was sweeter than the other products, in both the dark and milk chocolate varieties.  The sweetness was not unpleasant or overbearing at all, just noticeably more sweet than its sugar free counterparts.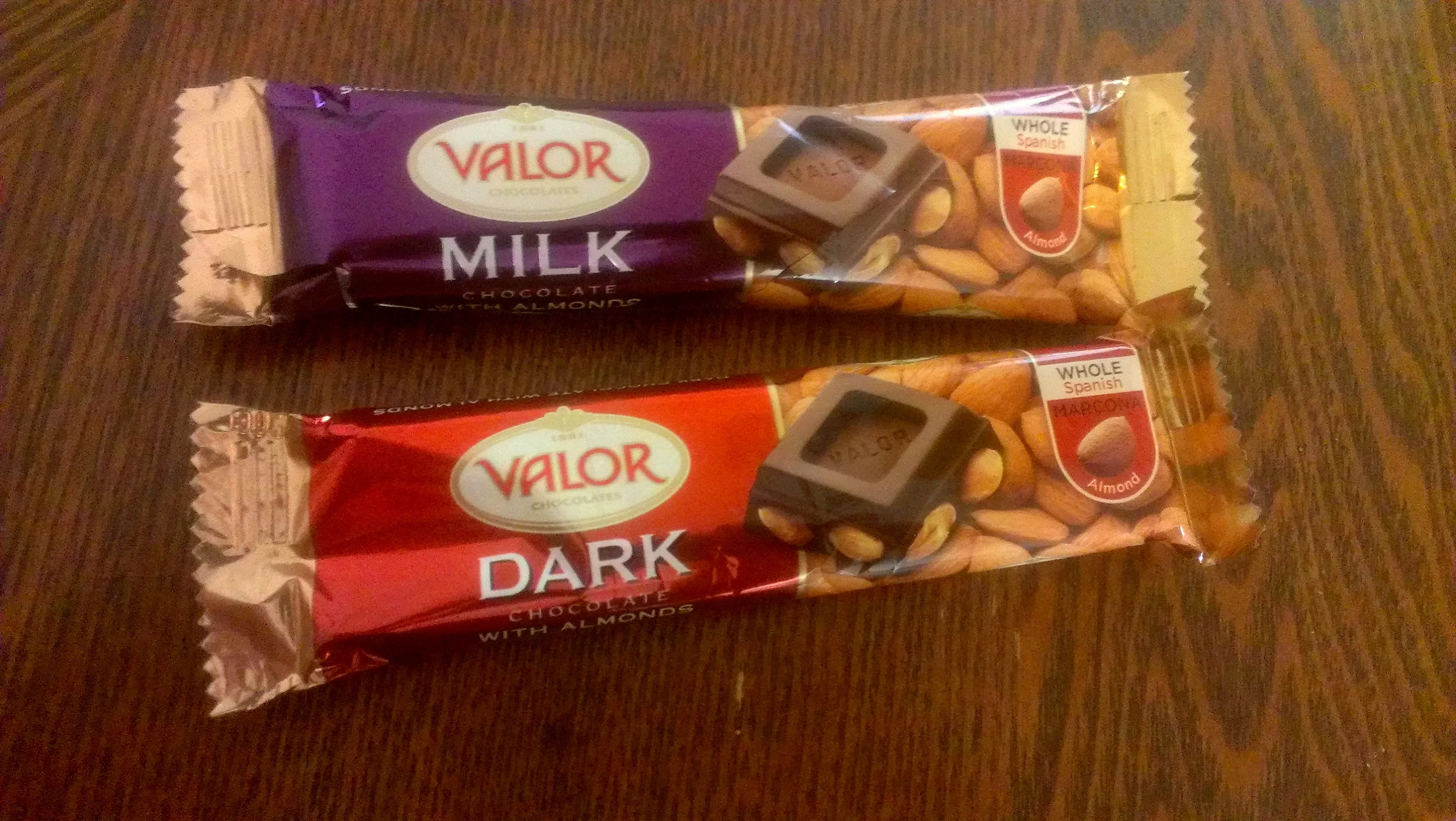 What I did notice about the Valor Chocolate is that the chocolate flavor was never overpowered by any other ingredient.  It also had a very nice melt quality and texture.  The milk chocolate was very creamy, not waxy at all. The dark chocolate was of course, less creamy, but was not so hard that it took forever to melt in your mouth.
Which do you prefer – Milk Chocolate or Dark Chocolate?
I am definitely addicted now to the Milk Chocolate No Sugar Added version of Valor!  The squares are generous on proportion and one square is a perfect after dinner treat that makes me feel like I had dessert without actually eating a calorie-laden bowl of ice cream or piece of cake.
Enter to Win
You can purchase Valor Chocolate online at Valor Chocolate, LaTienda.com, Amazon  and WorldWideChocolate.com for anywhere from $2-$7 a bar. Or you can enter to win some here!  To get started, just enter your email address in the giveaway tool below.
Geri Chase is mom to 2 hilarious boys and wife to an insanely funny husband, all of whom like to remind her that the fact that she is a girl does not give her immunity from their testosterone induced humor. While she pretends not to be amused, she secretly laughs herself silly over their antics and frequently blogs about life and family friendly products over at I Am Boymom.