This post may contain affiliate links. Read my disclosure policy here.
This post has been written by 5 Minutes for Mom contributor, Teresa. We were compensated to write this post, however all opinions listed are my own.
If you are looking for the latest in wireless technology, then you have to have the AT&T Unite mobile wi-fi hotspot.
Have you noticed how everyone you know has a wi-fi capable cellular phone? Being able to communicate with your family and friends in a moments notice has become an essential part of our daily lives these days. It is important for most people to get access to the internet these days.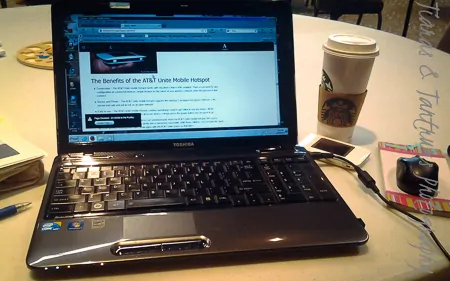 My children are aghast every time I tell them I had to go to the library to look up information or order paperwork through the mail  for school research papers. A normal sentence in our house is "let's google it", because you know, google has all the answers. And if google can't help us, then we can always go to Siri. If we need instructions on pretty much anything, Youtube is our best friend for that category. Basically, the internet has turned out to be a necessity for us.
We are a family with home schooled children, so if I can turn a simple activity, task or outing into a lesson, I will do it right there on the spot. We learn where we are. We carry around our tablets with us where ever we go because we like to stay connected to the internet all the time. Who knows when I may need a quick question answered.
However, not all spots we frequent have wi-fi hotspots. Some locations have hotspots, but they are hinky or have weak signals or I get bumped off for some unknown reason or there simply is not a signal at all to be found.   We are a family who likes to stay connected. I like to be socially connected to twitter and other social networking pages.
I need to have access to my email at all times for work purposes and more importantly, this is the mode of communication with my children's teachers. Sometimes we get assignment changes daily and I need to be able to let my kids know right away. My constant connection to internet is possible with my AT&T Unite mobile hotspot.
My AT&T Unite mobile hotspot is simply a device I can put right in my pocketbook, ready to use whenever I need it. The AT&T Unite mobile hotspot is an all-in-one portable broadband device with a personal high speed, safe, secure, 4G broadband connection over a wi-fi signal.  The device enables my family to connect to the internet without any problems at all. I have my own wireless network sitting quietly in my pocketbook. We have used our hotspot in restaurants, schools, doctor's offices, parks, cars, hotels and airports . . . virtually anywhere.
The AT&T Unite device allows my family to connect up to 10 wireless internet capable devices. It is portable, about the size of a small cellular phone. It is also rechargeable and very convenient. The AT&T Unite device allows all my family members to connect to a 4G network and surf the internet, just like we could with our cellular phones. But, we don't have to use up all the data on our cellular plans.
AT&T Unite is currently $0.99 with a 2-year contract and only $20 per month that can be added to your family mobile share plan. We didn't need any special connections or service calls. We simply turned on the AT&T Unite device and were ready to roll or surf.
For more information, visit att.com/Unite or connect with WiFi Family on Facebook.
Teresa is a family lifestyle photographer who is happy homeschooling her three children in the Christian Classical education theory in the suburbs of Chicago. You can find her on her blog Tiaras & Tantrums or on Twitter as @tiarastantrums.