This post may contain affiliate links. Read my disclosure policy here.
Jenny, 5m4m contributor shares her insights into Clean Ones Latex Free rubber gloves. We were compensated to share this post with you, however all opinions remain those of the writer.
Life can be messy. Whether you are cleaning the home, working on crafts, or even changing oil on the car your hands can take a beating. Harsh chemicals, paint, oil.  They all affect our skin. However, many gloves also affect our skin negatively. Clean Ones Pure Comfort Latex Free Gloves are a comfortable and clean alternative to traditional rubber gloves.
These gloves not only serve a purpose in keeping your hands protected while working, but are also 100% BPA, Phthalate and Latex free, making them safe for any household job.
Clean Ones Latex Free Gloves also have:
Ultra Soft, Absorbent Lining
Contoured Fit for Added Dexterity
Non-Slip Swirl Grip
Dermatologists recommendations to Prevent Skin Irritation
Been Awarded 2013 Parent Tested, Parent Approved Seal of Approval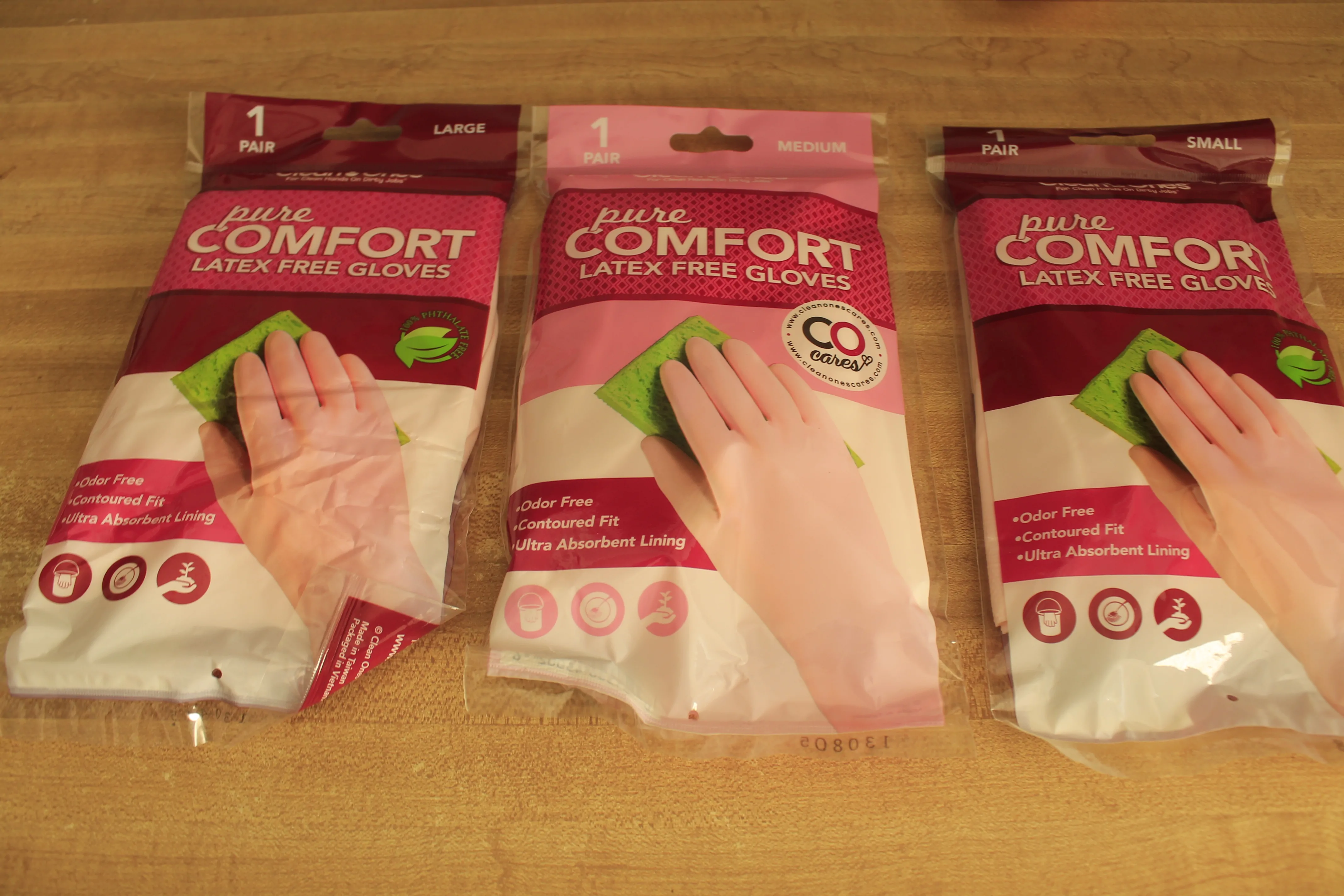 I found the gloves to be:
Durable: In the past I have had gloves that developed holes in the fingertips.
Comfortable: My hands are small, but these fit perfectly. The tight fit also prevented water from leaking in.
Non-Itchy: The lining was so soft!
Good Grip: Soap and water can lead to broken glass when a dish slips from your hands.  I really enjoyed the good grip these gloves gave me.

Washing dishes is one of my least favorite tasks, particularly because I hate the wrinkled up feeling my hands possess after washing.  However, with Clean Ones this problem was solved! The tight fit, easy grip, and comfortable lining all contributed to a much more pleasant dish-washing experience!
Not only are the Clean Ones gloves good for your hands, but they are good for the community.
In 2013, 10% of Clean Ones retail sales will be donated to four different charities.  This proves the Clean Ones motto: Clean Ones Cares!
Visit their website, facebook, twitter, or pinterest pages to learn more!
Enter to win
One winner is going to win a set of Clean Ones and a $25 Amazon Gift Card. Use the Giveaway Tools below to enter.
Hi! I'm Jenny! I blog at www.thesweetstuff.blogspot.com all about my home, family (husband and sweet baby girl), being a mom, crafting, cooking, my faith in God, and more. I love the outdoors, living in a small town on the Central Coast and being a mom!