This post may contain affiliate links. Read my disclosure policy here.
5M4M contributor Stacey received samples of this product from the company so she could bring you a personal and honest opinion of the product. All opinions are her own.

Thanksgiving is just a little over a month away, which will be here before we know it, and then we will quickly ripple right into Christmas. And I couldn't be more excited! I love the hustle and bustle of decorating and shopping, baking and wrapping, and traveling to see our families. Love it!
But the one thing I don't love about that time of year is that inevitably one (or more) of my kids will get sick. It's a combination of culprits and it usually happens when we are away from home. A quick run to the local pharmacy for provisions and we're back to family time. This year, however, I'm going to start our holiday travels a little more prepared with PediaCare's new Single Dose packets!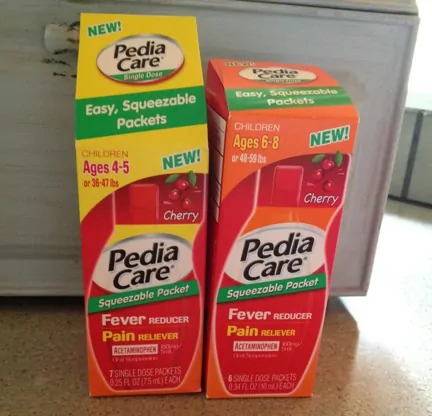 Designed to specifically help parents administer the correct dose of medicine to their little ones, the PediaCare Single Dose Acetaminophen Fever Reducer/Pain Reliever are pre-measured acetaminophen in individual, squeezable packets.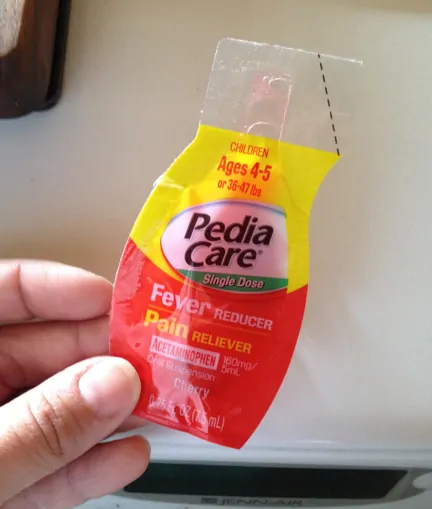 As any parent can attest, trying to measure out the exact amount of medicine for your feverish child in the wee-hours of the night can be a frustrating task. Reading the small print on the bottle. Pouring just the right amount in the little cup. Watching as your little one spills most of it down the front of them. Not exactly the best case scenario. The Single Dose packets from PediaCare take care of all of that! Just select the packet that corresponds with your child (7.5mL packet for children 36-47lbs or ages 4-5 or 10mL packet for children 48-59lbs or ages 6-8), fold and tear the child resistant top, and squeeze the medicine directly into your child's mouth. Done!
Now, while that all sounds great and definitely a sanity saver for those late night medicine times, I'm even more excited about the PediaCare Single Dose packets for traveling! As I mentioned earlier, we always end up with a sicky while traveling over the holidays. I love that I can toss some of these Single Dose packets right in my purse or suitcase and be ready any time, anywhere! No more looking for a pharmacy on short notice or carrying along medicine bottles and medicine cups!!!
ENTER TO WIN
Do you find yourself struggling with getting the right amount of medicine to your little one when they are sick? Or maybe you just love the convenience of these single squeezable packets for home or travel?? Now you can enter to win a pack of PediaCare Single Dose packets of your own!
Blogging at StaceySays.com about life as a mother to 3 young kids, Stacey dreams big through her life list and is currently shopping two of her children's books to publishers.