This post may contain affiliate links. Read my disclosure policy here.
Lemon pepper chicken is one of our family's favorite meals. It's super easy and goes great with our favorite side dish, loaded mashed potatoes.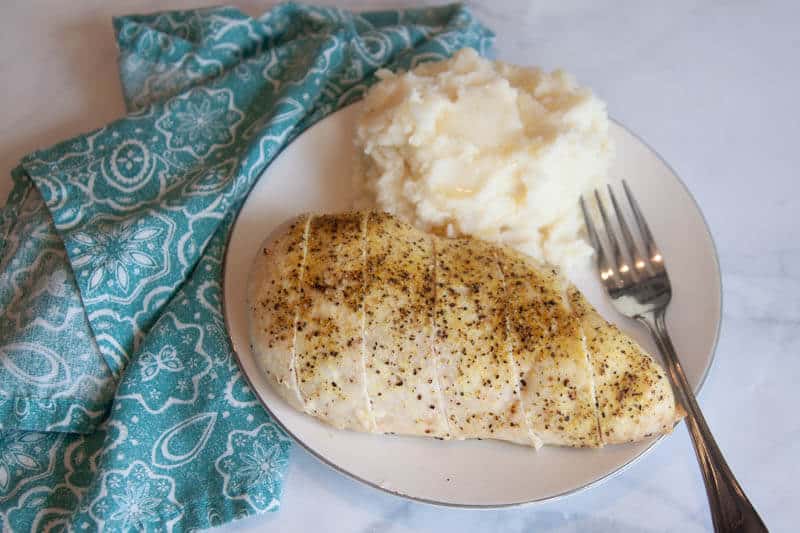 When I was first married I made this a bit differently than I do now and it was a lot dryer and you needed a sauce or dip. My husband is very handy in the kitchen, especially when it comes to cooking meat. He taught me this trick and this is now how I cook Lemon Pepper Chicken all the time.
The trick to keeping the chicken from getting dry is, first of all, don't overcook it, the second trick is to brush the chicken in cooking oil to keep it from drying out too much. I used to throw the chicken in the pan, drop a few spoonfuls of butter on the top of the chicken, sprinkle with seasoning and then bake. The chicken was so dry. Cooking the chicken in the oil ensures that the chicken stays nice and moist.
This recipe is to make 2 large or 4 small-medium sized chicken breasts. The measurements for the mashed potatoes are approximate. When I fix mashed potatoes I just throw it all together so use your judgment based on what you and your family prefer.
By the way, if you love easy chicken recipes, try Rosemary Chicken Tenders with Roasted Veggies.
How to make Lemon Pepper Chicken:
Trim any excess fat from the chicken breasts. Generously brush the bottoms of each piece with olive oil, sprinkle with lemon pepper seasoning.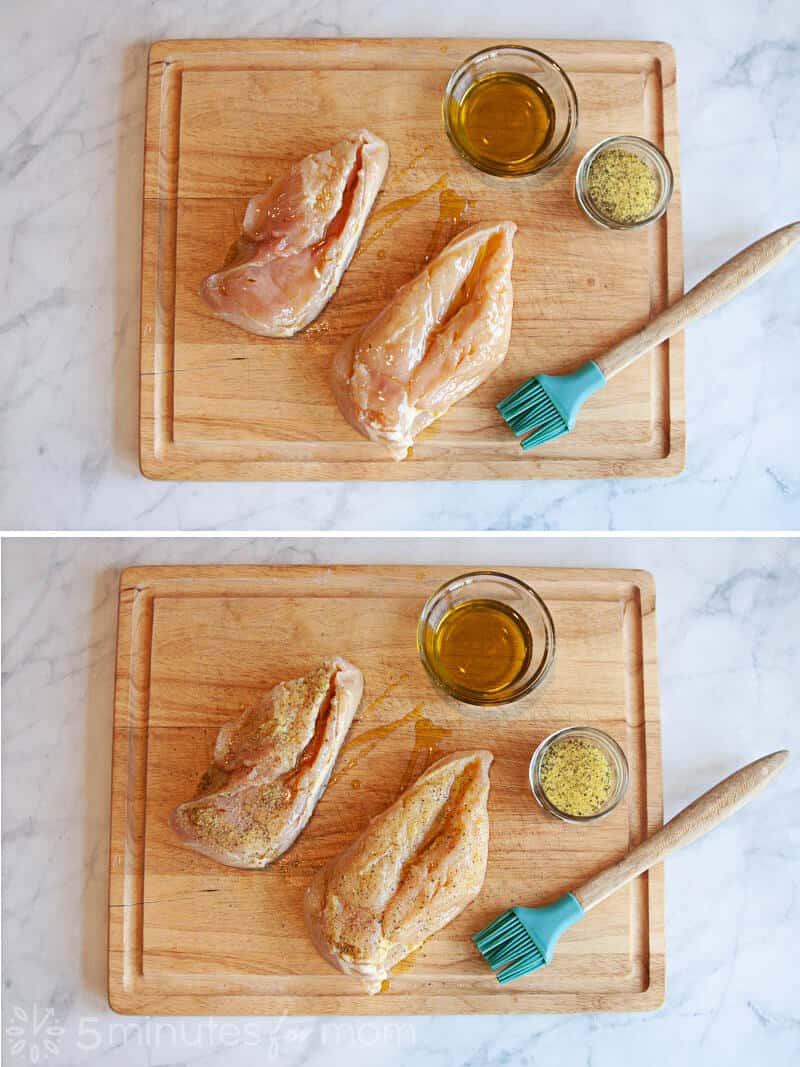 Place the chicken breasts in a baking pan, the size you need will depend on how many pieces of chicken you are cooking. I used a 9×9 square baking pan for these two large chicken breasts. Brush the tops with olive oil and sprikle with more lemon pepper seasoning.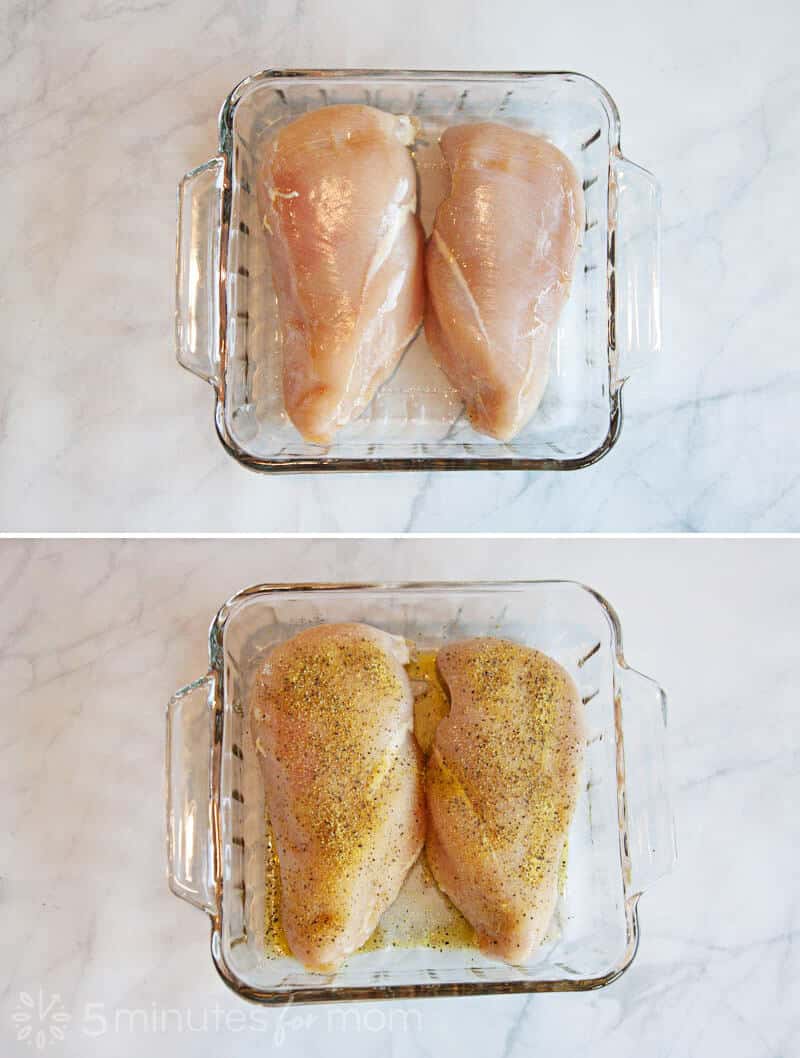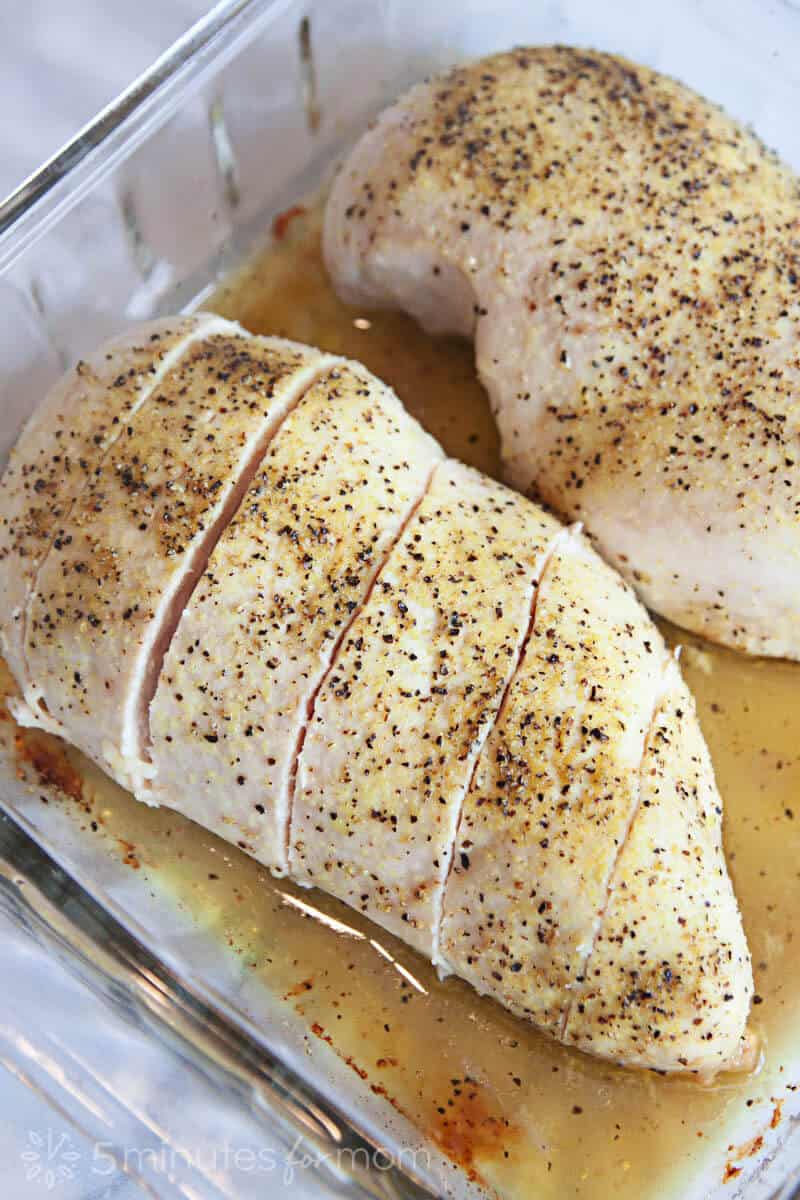 Remove from oven, serve and enjoy with loaded mashed potatoes or your favorite side dish!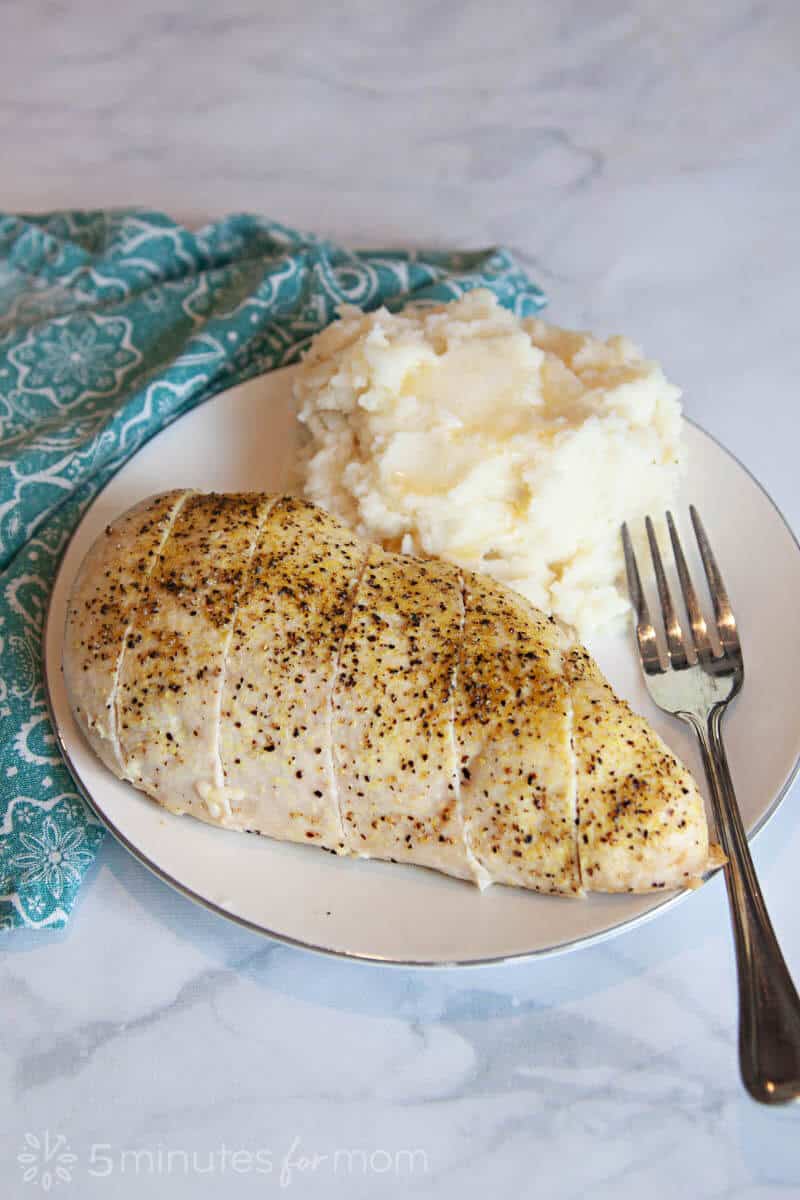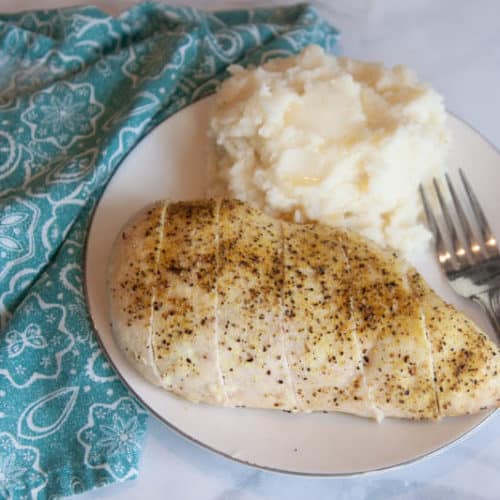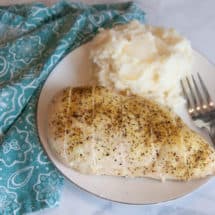 Easy Lemon Pepper Chicken w/ Loaded Mashed Potatoes
This easy baked lemon pepper chicken recipe only needs 3 ingredients and the loaded mashed potatoes are the perfect side dish!
Print
Pin
Rate
Servings: 8
Ingredients
Lemon Pepper Chicken
2 boneless, skinless chicken breasts or 4 small
1-2 tbsps olive oil
1 tbsp lemon pepper seasoning
Loaded Mashed Potatoes
3 lbs potatoes
Real salted butter
Milk or heavy whipping cream
Sour cream
Shredded cheese
Instructions
Lemon Pepper Chicken
Trim any skin or fat from the chicken. Generously brush the olive oil over all sides, tops & bottom of the chicken.

Sprinkle half the lemon pepper seasoning onto the bottoms of the chicken breasts.

Place the chicken breasts, bottom side down into a baking pan. For these 2 large sized chicken breasts, I used a square baking pan, when using 4 small-medium breasts you can use a 13x9 inch pan.

Bake the chicken in a 350º oven for 30 minutes. Use a meat thermometer if you aren't comfortable judging when the chicken is done, you don't want it to be over cooked and dried out.
Loaded Mashed Potatoes
Peel your potatoes and cut them into chunks. Boil them until they are very tender.

Drain the potatoes in a colander, add the potatoes to a large bowl. Next add about 1/4 -1/3 cup milk and 8 tbsp butter, mash the potatoes well.

Add 1/3 cup sour cream and 1/2 - 1 cup shredded cheese. Mix well.

Mashed potatoes are something that is so easy to make to taste. As you add the milk or cream, the butter, the sour cream, and the cheese, taste after each addition. Add more of anything that feels right. I like my potatoes heavy on the salty/butter flavor.
Pin for later
Pinning and sharing is so appreciated!