This post may contain affiliate links. Read my disclosure policy here.
Emily Babb, a 5 Minutes For Mom writer, shares her insights into this review. We were compensated to write this post, however all opinions remain those of the writer. 
One of my absolute biggest issues in the morning involves my towels.
I love thick, soft towels that easily soak up every drop of water from my hair. The only issue is that they are so thick and heavy that my neck is left sore from balancing this massive towel on my head while I get ready for work.
Luckily I was introduced to Terry Top and my mornings seriously got easier.
Before I even get to the specs, let me totally honest with you. No matter how great this hair towel is supposed to be, I was going to judge it based on one thing first . . . how thick the terry cloth is.
Terry Top
didn't disappoint.
The product is made with super soft terry cloth, that is that lovely thickness that makes you actually want to fold towels. That alone would sell me on this product.
With Terry Top's simple, yet genius design there is no more twisting, buttoning, or balancing to get your hair dried off after a shower. Twisting actually damages your hair. I knew this, but after using this hair towel for a week, my hair is softer, I am using less conditioning products, and my ends look as healthy as they do the day I get a good trim. Towel blotting your hair is a much better way to dry, and doesn't lead to unnecessary damage.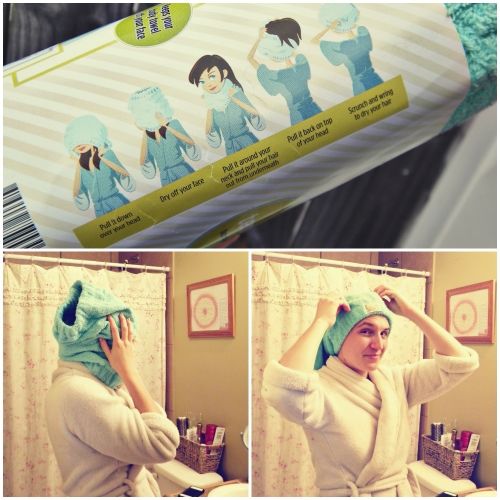 I remember my grandmother always telling me to dry my face off first, because it's gross to dry your behind before your face. With Terry Top, you really don't have to worry about that ever again. It's so simple to pull over your head, dry your face, pull your hair out, pull Terry Top over your head, and go. I do everything I need to in the morning while wearing my towel, it's made putting on my makeup a breeze.
Enter to win
With all of that said, how would you like to give Terry Top a try for yourself?  To win your very own Terry Top just share with us the color you would choose if you won. To get started, enter your name and email address in the giveaway tools form below.
Lifestyle & food blogger at Louisiana Bride.