This post may contain affiliate links. Read my disclosure policy here.
Our writer received a product to facilitate her review and was compensated to write this post.
My daughter has some seasonal allergies. Once that tickle and congestion sets in, the cough starts up and it seems like it never goes away. Nighttime is the worst, when it interferes with her sleep — and mine because I wake up when I hear her and worry about her. When that starts happening, a humidifier definitely helps her breathe and sleep better.
The problem with our old humidifier is the way the water tank worked, it was hard to empty all the water out. I've stood it on its side in the sink, shook it side to side and still a little water would remain, which didn't seem sanitary when I wanted to refill it. What was I spewing into the air along with the steam?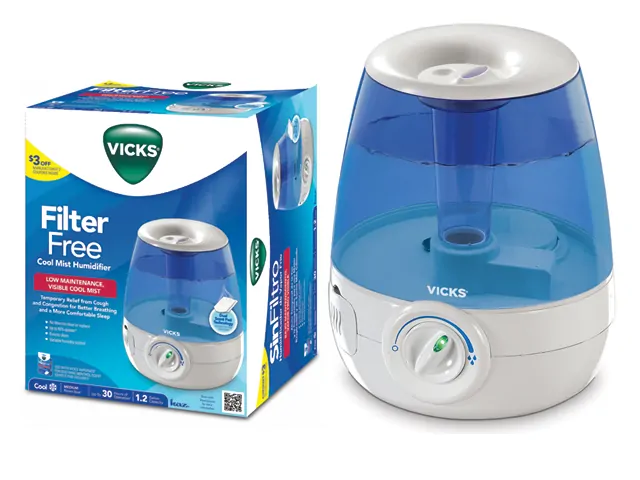 This Vicks Filter Free Cool Mist humidifier has a large tank that is easy to fill and empty. You can also control the amount of mist that comes out from not much at all to a nice heavy mist with an easy twist of a knob.
Other features include:
Soothing Vapors
Integrated Dual Scent Pad Heater allows you to increase soothing scent intensity by use of 2 scent pads
Low Maintenance Design
No Filters Required to Operate
Quiet Operation
Large tank opening for easy access for cleaning
Translucent 1.2 Gallon Tank allows for quick and easy monitoring of water level
Easy to Use
Variable Humidity Control for customized output
Auto Shut Off when Empty
Runs up to 30 hrs per filling
Perfect for medium size rooms
I love this humidifier! Is it bad that I'm hoping for someone in my house to get that icky winter cough and congestion so I can try it out for real?
Enter to Win
We have a Vicks Cool Mist Humidifier to give away to one of you, sponsored by the Kaz online store.
To enter this giveaway, just use the Giveaway Tools form below.
Find out more by following Kaz Online Store on Facebook.