This post may contain affiliate links. Read my disclosure policy here.
5 Minutes for Books staff reviewer Elizabeth received a copy of this book to facilitate her review and giveaway.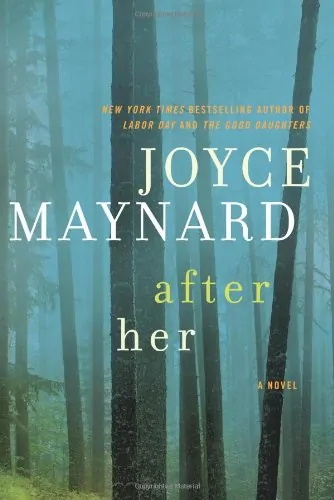 In her latest novel After Her, we find Joyce Maynard writing at the top of her form. She took a real-life situation, that of a serial killer in the late 70s in Marin County near San Francisco, and an Italian-American detective with two daughters who tries in vain to catch and stop him. From that, she has spun out a richly-imagined tale of sisterhood, of love and loyalty, of family and what that means. It combines a suspenseful tale, a murder mystery if you will, with a deep look at a girl on the cusp of womanhood, teasing out what love and loyalty mean in both her own life and that of her sister, parents, and friends.
When the novel opens, Rachel is 13 and Patty is 11. They live a life of freedom, their mother sunk in a deep depression from which she emerges only to visit the library, leaving the girls to roam the mountain park behind their home and spy on their neighbors at will. Since their parents' divorce, money has been very tight, and they can't afford a television. The girls watch TV through their neighbors' picture windows, making up their own dialogue as they go along. They also invent wildly as they imagine their neighbor's lives, especially a somewhat unusual man whose wife is mostly invisible. They idolize their mostly-absent father, who when he's around is a good dad indeed, but who can't resist a woman's charms and whose work keeps him far too busy. He continues to play a large role in their lives, especially as deaths begin to occur in the mountain park behind their home. The two girls are extremely close and have an extensive private life, made up of stories they've imagined and adventures they've had on their own on the mountain.
Rachel and Patty have always been somewhat outcasts at their school, but when her handsome father appears on TV to talk about the cases, Rachel finds herself on the receiving end of a lot of attention from the popular kids. She opts to leave her sister home and go off with them, spending hours discussing nail polish colors with the girls and making out with her new boyfriend. At this point Patty is gangly and awkward with 2 loves; dogs and basketball. The relationship between the girls and their father is especially poignant, but when his work continues to keep him from seeing Patty's basketball games, she finds it hard to forgive. As months pass with no murder suspect in sight, their father physically shows the strain, and Rachel evolves a terrible scheme–she will use herself as bait to catch a killer. What follows has ramifications beyond her wildest dreams, and shatters her world. 30 years later, as a grown woman and successful novelist, Rachel again hatches a scheme to smoke out the killer, and again faces ramifications that she had never imagined.
After Her is an excellent novel, dealing deftly and tenderly with a young girl's coming of age and loss of innocence, presenting us with characters as great and as flawed as the people we see every day. Here we have a great author writing at the top of her form.
Enter to win
I highly recommend this book, and am thrilled to announce one of you can win your own copy (U.S. only). Just start off by entering your email address in the widget below, and leaving a comment telling us what you like about this book.