This post may contain affiliate links. Read my disclosure policy here.
This giveaway is sponsored by Upromise by Sallie Mae. We were compensated for sharing this opportunity with you, however all opinions remain our own.
I have a friend who desperately wanted to go to college. She worked her fingers to the bone, took out loan after loan, and before too long, she had finally made her way through college.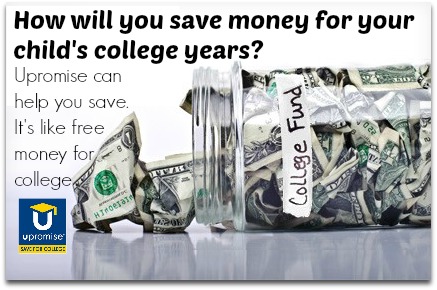 With the cost of college on the rise, Sallie Mae has created a unique and easy way for parents to save money for their children's college tuitionin an effort to realize college education dreams. Over ten years ago, Upromise by Sallie Mae was launched with the philosophy that everyone should be able to afford a college education. Today, Upromise has millions of members and is making higher education a reality for many Americans.
What is Upromise?
Upromise by Sallie Mae is a rewards program that earns you cash back for college on your everyday spending

Direct your spending to Upromise partners including more than 800 online stores, 10,000+ restaurants, grocery and drugstore items and earn money for college.
Everyone can participate parents with young children; family and friends who want to help; students and graduates with student loans.
Members have earned $670,000,000 + for college with their everyday purchases.
Rewards can be rolled into Sallie Mae high yield savings accounts and 529 plans, applied to an existing Sallie Mae student loan, or issued in a check made out to you.
How it Works:
Shop online at your favorite retailer through upromise.com. You can earn 5% or more cash back for college on eligible online purchases at more than 800 online retailers.
Eat participating restaurants and earn up to 8% cash back
go to the grocery store or drug store. Activate Grocery eCoupons each month to earn more.
invite family and friends and earn 3x more cash back for college. They can decide how much to transfer into your Upromise account.
Through the connection to over 950 online stores, 10,000 participating restaurants, and 21,000 grocery and drugstores, earning money for your child's education can be simple and effective.
Make the Pledge, Keep the Promise
Make the Pledge, Keep the Promise will award 10 lucky families $10,000 each to help save or pay for college. To spur families across the country to get started on saving for their child's college fund, Upromise by Sallie Mae today launched its second annual "Make the Pledge, Keep the Promise" $100,000 giveaway, with celebrity mom Elisabeth Rohm.

Whether you're saving for a child's future, paying for your own college expenses or paying back a student loan, you can enter to win when you share why you're committed to turning the dream of education into reality.
How do I enter?
To enter, visit Upromise.com to sign up for free membership and take the pledge now through Oct. 10. For additional chances to win, shop through Upromise.com, dine at Upromise partner restaurants or download the free college savings tool RewardU. Fifty finalists will be randomly selected, and the public will vote to select the 10 grand prize winners of $10,000,
Most parents want to help their kids pay for college but many simply don't know where, how or when to start planning for it, said John Ward, senior vice president, Sallie Mae. With this year's Pledge giveaway we aim to inspire thousands of people to start or supplement saving for college.
You can visit the Upromise website for more information and to watch videos that explain more about the program and how it works.
The best part is that it is free to join!
Enter to win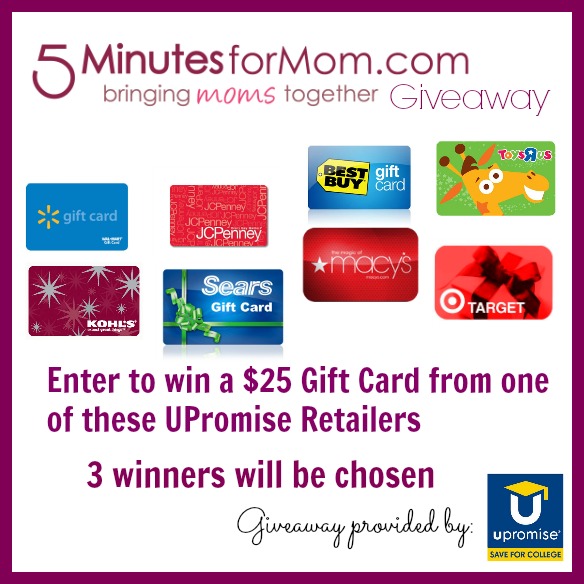 3 readers are going to get their chance to win a $25 gift card to a Upromise partner retailer. To begin entering, simply add your name and email address to the form below.
Hi! I'm Jenny!I blog at www.thesweetstuff.blogspot.com all about my home, family (husband and sweet baby girl), being a mom, crafting, cooking, my faith in God, and more. I love the outdoors, living in a small town on the Central Coast and being a mom!