This post may contain affiliate links. Read my disclosure policy here.
Jennifer Donovan is here to tell you about a fun new series of books that allow children to travel the world. She received review copies of the two newest books to facilitate her review, and we were compensated for this post.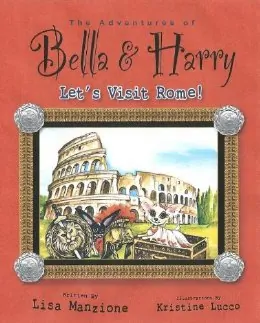 I would love to take my kids to Europe, but that's not a justifiable expense when my 9-year-old can barely remember the trip we took to the Grand Canyon last year. I do like to share my experiences of interesting travel destinations with them, and virtually travel via books and other media, with the hopes that one day they'll enjoy traveling as much as I do.
Harry and Bella are two dogs who experience world travels in London, Paris, Venice, Cairo, Athens, Barcelona, and most recently Rome and Edinburgh, at the hands of writer Lisa Manzione and illustrator Kristine Lucco.
About Bella & Harry: Let's Visit Edinburgh
Good day! Join Bella and Harry as they travel to Edinburgh with their family and see Edinburgh Castle, the Royal Botanic Garden and enjoy a trip to Loch Ness to search for Nessie! Along the way local cuisine (such as Dundee cake) and basic Scottish phrases are introduce
About Bella & Harry: Let's Visit Rome
Bon giorno! Join Bella & Harry as they travel to Rome with their family and see the Colosseum, Roman Forum, Trevi Fountain and other sites. Along the way local cuisine (spaghetti and meatballs) and basic Italian words are introduced.
The books mix historical facts, such as the Roman Gladiators, with local flavor such as popular foods and language phrases. The illustrations are the perfect mix of realism and whimsy.
Follow them on Facebook and check out the
Harry and Bella website to keep up with the latest news.
Win it!
One of you will win the entire collection of 8 books, plus an adorable children's suitcase. Just use the rafflecopter below to enter, starting off by telling me which of the 8 cities you'd most like to share with your child.