This post may contain affiliate links. Read my disclosure policy here.
5M4M contributor Jennifer Donovan is here to share about the Solo Summer Sippers contest. We were compensated for helping them get the word out.
I live in Texas. It's HOT here (and yes, it's so hot that it deserves all caps). Like a good Southern girl, I like iced tea. I love it. But I'm a bit of an anomaly here in the South, because I like "unsweet," as it's called when you order it ("Sweet or unsweet?" the waitress will ask).
I always have brewed iced tea in my fridge, but for those who drink sweet tea, adding sugar  just isn't the same.  I have one friend who has spent lots of time with me enjoying my backyard pool this summer  A couple of times when I was making tea, and I knew she was coming over, I put some into a smaller pitcher and added sugar while it was still warm, lots of sugar. That's the secret, you know. You add more sugar than you think you need to (that's where I went wrong when I tried before), and you mix it in while the tea is still warm. Start with a nice strong brew, too.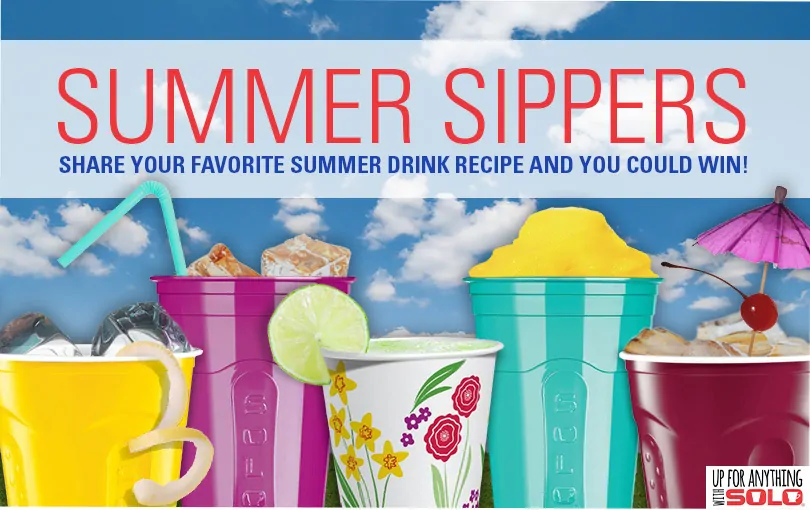 Solo cups wants to know about your favorite summertime sipper. Like their Facebook page and then look at their summer sippers contest page. You have until August 12 to enter your own favorite by leaving a comment. You can also scroll through the recipes that others have left to get some ideas. Give a few of your favorites a "like" and you'll be helping determine the winner.
What's better than a cold drink in a Solo Cup on a hot summer day?
We're giving Solo fans the opportunity to win prizes for sharing their favorite drink recipes this summer. From Alabama Slammers and Arnold Palmers to sangria and Shirley Temples, we want to know what will be in your cup this summer!
We'll select four weekly winners to receive $50 AMEX gift cards and Solo gift packs. One grand prize winner will receive a Solo gift pack, a cocktail gift pack and a $150 AMEX gift card for a total value of over $300.
Here's how it works:
1. Tell us the name and recipe of your favorite summer beverage.
2. Vote for your favorite "Solo Summer Sippers" entry.
3. For 4 weeks starting on July 16, 2013, the Solo Facebook community's votes will lead to one winner per week.
4. One grand prize winner will be selected on or around August 12, 2013 .
Our promotion will run from 10:00:00 am ET on July 16, 2013 until 12:00 pm ET on August 12, 2013.
Win it –  just for 5 Minutes for Mom readers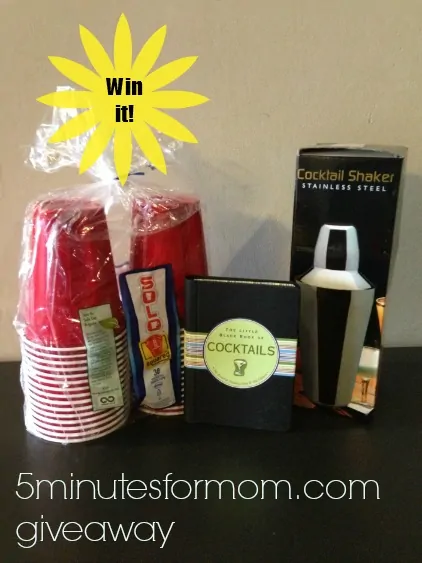 We have a Solo prize pack including some Solo cups (which I always have on hand when entertaining casually), a cocktail recipe book, and a shaker so you can mix your drinks up like the pros.  Use the Rafflecopter form to enter this giveaway. New to Rafflecopter? Watch this 45-second video on how to enter!