This post may contain affiliate links. Read my disclosure policy here.
Krissy of B-Inspired Mama, 5 Minutes for Mom contributor, is here to share her insights into Bear Bottle through this review and giveaway. While we were compensated to write this post, our writers views and opinions remain her own.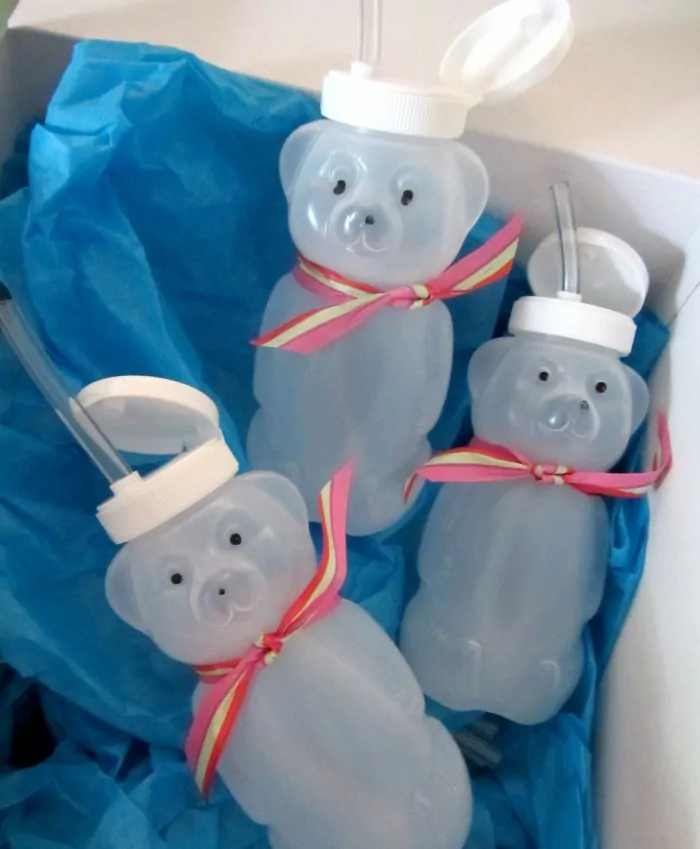 I have to admit… When I first saw the Bear Bottle, I thought, "What? Isn't that just a honey bear with a straw? How can that actually be better than our myriad assortment of sippy cups?" Well, my toddler, J.C., sure put me in my place. He LOVES his Bear Bottle!
Bear Bottle Isn't Just a Cute Honey Bear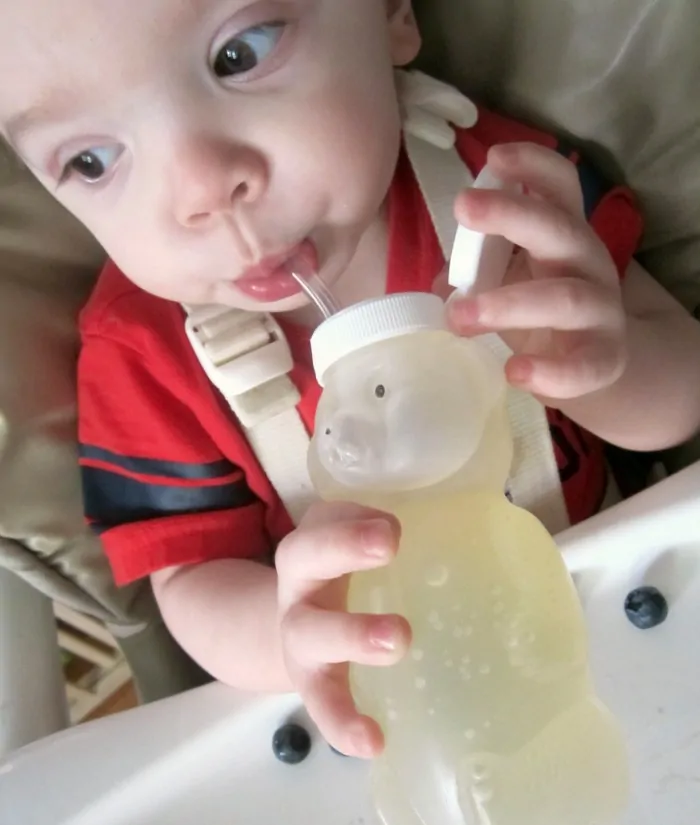 Yes, I was wrong. (But don't tell my fiance!) The Bear Bottle is so much more than a plain old honey bear. Sure, it's adorable like a honey bear, which I'm sure helps with J.C.'s infatuation. But it's also recommended by tons of experts, like pediatricians, dentists, occupational therapists, for strengthening important oral skills that typical sippy and straw cups do not.
Infants can start using their Bear Bottle with water as early as 4 months, which makes their eventual transition from the bottle even easier. And since the Bear Bottle's soft squeezable belly helps infants and toddlers learn how to drink from a straw, they'll be good to go if their Bear's forgotten at home and need to use a straw cup while on the go.
My favorite part; the Bear Bottle is made in the USA with BPA free plastic so it's kid-safe and dishwasher safe. You can choose from over twenty designs and with each purchase, BearBottle.com will make a $.10 donation to Make-A-Wish Foundation, too.  Want to try one out?  Here's how…
Enter to Win a Bear Bottle!
ONE HUNDRED lucky readers are going to get their chance to win a Bear Bottle. Use the Rafflecopter form to enter this giveaway. New to Rafflecopter? Watch this 45-second video on how to enter!
Krissy is a former art teacher turned full time mama of 3. She blogs at B-InspiredMama.com to connect moms with kids crafts, learning fun, family recipes, and creative parenting tips.