This post may contain affiliate links. Read my disclosure policy here.
This Tackle Post is a blast from the past from our former resident tackler JenaW. (It's amazing what you can find when you organize those old blog post drafts!)

Having you ever been daunted about writing thank-you notes? We all know it's good practice to show our thankfulness in the form of a note, but sometimes it's hard for some people to know: what to say other than, "thank you".
Well, here is a little something I've developed for my own children to get them starting thinking and writing thankfully. Ideally, it would be so nice for them to have these thoughts free flowing, effortlessly from their grateful craniums, but since that's not always the case, may I officially present: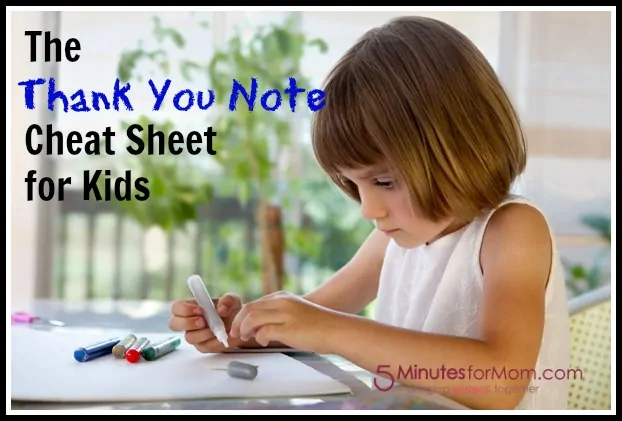 the thank-you card cheater template!
Dear (Insert name),

Thank you so much for the (insert item). I really am enjoying it. Every time I use the (insert item), I think of you. You have a way of picking out the most ( choose one: interesting, thoughtful, useful, appropriate) gifts. I really enjoyed the (item name) that you bought me last year.

I hope you have been well. The last time I talked to you, you were busy doing ( activity); are you still enjoying that?

I have been busy (playing basketball/ dancing ballet/ designing websites etc.); it has been a real learning experience for me.

I am looking forward to seeing you again.

Your loving (grandson, niece, daughter),
(insert name: handwritten)
Not sure how much your child can handle when it comes to the thank you note? You can use this as a guideline:
1-4 year olds: help mommy decorate the outside of the card and sign their name with a handprint
4-5 year olds: practice writing a few of the words and sign name
6-8 year olds: Have them copy the note in their own handwriting
9-12 year olds: solo writing with a few edits from mom
So what are you tackling this week?