This post may contain affiliate links. Read my disclosure policy here.
Jennifer Donovan, 5 Minutes for Books editor, is here to share with you another exciting giveaway. While we were compensated to write this post and share it with you, all opinions remain her own.
In our house, we enjoy watching a family movie on the weekends, and especially in summertime, we also make time for family TV viewing throughout the week. After my review copy of Nicky Deuce arrived, we popped up some popcorn and settled in to watch.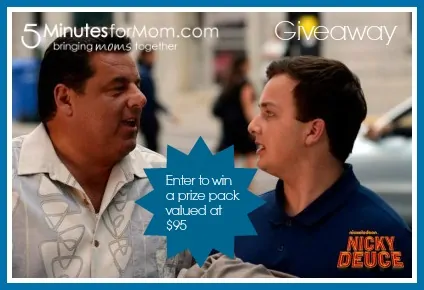 Fans of
The Sopranos
(you parents out there, not the kids, I hope), will enjoy seeing Steve Schirripa in an all new "family business." And of course kids will recognize Noah Munck from iCarly (as well as enjoy the iCarly prizes) — though it did take my kids a while to recognize Gibby all grown up!
Take a look at this trailer to see what it's all about:
Win a prize pack worth $95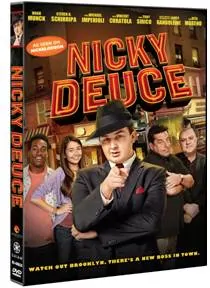 I'm excited to give you the opportunity to win some DVDs to add to your collection, whether you use them to fill some of those long summer days or perhaps as a new diversion on a long road trip. Use the rafflecopter below to win all of these items. Start off by leaving a comment telling us how often your kids watch DVDs — when and where.
Nicky Deuce on DVD
Nickelodeon DVD bundle including iCarly iSpace Out & iCarly: The I Heart iCarly Collection
$50 Visa Gift Card to enjoy the summer
Nicky Deuce Online
Visit the official website
Like Nicky Deuce on Facebook
Watch the trailer on YouTube                   
Follow @NickyDeuce on Twitter #NickyDeuce