This post may contain affiliate links. Read my disclosure policy here.
Today, Robin Farr, 5m4m contributor shares her insights into the social shopping site weeSpring. We were compensated to write this post, however all opinions remain our own.
When you want to find a good restaurant, you check out different social sites that list reviews, right? (Or you ask your friends.) Consumer Reports might be your go-to if you're looking for reviews when buying a car or a new fridge. But what about when you are shopping for baby products? Well, you probably ask your friends since there hasn't been a good review site for baby products. Until now. It's called weeSpring, and it's like Yelp for baby products.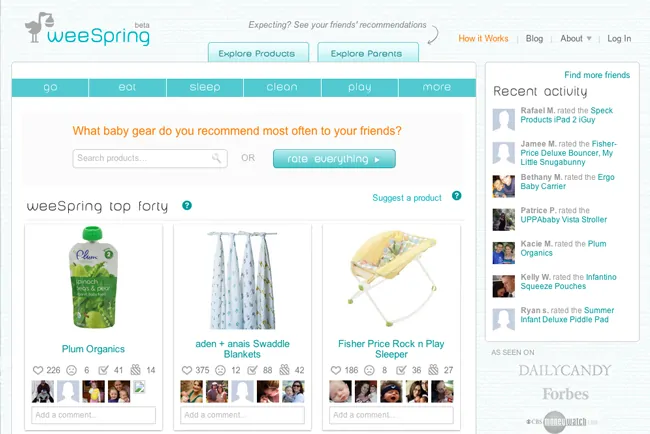 weeSpring is the first baby product review and comparison site of its kind, where the reviews are written by fellow parents — your friends and trusted reviewers. I love this idea. It's much easier than walking into a baby store and staring helplessly at all the choices in front of you.
I should know — when I was pregnant with my first I had an anxiety attack while standing in the car seat aisle. There were just so many choices when it comes to buying baby gear and it's hard to know what's good and what's not, and what will be vital versus what you really won't need.
weeSpring founder Ally Downey had a similar experience to mine, except for her it was a ten-foot wall of baby bottles. Ally promptly burst into tears at the sight, but her solution to the problem will help make sure you don't have to abandon your shopping trip to go searching for Kleenex.
Here's what you'll find on weeSpring:
A one-stop resource for new and expecting parents.
An easy way to find the best in baby products to fit your lifestyle based on trusted baby product advice from your friends and other like-minded parents.
A simple rating system where parents can note what they love, regret, have, or want. The straightforward ratings help parents easily compare products within a single category, so if you're stroller shopping, for example, you can quickly see what your friends think of the strollers currently on the market.
The option to browse a friend's favorites.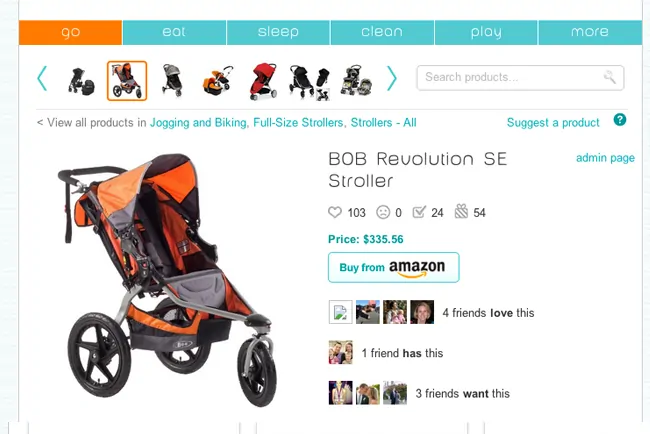 Everything on the site is categorized, which makes it really easy to find stuff. Need something else to occupy your baby so you can shower in peace? Browse the toy reviews in the "play" section. Starting solids? There are lots of reviews in the "eat" category. There's also a Top 40 section on the weeSpring home page where you can have a look at the 40 top-rated products based on other parents' feedback.
I wish this site had been around when I had my first baby, but it's kind of fun to be on the other side now and be able to rate the baby products that were lifesavers for us (and the ones we didn't like).
So if you're expecting or looking for something for your baby's next stage or need to buy a shower gift (or whatever), check out weeSpring. Because shopping for your adorable bundle should cause joy, not anxiety attacks.
Robin Farr is a woman, a writer, a wife, a runner, and a mom – chronologically, at least. She got mixed up philosophically during her struggle with postpartum depression but wrote her way out of it on her blog, Farewell, Stranger. The perspective she gained from that experience led her to a new motto: "Live the life you're meant to." She's now working on doing just that.