This post may contain affiliate links. Read my disclosure policy here.
Michelle, 5 Minutes for Mom contributor, is here to share her insights into Play and Learn through this review and giveaway. While she was compensated to write this post, our writer's views and opinions remain her own.
Growing up, I had books and I had toys.  Even the wee ones, at only 7 and 9 primarily relied on the same entertainment when they were young.  Yes, I had Sesame Street and Electric Company, but that was about it as far as educational programming went.  Oh how things have changed.  Priddy Books now offers Play and Learn, a great iPad and iPhone app for younger children.
The app itself is free, and right now each of the games within it are on sale for $1.99 each (regularly $3.99 apiece).  There are six apps offered that focus on different areas of learning while entertaining children.  I appreciate the fact that the app grows with kids, as some of the games within it focus on preschool skills like counting to five and identifying colors, while other apps move into more advanced skills such as comparing size and eventually beginning spelling and computation.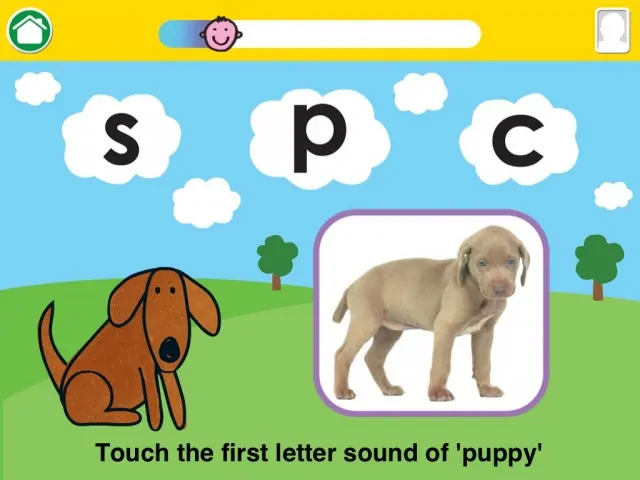 Like the best educational tools for young children, the app is set up so that the learning happens in a fun way where children don't realize they're being taught or tested on their knowledge.  Each game is hosted by Wallace, a cute brown dog who is there to offer encouragement to children as well as to help explain the task again by clicking on him if a child is struggling.  The bright animations make the game fun for children, and at the end of each lesson, they earn a sticker by pressing a spinning star.  As they move forward, children also earn certificates and medals for achievements.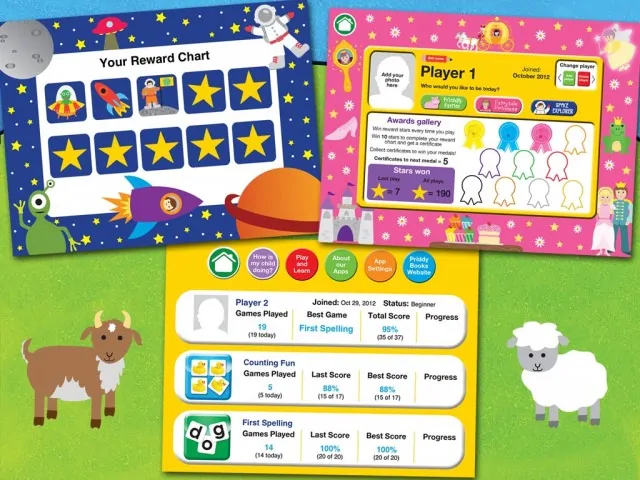 The games are quick to play, but unfortunately at least on my iPad, they were slow to load.  Once they have loaded, they keep moving and cycling to the next game, which keeps children from getting bored or stuck in a difficult phase.  And no matter how often you press a wrong answer, you only get a funny sound rather than a negative consequence, which helps keeps kids motivated to continue trying to get the right answer.
Not all the apps are a good fit for all ages.  A preschooler would be lost and frustrated by a question that reads 8 + _ = 10 where a first grader would most likely not be interested in counting three red ducks.  To ensure that there is a good fit for your child, you are able to do a trial of each game for free before you buy it.  The trial is three rounds of a game, which gives you a strong sense of whether it's a good fit for your child or not.  If it's too advanced, you can always do the trial again at a later date, as it simply resets when you go back to the home screen.
There are currently 5 games within the app available for the iPad and now the iPhone, with more set to be released in the future:
Counting Fun
My First App
First Spelling
Picture Puzzles
Number Skills
As a lover of creativity and play, I'm not always thrilled when I see small children glued to electronic devices everywhere I go.  The world is changing, however, and by interspersing educational apps like Play and Learn, there's a good balance to be struck in adding screen time as an educational component.
Enter to Win
One lucky reader is going to get their chance to win
a $10 iTunes gift card to upgrade the app
and 3 Wallace storybooks for your bookshelf
Use the Rafflecopter form to enter this giveaway. New to Rafflecopter? Watch this 45-second video on how to enter!

Read my post at 5 Minutes for Books to see a video of the app and to hear more about the educational aspects of the game. Leaving a comment on that post will earn you another entry.