This post may contain affiliate links. Read my disclosure policy here.

I love giving books as gifts. Since my children and my husband along with other relatives including my father and father-in-law are readers, this goes over well (unlike the not-so-subtle motivation in buying books for our non-reading child relatives).
Father's Day is coming up in just a week. In addition to the book that you could win today The New York Times Book of Mathematics: More Than 100 Years of Writing by the Numbers, I'd like to invite you to check out our reviews on a couple other books over at 5 Minutes for Books that would also make good gifts: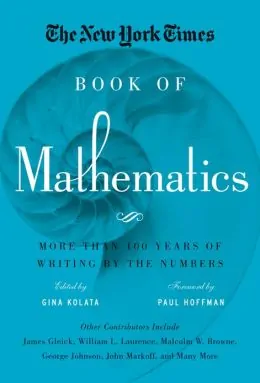 Now, on to The New York Times Book of Mathematics. I'll be honest with you — I couldn't get through more than a few of the essays in this very large book (over 450 pages). However, I requested a review copy, because I know of people who would LOVE this kind of book, my own CPA dad being one of them (I had to fight fellow reviewer Michelle for it, as she knew her math-teacher husband would be thrilled to explore it).
The collection of essays is varied and well written, and even relevant outside the world of math. I found one piece particularly interesting which discussed how babies much younger than one year old even had a concept of math, choosing piles of toys or candy that had more. The sections in the book include
What is Mathematics?
Statistics, Coincidences and Surprising Facts
Famous Problems, Solved and As Yet Undecided
Chaos, Catastrophe and Randomness
Cryptography and the Emergence of Truly Unbreakable Codes
Computers Enter the World of Mathematics
Mathematicians and Their World
This book isn't for everyone, but for those who are math-minded, I think it would be a homerun. Is there someone in your life who might appreciate this book? A father, grandfather, or perhaps recent high school or college graduate?
Win it!
One of you (U.S. only) will win a copy of The New York Times Book of Mathematics. Use the Rafflecopter form to enter this giveaway. New to Rafflecopter? Watch this 45-second video on how to enter.