This post may contain affiliate links. Read my disclosure policy here.
This guest post was submitted by Sharon.
The colder months are over and with the onset of warmer weather the time has come to enjoy our backyard. However, if our backyard is unkempt and disorderly then there is very little motivation to spend time outdoors and really enjoy the fresh air, sunshine, and all that your backyard has to offer.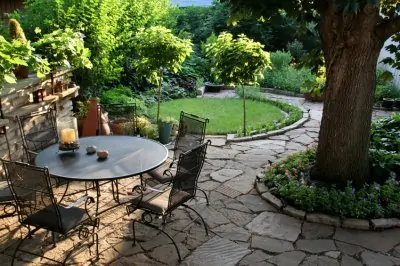 Five steps to guide you in organizing your backyard
Gather Everything in One Place – your first task is to gather everything that is lying around your backyard into one area of the yard. You must then sort things according to category – toys, garden equipment, miscellaneous others etc. Then decide what you want to keep, discard, and donate. Look at what remains and then think about where you are going to store it.

Organize Storage – if you don't have a shed or outdoor storage box, now is the time to think about getting one. From small deck boxes to large sheds and everything in between, there is an outdoor storage solution to suit every need and every size backyard. Once all the things lying around your yard have been gathered and stored it will already start to feel like a different place. Also, from a safety perspective, it will be a much safer environment.
Keep it "Reel" – every backyard requires a hose but if that hose is left strewn around all the time it becomes both unsightly as well as a safety hazard. Hoses may be thin but they are long, almost like an inanimate snake. Invest in a hose reel and make sure your hose is neatly gathered in one convenient location.

Hit the Garden – a garden that has not been maintained is a major turn off. Grass that has been left to grow, weeds, plants and shrubs that have taken rule of the garden requiring your attention.  Get out the lawnmower, clippers, pruners, and whatever else you require and start to return your garden to its former splendor. If you are not a hands on gardener, ring up your gardener and call him down for a visit. The result will be well worth the money spent. If you have a large grass area that you are not interested in maintaining, have the area paved or buy some pavers to reduce the grass area and also reduce your water requirements.
Create Ambience – now that your backyard is looking like it should, take the extra steps to turn it into a place you will want to spend time in. If you don't have appropriate garden lighting, there is cheap solar lighting that is easy to install. A water feature adds good feng shui as well as a tranquil aura. And if you don't have appropriate garden furniture, there is attractive plastic garden furniture that is virtually maintenance free, resistant to the elements, and easy on the pocket.
Do you have any tips or tricks of sprucing up your back yard?
Written by Sharon Robinson on behalf of Keter who offer a wide range of plastic sheds and many other storage solutions.