This post may contain affiliate links. Read my disclosure policy here.
Jennifer here, sharing with you about Brylane Home's amazing Double Deep Fryer. I was provided with one to review and one to giveaway, however all opinions listed are my own.
I really hate the fact that the world today says "shy away from fried foods". I am one who has always been a lover of fried chicken, fried potatoes, and my all time favorite — french fries. Yes– eating that stuff every single day and in large quantities is not good for us, but we can splurge every now and then, right?
C'mon girls. We know that sometimes, we just have to eat the french fries. I know I do!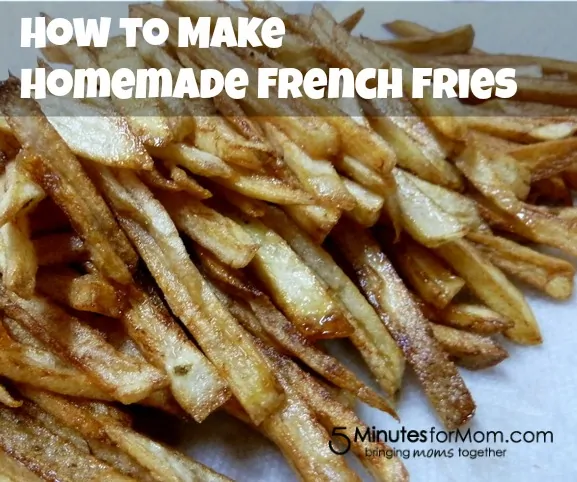 French fries are like chocolate — they give us comfort when we need a comfort food! So — what makes a french fry taste so darn good? I think it's all in the way it is prepared and fried. Here are steps to make sure your next french fry leaves you drooling!
Choose your potato:
The best fries are made from russet potatoes that have a low moisture content. The low moisture content means the potatoes will absorb less oil during the cooking process resulting in French fries with a crispier texture.
Prepare your Potato:
Peel and slice your potato into the desired shape. You can choose between matchstick, steak, round slices, or regular sized potato sticks. Once you have your fries cut, let them soak in an ice cold water bath. Add just about a tablespoon of vinegar and let them rest for an hour. This will make sure that they are the crispiest that they can be!
Blanch Your Potatoes:
To create the very best fries, you'll want to blanche your potatoes before frying them. To blanche potatoes, heat clean cooking oil to a temperature of 350 degrees Farenheit. It's important that your oil be hot enough to keep the potatoes from soaking up extra oils during the blanching process. Cook your potatoes on both sides for 3-5 minutes. You are pre cooking them first. This is the secret to delicious and crisp french fries!
Final Frying Stage:
Take your double deep fryer and heat the oil to 365 degrees once everyone is ready for a delicious french fry!! Fry until golden brown and then remove them and place them on an absorbent paper towel. Season them with salt, pepper, or your favorite seasoning blend.
About Double Deep Fryer from Brylane Home: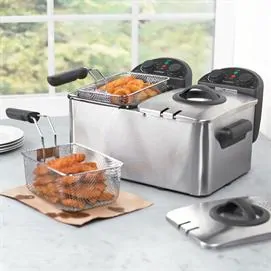 Double down on delicious deep-fried food with the Double Deep Fryer kitchen appliance that features two enameled tanks with separate controls and timer.
Features a 2 tank design letting you choose between a full or half batch or letting you mix and match.
Each fryer has individual wire baskets and see-thru lids with filter helps you keep an eye on your meal.
This fryer is on sale right now for $79.99! This is a great buy and would make an awesome wedding gift for a friend (since wedding season is upon us), or just buying one for use in your own home.
I LOVE mine. We have fried everything from fries, hot dogs, fish, corn dogs — and more. This double deep fryer has not let me down yet.
It is very easy to set up and only takes minutes to get cooking!
Enter to win
We are giving away one of these double deep fryers to one of our lucky readers. Use the Rafflecopter form to enter this giveaway. New to Rafflecopter? Watch this 45-second video on how to enter!
a Rafflecopter giveaway
What is your favorite fried foods?