This post may contain affiliate links. Read my disclosure policy here.
Julia, 5m4m contributor, shares her insights about Misses Dressy — a online website where you can find special occasion dresses and supplies for less. We were compensated to write this post and provided a dress for giveaway, however all opinions remain our own.
It's been a long time since I've had to look for a wedding dress, and even longer since my search for a prom dress, but if I could do it all again, I would do it through missesdressy.com. Their La Femme line is absolutely gorgeous!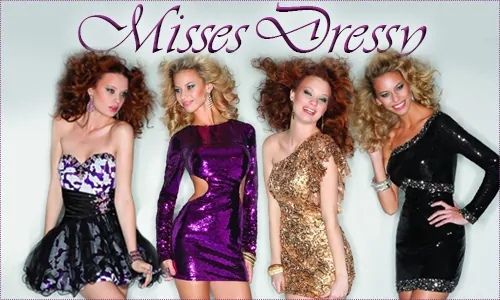 I remember searching store after store and rack after rack in high school for the perfect prom dress. Though wedding dress shopping was a little more fun, it was still a long search. Oh how I wish Misses Dressy had been around back then! The Misses Dressy internet store was founded in 2010, allowing you the comfort of dress shopping from home and making you only a few quick clicks away from your perfect dress.
I love how Misses Dressy is so easy to navigate. At the top of the website you can find tabs for wedding, prom, cocktail, evening, or accessories  You can even search for new arrivals and ships today, in case you need that special dress right now.
Once you narrow your search down to your occasion, you can further narrow your search by designer, style, color, or (my favorite) price. Misses Dressy makes it easy to find the perfect dress in any budget.
If you need more to complete your look, Misses Dressy carries accessories of handbags, shoes, shape wear, and even lingerie!
And if you need a little guidance in your decision making process? Misses Dressy offers live chat, where you will be given undivided attention and great advice.
No need to worry about ordering online. Each dress comes with it's own size guide specific to its cut, so you will know exactly what will work for you. Misses Dressy also offers a price match guarantee, FREE shipping, and a store credit for any returns.
I'm in love with this site, and I'm sure you will be, too! Now if I can just find an occasion for one of these beautiful dresses. . .
Enter to win
One lucky reader is going to get to choose a dress from this selection here. Use the Rafflecopter form to enter this giveaway. New to Rafflecopter? Watch this 45-second video on how to enter!
a Rafflecopter giveaway
What will you order from MissesDressy.com?
Julia is a full time mommy and part time writer who thrives on Starbucks, chocolate, and toddler kisses. When she is not chasing a toddler around, you can find her at her personal blog, http://www.elatedexhaustion.com, or playing on Twitter @juliahembree.