This post may contain affiliate links. Read my disclosure policy here.
This is a sponsored post. Contributor (and 5 Minutes for Books managing editor) Jennifer D. received a sample of the bathtime set for purposes of this review, and we were compensated to administer this giveaway, but as always, our opinions are our own.
I know that some people think Caillou is a little bit of a brat. When my kids were little, they watched Caillou. I think that the Caillou TV show depicts a pretty accurate family relationship, and I like that. Preschoolers — at least mine — do tend to throw fits when things aren't going their way. I didn't think that he gets away with it, or his bad behavior is glorified. It just is. That's the elephant in the room, so I wanted to address it before I continued with this review.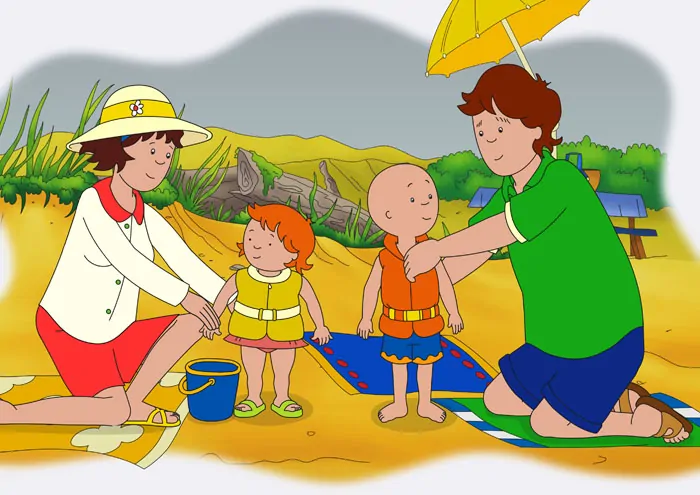 Sponsor's description:
Growing up is the greatest adventure and with Caillou your preschooler will learn how to manage everyday adventures like tying shoes, composting, how to be healthy and much more!
Discovery, learning, growing. In Caillou's world, these things are paramount. Being 4 years old means life is full of little challenges – and sometimes BIG ones too! Caillou meets these challenges eagerly; exploring his world, discovering new things, and often learning from his mistakes. With a focus on healthy nutrition, exercise, safety, and the environment, each "Caillou" episode is grounded in an everyday experience – one that inspires children to grow emotionally as they explore the world around them. As Caillou overcomes life's obstacles and makes healthy choices, children are inspired to do the same – making him an everyday hero!
All-new episodes of Caillou are now airing on PBS and Sprout.
We've tried out and reviewed several Caillou playsets over the last year, and I've been pretty impressed. Last summer, my nieces LOVED the set I reviewed, from the one year old, up to the 3 1/2 year old. They will be visiting again this summer, and spending time in our backyard pool, so I thought the Caillou Bathtime Activity Set would be perfect, whether they use it in the guest bath or in the swimming pool.
The set includes a net that your child can use to scoop up the Caillou figure that is included (or the other characters that can be purchased separately). There are fun water features such as the wheel, the hat that can be used to scoop and pour, and the slide. Suction cups securely attach the toy to the tub wall.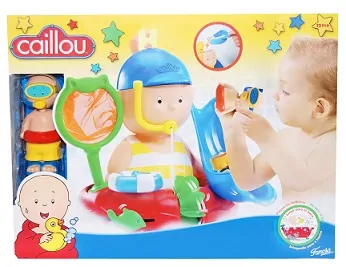 The toy is rated for ages 12 month and up, and I agree completely. The pieces are large, perfect for little hands to grab and without any choking hazard risks. It looks like a lot of fun. My kids are older, so I haven't field tested it, but I've examined it, and it looks great.
Win a Caillou prize pack worth $100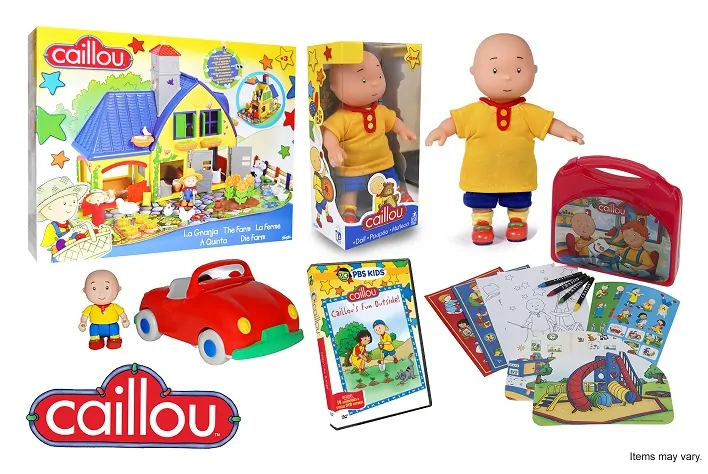 In addition to the Caillou Bathtime Activity Set, one winner (U.S./Canada) will also receive everything else pictured above:
Sticker Kit
Pull Back Vehicle
Plush Doll
Caillou Book & DVD
Farm activity set
Use the Rafflecopter form to enter this giveaway. New to Rafflecopter? Watch this 45-second video on how to enter!