This post may contain affiliate links. Read my disclosure policy here.
Just over a month ago, our family was blessed to welcome in our third child. Adjusting to becoming a family of 5 has been so wonderful and now that we're finally getting into a bit of a routine around here, I'm determined to start loosing this baby weight. Thankfully, my husband is on the same page with me and we're in this together. In a few months, we'll be celebrating our anniversary. By that date, we hope to have reached our weight loss goals.
Healthy eating can certainly become terribly boring, especially if you don't intentionally try to make delicious recipes that don't taste like "diet" food. This salad has become a new favorite of ours. It's packed with tons of nutrients and the flavor profiles make it taste like a bistro-style salad. With the taco meat, black beans, corn, avocados and of course, the Cilantro-Lime Dressing, this salad is fabulous and totally satisfying.
Southwestern Taco Salad with Cilantro-Lime Dressing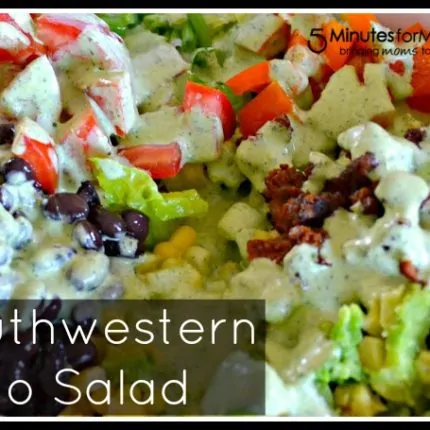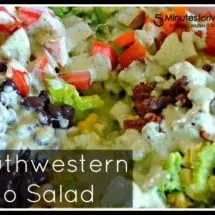 Ingredients
Large head of romaine chopped
15 oz. can black beans drained
1 large orange bell pepper diced
2 to matoes diced
15 oz can corn drained
3 green onions chopped
1 avocado diced
1 pound hamburger cooked with Taco Seasoning and drained
Creamy Cilantro-Lime Dressing
1 cup cilantro leaves
1/2 cup plain Greek yogurt
2 Tbsp. fresh lime juice about 1/2 lime
1-2 garlic cloves
1/4 cup olive oil
1 1/2 tsp. white vinegar
1/8 tsp. salt
Black Pepper to taste
Instructions
Place all dressing ingredients in a blender and blend to combine. Next, place all salad ingredients in a large bowl and stir to combine.Toss with dressing.
So — what is a good salad that you have had this month?