This post may contain affiliate links. Read my disclosure policy here.
Jennifer, 5 Minutes for Mom's assistant, shares her insight into the Powerstation Pro, in this giveaway. She received a sample, but her opinions are her own.
I never realized as a blogger how quickly my battery runs down on my phone. All the tweeting, photo taking, video recordings, and more that I have to do when I attend events have always went unnoticed. I would take my charger with me, only to be disappointed because either, everyone else had already grabbed a wall outlet and was charging their phone, or there were no wall outlets to plug into. Thankfully, I found Mophie's Powerstation Pro and my blogging life has not been the same since!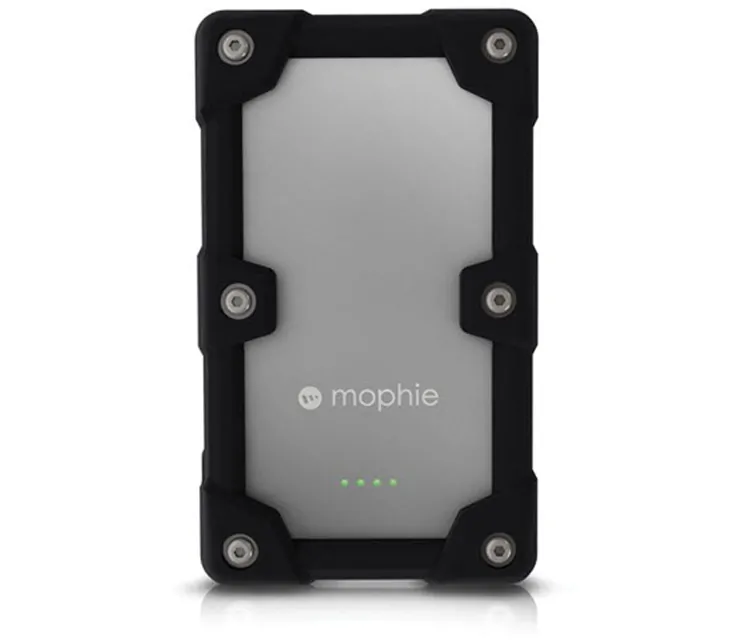 About the Mophie Powerstation Pro:
With the powerstation PRO, you will have confidence that you'll have all the power you need when and where you need it. With an impact & splash resistant design and 6000 mAh capacity – you can be assured that no matter how extreme your weekend gets, all your gear will have the power it needs come Monday.

The powerstation PRO is in a class of its own. Tough design and up to 2.1amp, high-output charging, keeps you going in the most extreme conditions. This powerstation has the largest capacity of all juice packs and has the ability to handle all of your smart devices, including the iPad.

A rating of 65 means that this device is totally dust-proof (with the ports closed) and resistant to water being sprayed at it with a water-jet. Getting the powerstation PRO wet is no big deal (even in the shower*), but don't try taking a bath with it.
When my juicepack arrived, I was quite excited. I charged it up and stuck it in my purse for a concert that I was attending that evening. We were taking our youth group out and I always do a lot of social media during concerts, but my phone has always died right in the middle of it, so I was anxious to try it out.
Not only did the Powerstation Pro keep me going all night, but it also charged 5 other phones that night as well. Everyone was enjoying this wonderful new toy of mine!
Since getting the Powerstation Pro, I do nothing but sing its praises. Everyone that uses it says that they must have it. You can have it too. In fact, just visit the Mophie website and purchase yours today for $99.95. It comes in either orange or black.
The Mophie works great for both Apple, Android, and other products. For a full list of compatible devices, visit here. I am SO glad that I have this as it has saved me from missing out on some great social media moments when I am at events.
Enter to win
One lucky reader is going to get their chance to win a Mophie Powerstation Pro Juicepack. Use the Rafflecopter form to enter this giveaway. New to Rafflecopter? Watch this 45-second video on how to enter!
a Rafflecopter giveaway