This post may contain affiliate links. Read my disclosure policy here.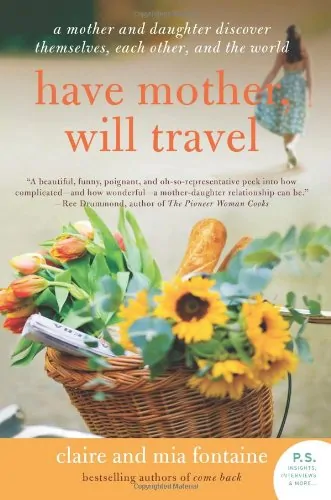 Elizabeth, staff reviewer at 5 Minutes for Books, shares her thoughts about Have Mother, Will Travel. She received a copy of the book from the publisher, but her opinions are her own:
Mother-daughter duo Claire and Mia Fontaine were each feeling at a bit of a loss in their private lives. They'd already written a book together*, on Mia's rough teenage years which included running away, felony drug charges, and a stint in a lock-down boot-camp school in the Czech Republic. They healed their relationship, but now they feel they're drifting apart again. Claire has an amazing idea–why not spend 5 months together on a whirlwind, round-the-world trip?
They sign up for something called the Global Scavenger Hunt, which is an arrangement where teams raise money for charity by traveling through 10 countries on 4 continents, completing scavenges that often are presented in the form of riddles. Afterwards, they decide to spend the summer together in the south of France, Mia quitting a job she's not thrilled with to spend extended time with their mother.
Have Mother, Will Travel
is an unusual book. Although it describes their travels, the gist of the book is more about Claire and Mia examining themselves, their relationship to each other as adult daughter and mother, and even in part Claire's relationship with her own mother, a Hungarian Holocaust survivor who is closer to her grand-daughter than her daughter.
The first half of the book concerns their time with the Global Scavenger Hunt, which is a wild ride through Beijing, Kuala Lumpur, Cairo, Nepal, and the Balkans. Little of the book focuses on the actual scavenges, which disappointed me a bit–I would have liked to learn more about this, and I really enjoyed their descriptions of the places and people they met. The second half of the book, which covers their summer in France, also includes gorgeous descriptions of beautiful places, and again, I wanted more of that. What they do describe is incredible though–from the elephant who nearly swallows Mia's passport, to Claire's, um, unfortunate ride on a camel (of all the days to wear a skirt…), to their Balkan taxi driver's penchant for speeding down the hairpin bends of guardrail-less mountain passes, the two managed to have plenty of adventures. Towards the end of the book, Mia revisits the school in the Czech Republic where she first began to heal from her past, and together they visit the Hungarian town where Claire's Jewish mother hid from the Nazis.
Have Mother, Will Travel
is written with Claire and Mia alternating, and some of the best parts are when both describe the same incident with different eyes. The two go very deep into their own motives and actions, including moments such as silly squabbles familiar to any mother-daughter duo. They get down to the daily, messy stuff of life.
Mia is dealing with wondering what to do with her life, now that she's out of college and working, 25, but not feeling quite grown-up yet. As she observes various mother-daughter duos in cultures around the world, and recognizes maturity in other places that she doesn't see in her American peers, she ponders what this might mean in her relating to herself, her mother, and the world at large. Claire, meanwhile, is facing life after 50, a house in Florida bought on a whim that needs major repairs, and wondering if she should change direction at this point. Their time away from the daily grind and focused on each other and their relationship brings clarity to them both in their respective ways.
Most importantly though, in Have Mother, Will Travel
the two define and redefine their relationship. I liked how they compared our American ideal of mothers and daughters as best friends to the model they see in traditional cultures, where mothers and daughters share a close-knit bond that nonetheless precludes friendship, based more on authority and respect. Claire and Mia are deeply honest about themselves and honest with each other, and that's what allows their relationship to thrive. I hope Ilsa (my daughter, now 16) and I can one day have a similar honesty in our own relationship, and also that some day we can travel the world and then spend a summer in Provence together too. In this fantasy, she is finally mature enough to no longer mock my accent.
*Come Back
. Also read  Claire's insights on Four Ways to Improve your Mother-Daughter Relationship (posted earlier this week here at 5 Minutes for Mom).
Win it!
One of you can win a copy of this novel (U.S. and Canadian shipping addresses only). Just follow the instructions in the rafflecopter below, starting off by answering the question: "What do you and your daughter (or you and your mother) most enjoy doing together?"