This post may contain affiliate links. Read my disclosure policy here.
My family is my most important accomplishment I have ever had the privilege to be a part of. Growing up, my mom had a lot of mental issues, so my childhood was not a happy or stable one.
Growing up that way made me vow that when I was an adult and had children, I would do my absolute best to raise my kids to be happy and healthy adults. Thanks to God, He has definitely shown me how to be a wonderful parent.
Now, I can also thank this amazing book by Ken Blanchard, Phil Hodges, and Tricia Goyer — Lead Your Family Like Jesus, as another tool that has helped me to raise my children.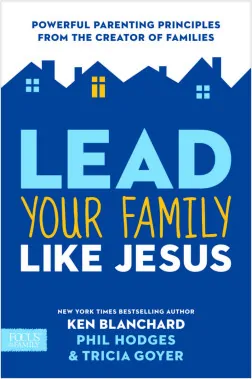 About the book:
Does your family need a five-star general at the helm? A psychologist? A referee? Ken Blanchard, best-selling co-author of The One Minute Manager and Lead Like Jesus, points to a better role model: the Son of God. Joined by veteran parents and authors Phil Hodges and Tricia Goyer, renowned business mentor Blanchard shows how every family member benefits when parents take the reins as servant-leaders. Moms and dads will see themselves in a whole new light—as life-changers who get their example, strength, and joy from following Jesus at home. This user-friendly book's practical principles and personal stories mark the path to a truly Christ-centered family, where integrity, love, grace, self-sacrifice, and forgiveness make all the difference.
Get a preview of the book here.
I truly love books that make me want to be a better parent. This is one of those books that does that. The authors put in a lot of great sound advice, personal testimonies of their own parenting issues, principles to follow that will help and challenge you, as well as Scriptures to encourage and push you into that role of being a "servant leader".
Enter to win
3 readers are going to get their chance to win a copy of Lead Your Family Like Jesus. Use the Rafflecopter form to enter this giveaway. New to Rafflecopter? Watch this 45-second video on how to enter!
a Rafflecopter giveaway
What is your best parenting tip?
This post is part of a promotional campaign with Tyndale House Publishers. All opinions listed are our own.