This post may contain affiliate links. Read my disclosure policy here.
This post is brought to you on behalf of ConAgra Foods. For other ConAgra  sites visit Ready Set Eat, Orville Redenbacher, Lightlife, and more.
Inevitably we all face situations in life were we come up against some sort of road block. Artists of many kinds, commonly run into what can only be described as "writers block." It is the wall that each of us hits when the inspiration to create is at an all-time low and nothing seems to spark any sense of inspiration or creativity.
As cooks, each of us will run into situations like this at some point. But the question is… will we be prepared? Here are 5 tips to keep you inspired to come up with new dinner ideas.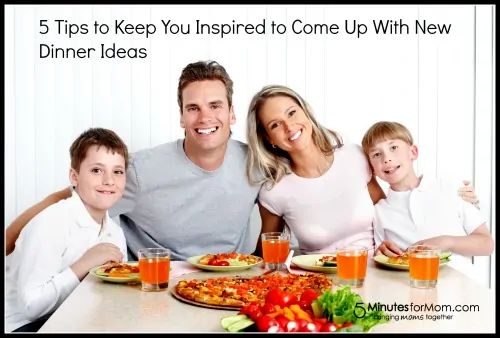 Create a Recipe Calendar
One of the best things you can do to keep yourself creative is to stay organized and plan ahead. A recipe calendar should be the center of all your cooking. Recipe calendars allow you to stay organized but they are also useful for gaining inspiration. For instance, every once and a while we have those "ah-ha" moments, where we suddenly come up with a great idea. Use the recipe calendar to keep those ideas listed for future dates.
Eat a variety of different foods
In order to have more moments of inspiration you need to expose your palate to multiple types of food. Eating a variety of foods gives you a great number more tastes and smells to work with in order to combine flavors into a new masterpiece. Also experiment cooking different styles of food and watch you refine your skills and increase those moments of inspiration.
Read Up
Read often and in bulk. Whether it's through books, blogs, articles, or magazines take the time to read what others are doing and what sorts of techniques they use. The more you expose yourself to experts and other cooks the better you will be at creating interesting tastes. Eventually you will get good enough to contribute to their discussion and share your secrets and techniques.
Experiment
It is always important that you give yourself time to experiment and make mistakes (or perhaps unrecognized masterpieces). You need to have time to refine your technique and you need to have time to improvise. This is one of the best ways to practice coming up with new ideas and combining interesting tastes, flavors, and smells into great new dishes.
Have Fun
Perhaps what is most important is that you make this fun. You are on a journey and need to realize that coming up with the inspiration to cook is not just about cooking but about your ability to be inspired by the everyday and normal. Developing the skill to translate the normal to something extraordinary will make more aspects of your life interesting.
 So I challenge you to cook well and cook often and explore the wonderful world of unknown tastes that are before each of us. They just need to be recognized. Now it's your time to create!
 How could you find more inspiration for your dinner time hour?