This post may contain affiliate links. Read my disclosure policy here.
Even though Spring is here and many people leave behind warm soups and stews, I do not. Most of the soups that I make are just for those cold winter months, but then there are others that my husband enjoys year round. Classic Beef Stew is one of them. When made correctly, using whole and heart healthy products, it can be a delicious and satisfying meal for any family dinner night.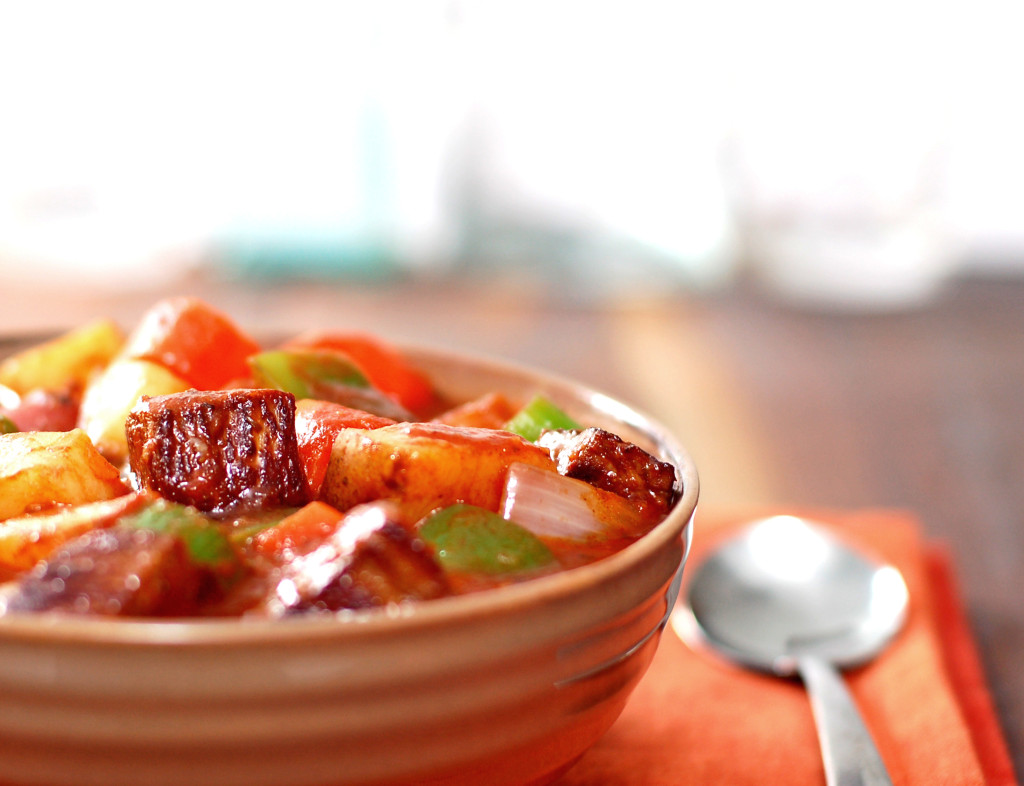 I make mine using Laura's Lean Beef — simply because Laura's beef is determined to help us eat smarter — without all the extra and unhealthy ingredients that are in food these days.
About Laura's Lean Beef:
Quality is at the heart of everything we do. In a world which has seen the emergence of highly processed foods, "factory farms" and junk food, we live and work guided by an alternate set of principles:

All natural – We believe that it is best to raise cattle in the way that nature intended.
No antibiotics – It's not part of nature's plan to use antibiotics to speed growth and counter overcrowded feedlot conditions.
No added growth hormones – We don't believe in using hormones to speed the growth of our cattle. 
Leaner is healthier – We raise leaner breeds of cattle like Limousin and Charolais that produce beef naturally lower in fat.
Vegetarian fed – Cattle live in pastures and graze on natural grasses and grains. 
Sustainable agriculture  – We believe in the responsible stewardship of land and animals.
Humane treatment – All our farmers sign on to strict standards for the raising and treatment of cattle.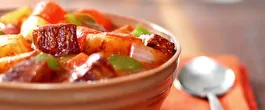 Ingredients
1 tablespoon oil
2 pounds Laura's Lean Eye of Round Roast cut into 2-inch cubes
2 cups sliced onions
4 cloves garlic chopped
1 green bell pepper sliced
4 large celery stalks cut into 2-inch pieces
8 medium carrots
4 large baking potatoes about 2 pounds cut into eighths
1 28- ounce can whole tomatoes
1 15- ounce can tomato sauce
1 tablespoon soy sauce
1 teaspoon Worcestershire sauce
1 cup fat-free beef stock double strength
1 tablespoon dried basil
salt and pepper to taste
Instructions
Preheat oven to 350 degrees.

Heat oil in skillet. On medium-high heat, sear meat cubes in skillet until browned on all sides.

In a separate bowl, combine canned tomatoes, tomato sauce, soy sauce, Worcestershire sauce, beef stock, basil, salt and pepper. Mix thoroughly. Pour mixture over meat and vegetables in roasting pan.

Cover and bake for 45 minutes at 350 degrees. Reduce heat to 250 degrees and bake for 2 hours or until meat is very tender to the fork. Baste occasionally.
To even help cut down on cooking time,  you could throw this in the crockpot on low heat for 8 hours. Put it on before leaving for work and you'll have it ready to eat when you get home.
Enter to win
2 readers are going to receive a $25 voucher to use towards the purchase of Laura's Lean Beef. If you have a Kroger in your area, then you should have no problem spending your voucher! If you don't want to wait to see if you are a winner, you can get $1.00 coupon by visiting the site and signing up for the email newsletter.
Use the Rafflecopter form to enter this giveaway. New to Rafflecopter? Watch this 45-second video on how to enter!
What would you create using Laura's Lean Beef?
I was sent a $25 voucher to use on Laura's Lean Beef in order to write this review. All opinions listed are my own.