This post may contain affiliate links. Read my disclosure policy here.
One of our favorite side dishes has always been brussel sprouts. Grilled, caramelized roasted – it doesn't matter how I serve them, my family always gobbles them up!
My favorite way to make brussel sprouts is this quick and easy recipe with bacon pieces and red potatoes.
It's so simple that you can even enlist your children to help!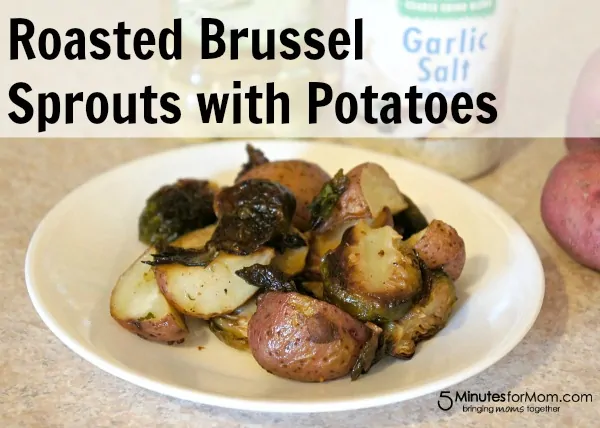 This is a great task to give your children – what kiddo doesn't love playing with their food?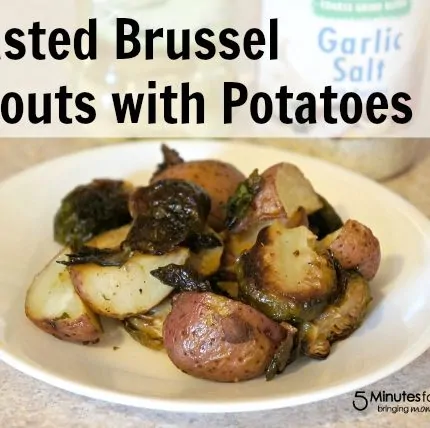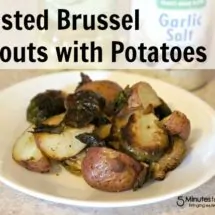 Ingredients
One container of brussel sprouts washed with stems removed, and halved
An equal amount of new red potatoes quartered
1/4 cup extra virgin olive oil
1/4 cup bacon pieces
1/2 teaspoon of garlic salt
1/2 teaspoon of black pepper
Instructions
Preheat your oven to 400 degrees, and line a cookie sheet with tinfoil for easier clean up.

Put the brussel sprouts, potatoes and bacon pieces into a large Ziploc bag. Add the olive oil, pepper and garlic salt, then seal the bag.

Shake until all of the brussel sprouts and potatoes are evenly coated.

Pour the contents of your Ziploc bag onto the tinfoil-lined cookie sheet and make sure that they are evenly distributed so that they cook evenly.

Cook for 30 minutes, or until the brussel sprouts and potatoes are nice and tender.
What is your favorite way to serve Brussel Sprouts?