This post may contain affiliate links. Read my disclosure policy here.
There are a lot of things I love about being a mother, but the way pregnancy changed my body is not one of them. Since having a baby my bathing suit selection has been limited to all black one pieces that don't flatter  me as much as they just make me look like –well — a mom in a bathing suit. The black one piece bathing suit is the style equivalent of mom jeans; not flattering and not fun.
Enter Hapari.com.
When the chance came to review a bathing suit I was thrilled. Worse case scenario? I get another bathing suit that I don't like. Best case scenario? I actually find a cute bathing suit to flatter my post baby body.  And the verdict is…..I LOVE Hapari.com. I spent hours browsing their site trying to find the perfect bathing suit and could barely narrow it down to choose one. I finally settled on the v-neck Leilani tankini top and the tummy tuck black bottom.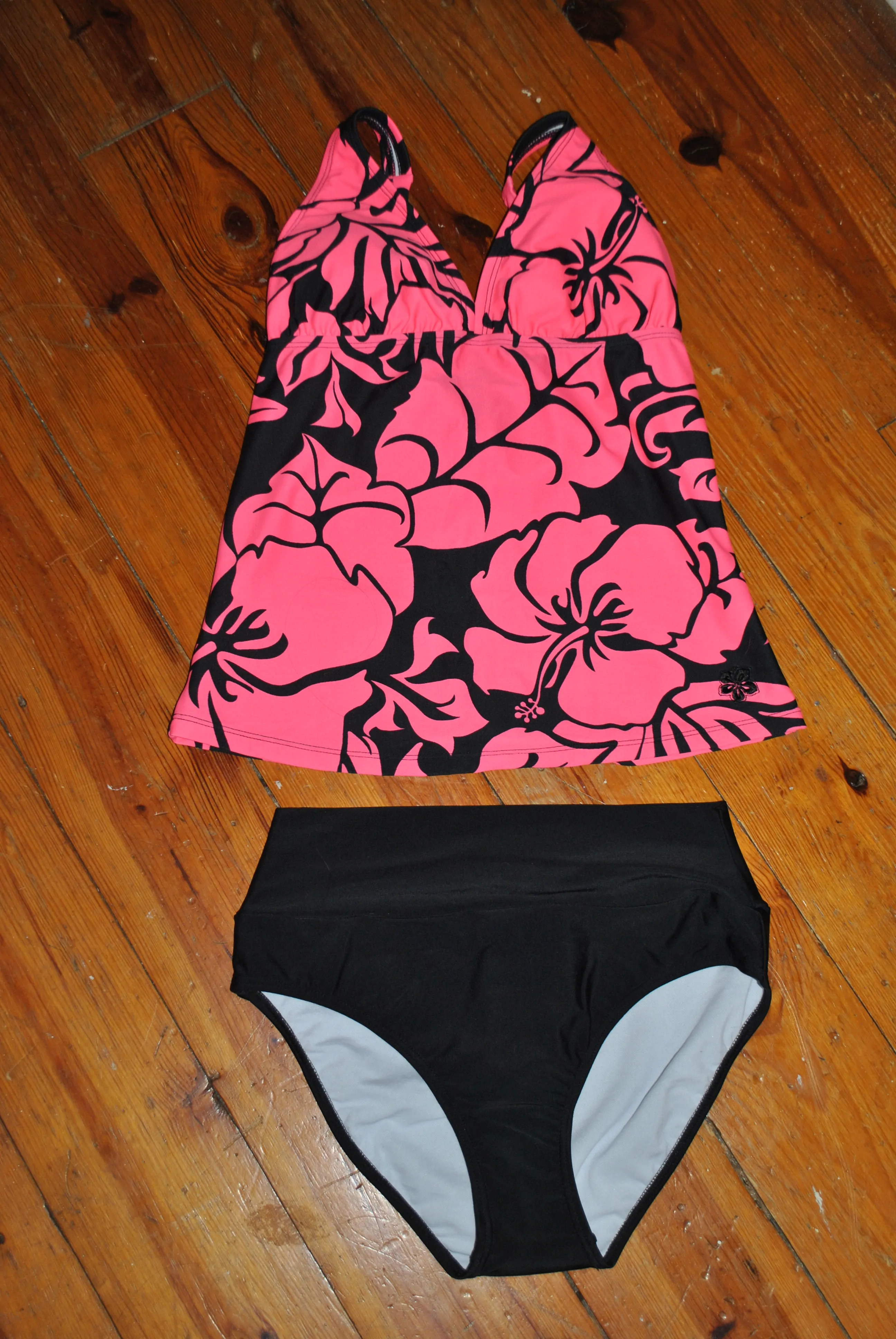 I ordered from the Hapari website on a Monday and my suit was delivered in the mail by that Thursday. Talk about fast service! The pieces even arrived in their own cute little bags.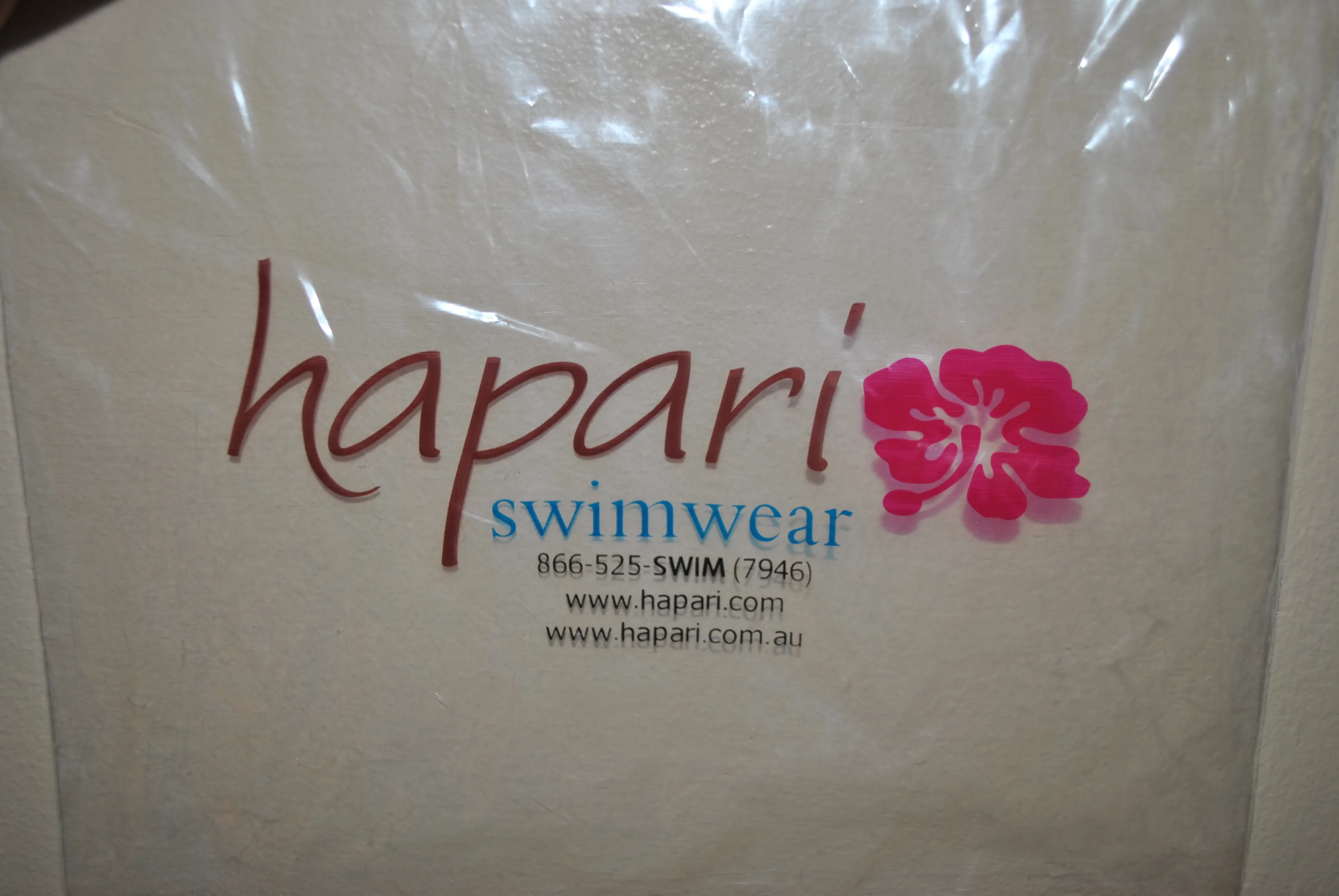 Then came the hard task of actually trying on a bathing suit. I have to say, I am very pleased with the results. (And very brave for sharing a picture of myself in a bathing suit with you.)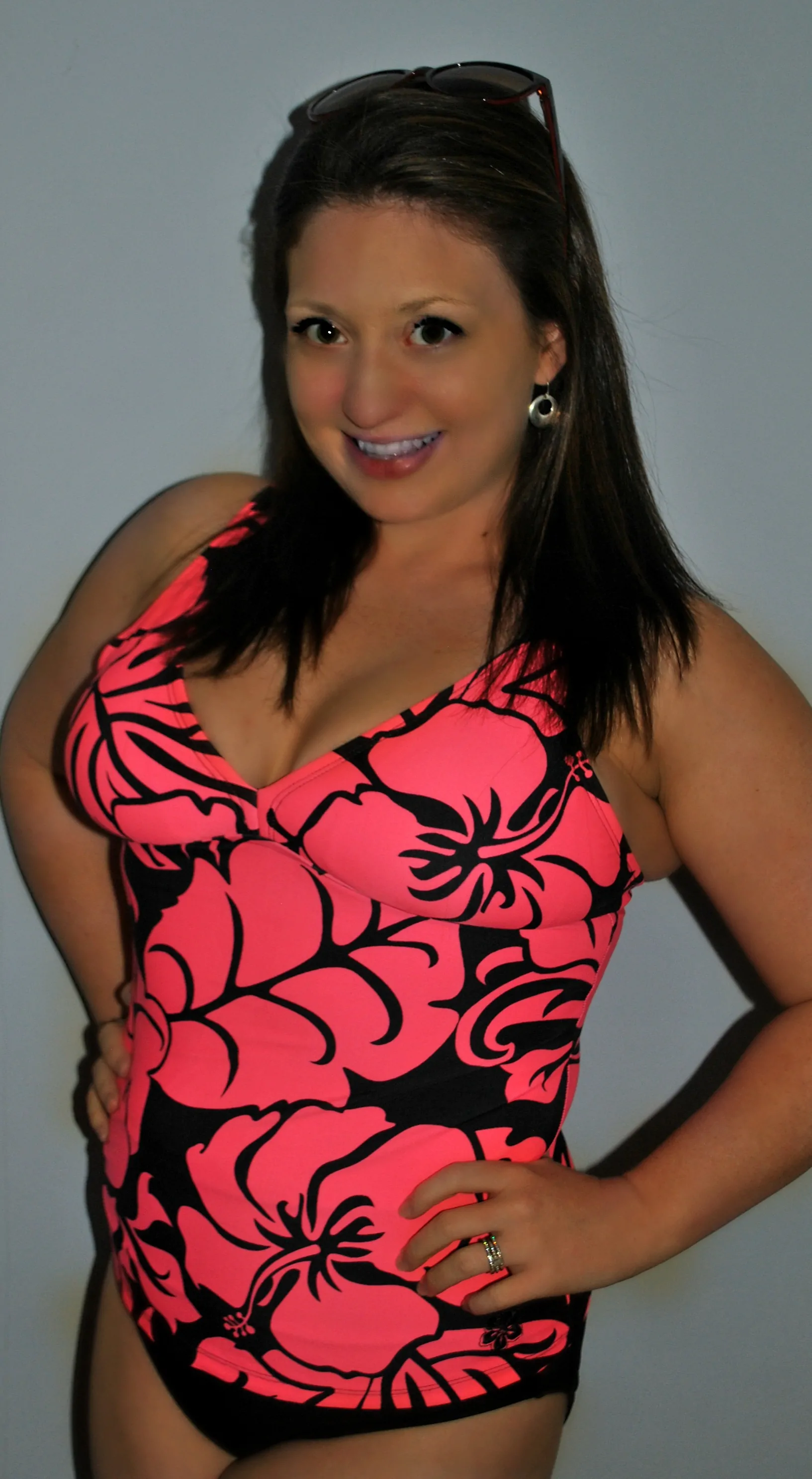 I don't think I've ever felt this pretty or this comfortable in a bathing suit!
One of the keys to Hapari's success is what is labeled on their website as "hapari secrets." Most bathing suit tops can be worn three ways, so you will always have a custom fit. The tummy tuck bottoms, which I am a proud owner of, actually do what they say they will; they suck in your tummy! I feel so much more confident in this bathing suit knowing that my post baby tummy is hidden.
Another great feature of Hapari bathing suits is that every tankini comes with secret pockets for silicone breast inserts called illusions. This is a great feature for mastectomy patients or women just wanting an extra boost. Hapari really does design bathing suits with women of all body types in mind.
The hapari.com website is easy to navigate and the shipping is very fast! The fit of my bathing suit is true to size and high quality. To top it off, the prices are amazing! Hapari offers flattering bathing suits in cute prints for much less than you would pay at a department store. (And you don't have to endure all of the scary department store mirrors.)
Good bye boring black mom bathing suits and welcome hapari.com! Bathing suits for real women at attainable prices. Hapari offers swimwear for women in a range of sizes and styles, as well as options for men and juniors. They even have bikinis. You know, if you're into that sort of thing.
Overall, I could not be more pleased with my new bathing suit. I even have my eye on another one.
Enter to win
Take the drama out of your bathing suit shopping this season with a new bathing suit from Hapari.com. One lucky winner will receive a $90 gift certificate to use on the Hapari.com website to get the bathing suit of your dreams. Use the Rafflecopter form to enter this giveaway. New to Rafflecopter? Watch this 45-second video on how to enter!
a Rafflecopter giveaway
*I received one free bathing suit from Hapari.com in exchange for this post. All thoughts, opinions, and post baby body dilemmas are my own.*
Julia is a full time mommy and part time writer who thrives on Starbucks, chocolate, and toddler kisses. When she is not chasing a toddler around, you can find her at her personal blog, http://www.elatedexhaustion.com, or playing on Twitter @juliahembree.