This post may contain affiliate links. Read my disclosure policy here.
This post was submitted by Angela England.
"Another fun way to add more produce to your overall production each year is to consider the ways to substitute edible plants into your ornamental landscaping. Like a harvest-producing ninja, you'll sneak a row of rainbow chard in a sidewalk border and use thyme as a ground cover along your walkway. Suddenly, in all the places you used to grow plants that only looked good, you'll have plants that can ultimately feed your family instead." Backyard Farming on an Acre (More or Less) pg 55
When trying to incorporate edible planting techniques into your home just think about the simple replacements you can make in your garden. There are certain spaces in the landscape that most people try to fill – ground covers, low-level flowering plants, climbing vines and ornamental shrubs.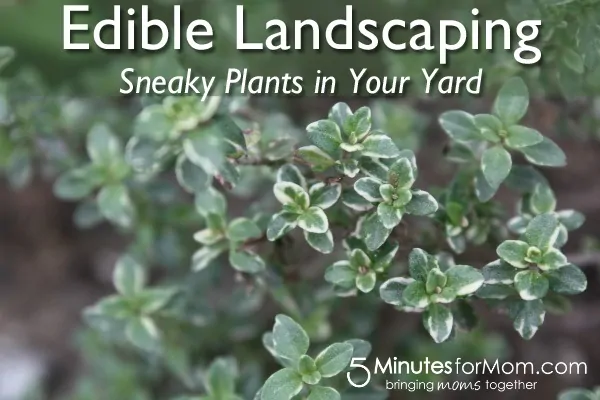 Thyme Ground Cover for Edible Landscaping
By switching some of the traditional ornamentals, with edible plants you can increase the amount of food you grow without sacrificing curb appeal. Here are some of my favorite ways to make the switch.
Edible Ground Covers
Instead of a creeping sedum or phlox try an edible ground cover instead. Thyme is one of my absolute favorites because it is a great culinary herb, has attractive small flowers, and is evergreen. You can also used lettuce greens as a leafy ground cover. Another great ground cover is mint, which will naturally spread as a garden ground cover – but take caution! Don't plant it where you don't want it.
Mid-Level Edible Plants
Basil Adds Simple Edibles to the Landscape
So instead of coreopsis or impatiens, try replacing your mid-level ornamentals with edible herbs and vegetables. One of my favorite tricks for this level is to use alpine strawberries as a border plant so you get pleasant greenery, charming white flowers throughout the season, and bonus sweet red fruits. Basil, chamomile, and Echinacea are all attractive plants in a landscape and have culinary or medicinal uses in the landscape.
Climbing Vines for Attractive Edibles
Where you might see purple wisteria blooms, or climbing honeysuckle vines you could make the switch to an attractive but edible plant instead. Try pea vines for early spring flowers, and then pole beans later in the season. Where you want perennial climbers over an arbor or patio trellis for shade, try grape vines which remain pretty and fruitful for years.
Landscaping Shrubs
Blueberry Bush for Landscaping With Edibles
With so many gorgeous edible options it's a wonder we use anything else in the landscape at all. Roses have a variety of uses, as do elderberry shrubs, and blueberry plants. Gooseberry is an old-fashioned favorite that is making a comeback in both the kitchen and the landscape with savory fruit similar in taste to grapes but growing on upright large shrubs (or small trees depending on pruning).
Whatever area of your landscape you want to update, you can do so in a way that is both beautiful and useful. This is one of the best methods for growing food in a small space – making use of every area you have without sacrificing beautiful landscaping.
Angela England is the Founder of Untrained Housewife and author of Backyard Farming on an Acre (More or Less) (Alpha Books 2012) which focuses on help people make the most of whatever space they have. She lives with her husband and five kids in rural Oklahoma and is an active problogger, speaker, and teacher.