This post may contain affiliate links. Read my disclosure policy here.
With two Academy Award®-wins for "Best Performance By An Actor In A Leading Role" & "Best Achievement In Production Design"; a Golden Globe for "Best Performance by An Actor In A Motion Picture-Drama"; a BAFTA for "Leading Actor"; and AFI "Movie Of The Year," "LINCOLN" is this year's must-own motion picture to add to any collection!
One of the year's most critically acclaimed and best reviewed motion picture dramas of the year, DreamWorks Pictures and Steven Spielberg's "LINCOLN" arrives in North America on Blu-ray™ Combo Pack, Digital and On-Demand platforms today!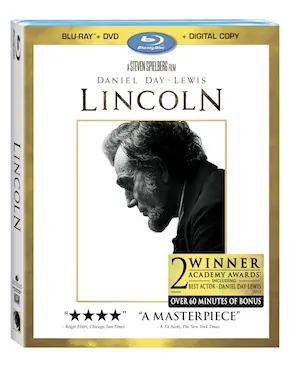 As a 2013 Oscar® and Golden Globe® Award-winner for his performance as America's 16th president, Daniel Day-Lewis leads an all-star cast including Academy Award®winners Tommy Lee Jones and Sally Field. Also starring David Strathaim, Joseph Gordon-Levitt and James Spader, "LINCOLN" is based on a screenplay by Pulitzer Prize-winner Tony Kushner. The film is scored by multiple Oscar-winner John Williams.

 Inspired by the true-life events confronting Abraham Lincoln and his monumental moral and political challenge to amend the United States Constitution to permanently abolish slavery, "LINCOLN" is a rich and compelling historical and human drama that has been hailed as one of the best film of the year. In-depth bonus features on the Blu-ray/DVD Combo Pack takes viewers behind-the-scenes of director Spielberg's life-long fascination with Lincoln and the 12 years it took to bring the story of one of history's and mankind's greatest triumphs to the screen.
From DreamWorks Pictures and Twentieth Century Fox, in association with Participant Media, "LINCOLN" is directed by Steven Spielberg, produced by Spielberg and Kathleen Kennedy, with a screenplay by Tony Kushner, based in part on the book "Team of Rivals: The Political Genius of Abraham Lincoln" by Doris Kearns Goodwin.
Have you seen Lincoln yet? What did you think about it?
We were provided with a review copy in exchange for writing this post. All opinions listed are our own.