This post may contain affiliate links. Read my disclosure policy here.
This post was submitted by Angela Strand.
April is National Grilled Cheese Month, a wonderfully delicious reason to create your own melty sandwich creation with your family. Grilled Cheese is one of those things that everyone seems to love. I've met a few folks that don't care for chocolate (crazy, right?), but I've never met anyone who doesn't love a Grilled Cheese Sandwich.
One of my favorite things about Grilled Cheese is that there isn't a right or wrong way to make it. Be creative, let your kids help you assemble the sandwiches and let each person in the family put his or her own spin on the melted classic.
Today after preschool, the kids and I whipped up our own sandwiches, in honor of National Grilled Cheese month. The kids decided to go with a Ranch Grilled Cheese, which was extremely simple and oh, so delicious.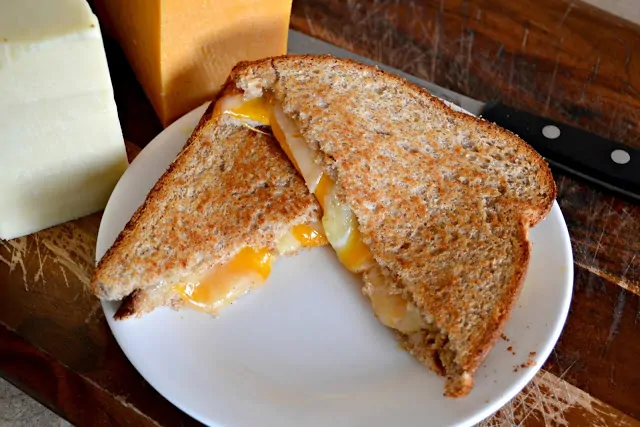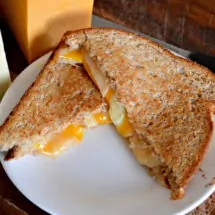 Ingredients
Sharp Cheddar Cheese
Monterey Jack Cheese
Pesto
Ranch Dressing
Whole Wheat Bread
Instructions
Smother your bread with Pesto and then pile on the cheese. Top with ranch dressing and then grill to your perfection.

My sandwich was similar to theirs, but I smothered my bread with savory Pesto. The Pesto, combined with the Sharp Cheddar Cheese and Monterey Jack Cheese was absolutely perfect.
The Pesto Grilled Cheese Sandwich:
Sharp Cheddar Cheese
Monterey Jack Cheese
Pesto Spread
Whole Wheat Bread
I think we'll be doing a Grilled Cheese bar for dinner soon, complete with meats, cheeses, spices and sauces. My husband would love it and so would the kids. It sounds delicious and easy, doesn't it?
So, what would be on your ideal Grilled Cheese Sandwich?